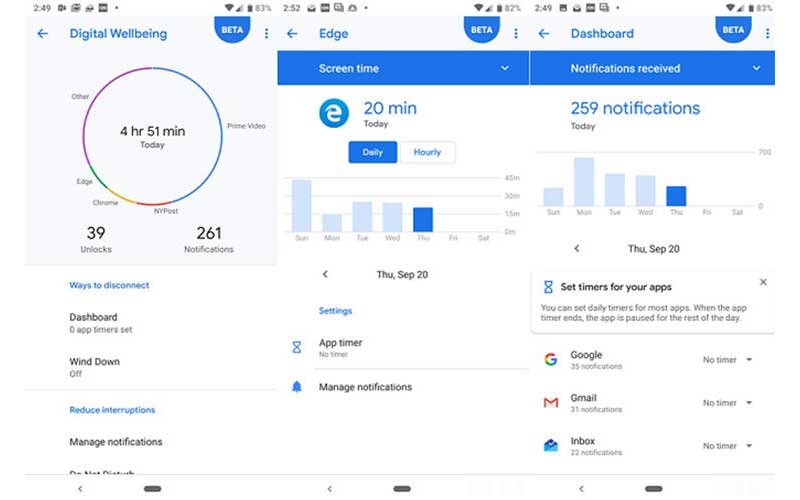 Tech giants and app developers have designed their products in such a way that you will be hooked to them. In recent times, concerns have been raised about the number of hours people spend glued to their screens. That's when tech companies such as Apple, Google, and Facebook sprung into action to create tools to help you break away from smartphone addiction.
With the new iOS 12, Apple introduced Screen Time, an activity dashboard that gives you a snapshot of the time you spent with different apps. Google followed suit by bundling in the Digital Wellbeing app with Android Pie. Initially, the app was only available on Google-branded Pixel phones, with the company promising support for Android One phones. And now, that promise is materializing.
Battling Tech Addiction
Although there is no legal obligation on them to do so, tech companies are cleaning up the mess they created. They made addictive apps to get people to spend more time on their devices, but now they want to help you curb phone usage. The Digital Wellbeing app tells Android users about their digital habits and provides stats such as the frequency of app usage and the number of notifications received each day.
The app also helps you disconnect with your phone by letting you set app timers to limit the time you spent on different apps and a Wind Down feature that reminds you to put your phone away when its bedtime, fades your display to Grayscale and turns on Do Not Disturb to mute notifications.
Only A Couple Of Devices Have Received Support
A month back, Nokia 7 Plus received support for Digital Wellbeing, and now it can be downloaded on all Android One phones, provided they are running Android Pie. Since the Nokia 6.1 Plus and Nokia 7 Plus are the only phones running Android Pie right now, only they qualify for support. Users with qualifying devices can download the app from Google Play Store.
Here is how the Digital Wellbeing app can help you unwind: