Highlights
Disney+ Hotstar is getting profiles feature.
Netflix and Amazon Prime Video already have this feature.
A user will be able to create up to seven profiles on a single account.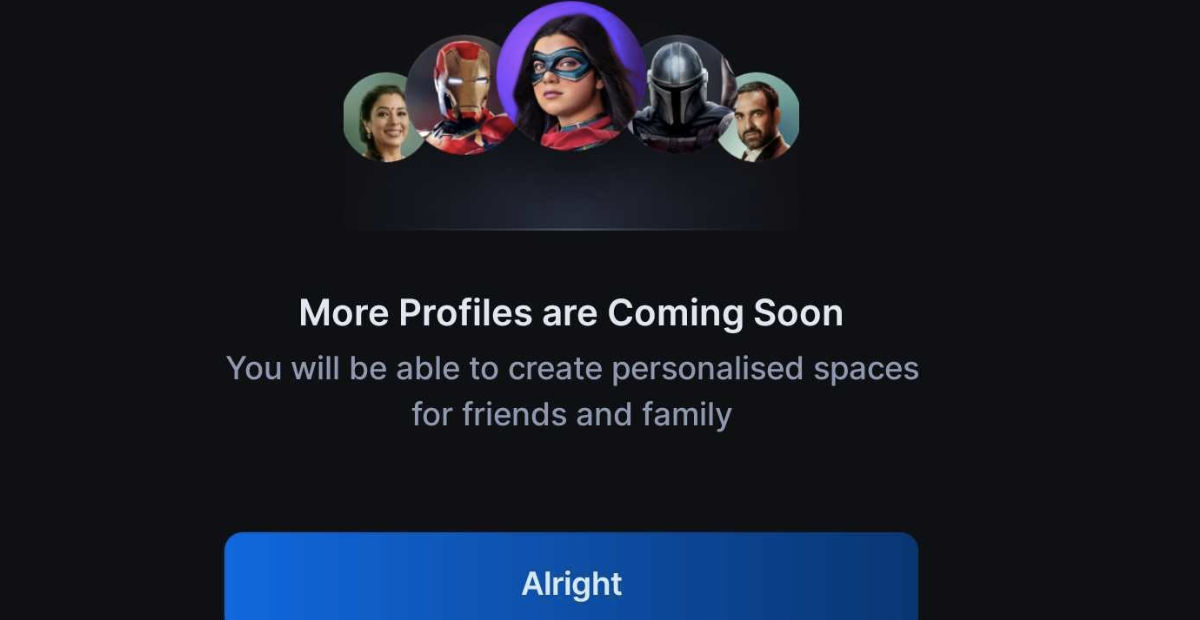 Disney+ Hotstar is one of the most popular OTT platforms in India. However, it has been noticing a decline in its active subscriber base. The key reasons could be the shifting of IPL 2023 from Hotstar to Jio network and HBO content to Amazon Prime Video. Disney Plus Hotstar is adding a new feature to retain its users.
The popular OTT platform in India is now adding profiles to its app. This has been one of the most demanding features from Hotstar users as it allows only one primary profile consisting of all users' recommendations. Here's everything you need to know about Disney Plus Hotstar adding Profiles option to its app.
Disney+ Hotstar Finally Gets Profiles Feature
Profiles have been one of the best features on OTT platforms like Netflix and Prime Video. These are separate sections for each user that distinguish the content according to their watching history. Netflix and Amazon Prime Video already have this feature however Hotstar used to lack this.
A million years after everyone, Hotstar is finally—FINALLY—getting profiles pic.twitter.com/eCGj6HAhJW

— Akhil Arora (@akhil_arora) February 12, 2023
The company has finally taken feedback and confirmed that it will be available soon. A few users in India are now receiving the profile feature on their accounts. Users are now receiving a pop-up on their accounts that say "More Profiles are coming soon" which confirms that the feature is currently under testing and will be live for more users in a couple of time. The company has specified that a user can create up to seven profiles on a single account. More details about the feature should be revealed soon.
How to Create a Hotstar Profile?
As per the official Hotstar support page, only those who are on the Android app version 22.11.21.2 can create a profile. Here're the steps to create a profile on Disney+ Hotstar.
Open Disney+ Hotstar app.
Go to My Space and select '+' Add Profile option.
Add a profile name and choose an Avatar or a profile picture for your profile.
Next, setup the content as per your liking.
Once done, click on Save and a new profile will be created.
Do note that you cannot delete the primary profile; the profile of the user who owns the account. Once set, the contents can't be changed as well.
Hotstar Loses Several Subscribers
Disney+ Hotstar is getting a huge decline in its subscriber base in India. As per the company, its member based declined from 61.3 million in the previous quarter to 57.5 million in the quarter ending on December 31, 2022. It means that the company lost almost 3.8 million paid subscribers which is the biggest ever quarterly subscriber base decline for the company.
Many critics speculate that this is because the company has lost the rights to stream IPL tournament for the 2023 – 2027 period which contributed big numbers. Viacom 18 has bagged the rights to stream IPL 2023 which will be live telecasted o Jio Cinema app.