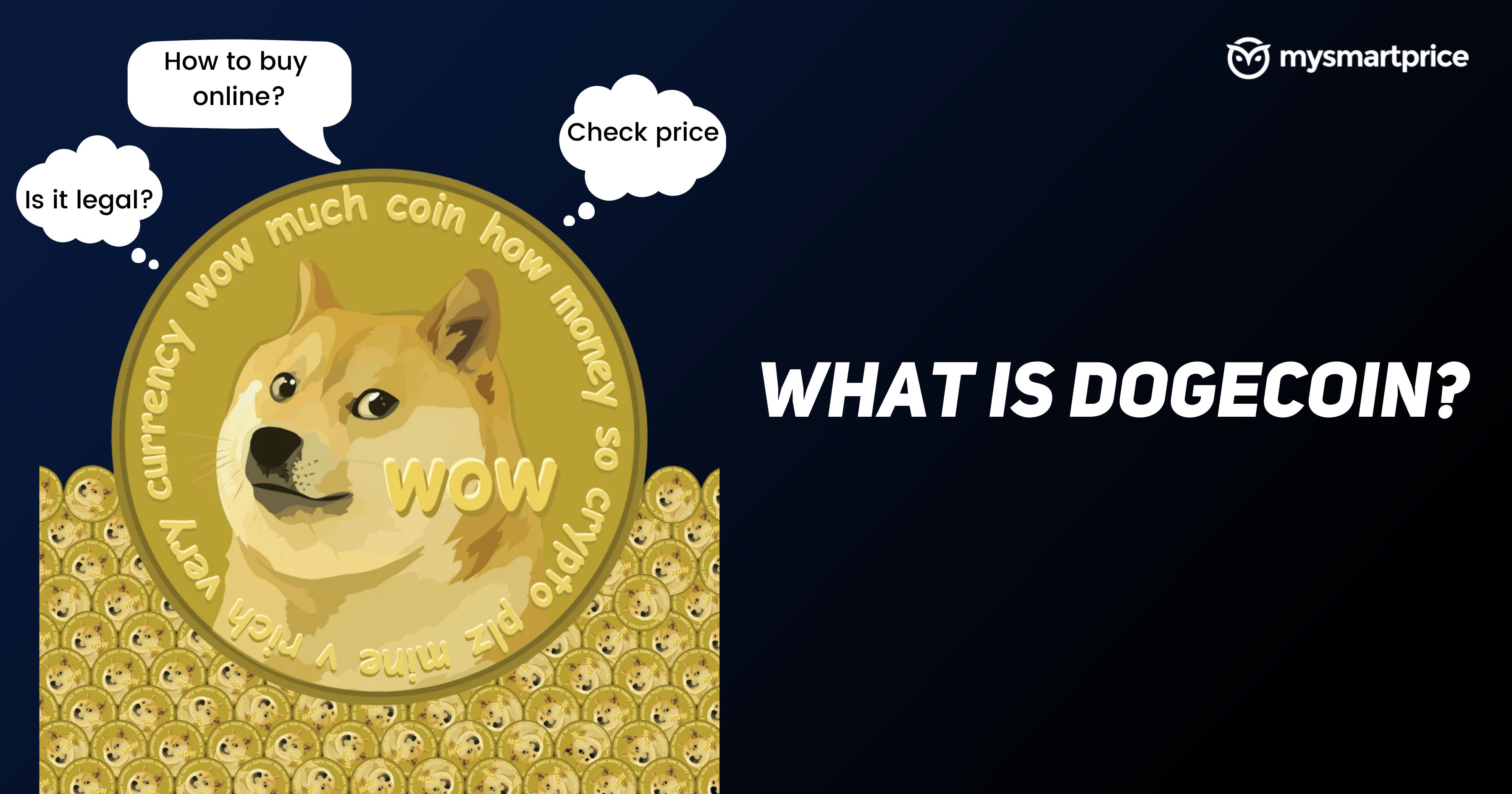 Cryptocurrency seems to be booming in India over the past couple of months as Bitcoin, Ethereum, Dogecoin has seen a rise in value. Among the three Dogecoin has witnessed huge growth as the cryptocurrency has gone up more than 8 times from the price it was available in April. At the beginning of April, Dogecoin was up for grabs at Rs 5 and at the time of writing this article the buying price went up to Rs 52, which is huge growth.
Dogecoin was started as a meme cryptocurrency and because of social media, it has become one of the popular cryptocurrencies on the planet. If you're thinking about where to buy the cryptocurrency then you are at the right place. Read on to know more about Dogecoin and how to purchase Dogecoins in India.
Also Read: How to Block and Unblock Websites on Google Chrome Mobile and Desktop?
What is Dogecoin?
Just to let you know Dogecoin was formed back in 2013 and it was built to introduce the concept of cryptocurrency to the general public and make it available for everyone to purchase. The face of the Dogecoin was the dog Shiba Inu, which is the popular DOGE meme. The cryptocurrency has become popular in the community all thanks to the memes. People have started looking at Doge as the future of cryptocurrency.
Popular celebrities like Elon Musk has also supported Doge and made a joke about it on his social media handle. Today the Dogecoin has become one of the most popular cryptocurrencies and it has spread awareness about the importance of blockchain technology among the general public.
How and Where to Buy Dogecoins in India Online?
To buy cryptocurrency you need crypto exchanges that make it available for users to buy and sell cryptocurrencies. Just to make it easier for your understanding, crypto exchanges are the apps or websites like CoinSwitch and WazirX which helps in crypto trading.
If you're interested in buying Dogecoins then you can make it possible with the help of Coinswitch Kuber, WazirX, CoinDCX. To explain the entire process of installing and using these apps on your smartphone we have used the crypto exchanges apps. Here are the steps which you can follow and purchase the highly booming Dogecoin.
First, you need to head to the Google Play Store or Apple App Store on your smartphone.
Search for the above-mentioned app and download any one of the apps as per your research. (We recommend WazirX).
Once the app is downloaded and installed, launch it on your phone.
Now you need to set up your account by providing the necessary details.
You have to KYC your account and make sure to enable 2 Factor authentication.
Post KYC add your Bank Account and UPI details.
This will help you adding money to your app wallet for trading.
Once the money is deposited on your crypto exchange account you can start selling and buying cryptocurrencies any time as per your wish. This is how you can purchase Dogecoin in India.
Dogecoin Latest Price: Where to Check Online?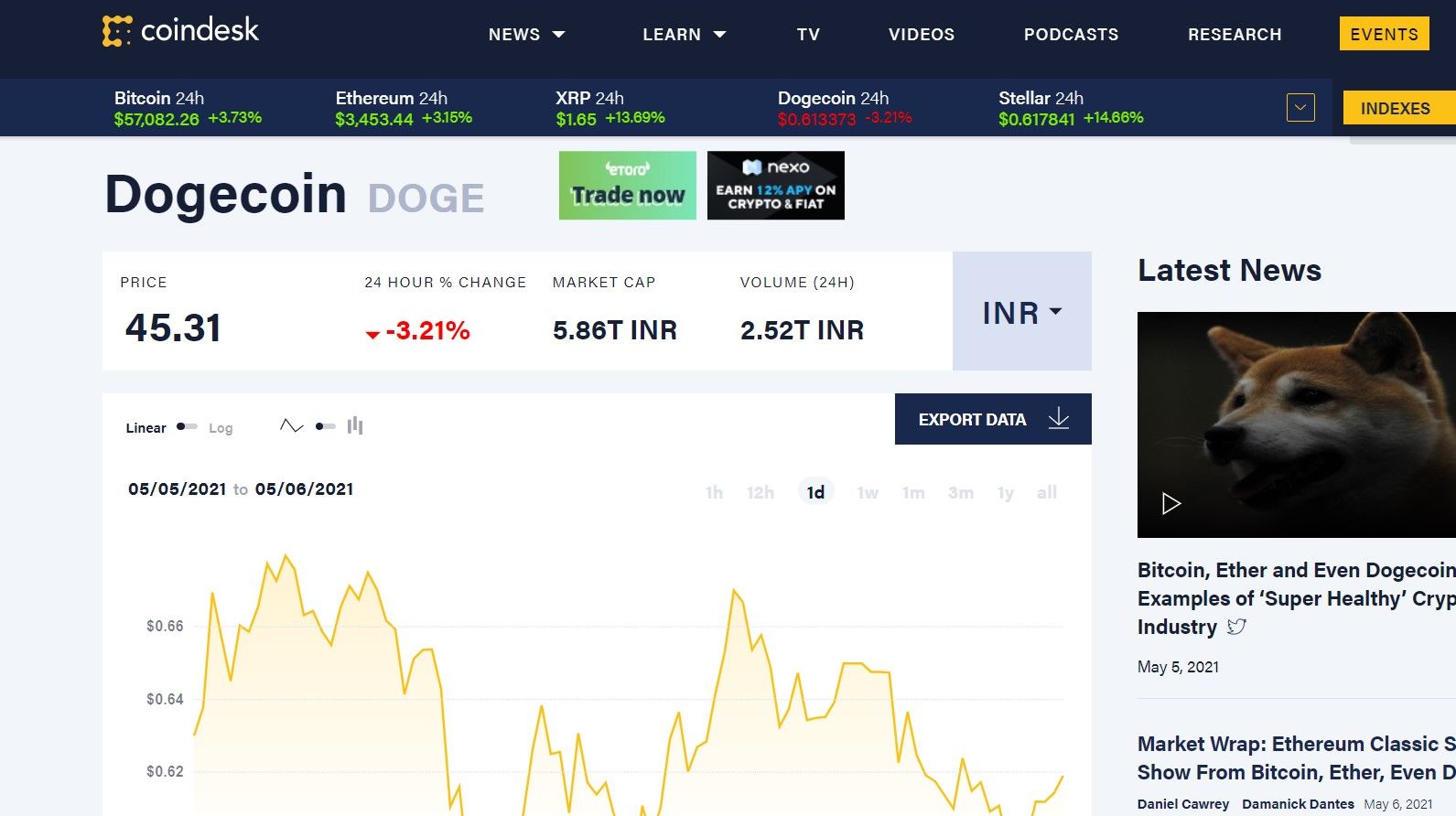 Cryptocurrency prices are like the stock market which keeps on fluctuating every second. To know the latest price you need to keep an eye on the cryptocurrency graph every second. To check the latest pricing of the Dogecoin you can head to the crypto exchanges like CoinSwitch, WazirX, and more. You can also visit the head to this website and check for the real-time price of the Dogecoin.
Is It Legal to Buy Dogecoin Crypto in India?
If you know about cryptocurrency and looking forward to buying some coins for yourself you are at the right place, we will tell you everything about cryptocurrency. But before that do note that until 2018 buying and trading cryptocurrencies in India was illegal but later the Supreme Court has decided to legalise the trading. Post 2018 the cryptocurrency trading become popular in the country and interested buyers have invested in crypto. So if you have a doubt that it's legal or not then don't worry because crypto trading is legal in the country.
Dogecoin and Elon Musk connection
For those who are not aware, Elon Musk is probably one of the biggest promoters of Dogecoin since the beginning of the year. His recent tweets have helped the cryptocurrency to reach a new high. Interestingly, recently Musk tweeted, "The Dogefather SNL May 8." This simply means that Musk will appear on Saturday Night Live (SNL), on May 8th. It is highly anticipated that Musk might talk about Dogecoin during the show. If he does that, the value of the cryptocurrency will new high. So, if you are planning to buy Dogecoin, it is important to pay closer attention to SNL. Furthermore, he has also revealed that Dogecoin could be the future of cryptocurrency.
Why Did Dogecoin Creator Sell All His Coins Back in 2015?
Recently Dogecoin co-creator Billy Markus revealed that he sold his entire cryptocurrency holdings back in 2015. The reason behind selling the entire hold was just to purchase a Honda Civic. Further, Markus revealed that he never purchased the car and spend all the money to pay his outstanding bills.
"I've always said was I sold everything for about as much as it would cost to buy a used Honda Civic. This was all my crypto too, I had Litecoin and Bitcoin and DOGE and a bunch of other ones," India Today quoted Markus as saying.
Elon Musk Ask Twitter If Tesla Should Accept Dogecoin or Not
Elon Musk asked his followers on Twitter whether Tesla should accept Dogecoin as a method of payment. Interestingly, an overwhelming of 3,922,516 people registered their opinion out of which 78.2 per cent of users said that Tesla should accept Dogecoin as a method of payment. 21.8 per cent were against this idea.
Thanks for reading till the end of this article. For more such informative and exclusive tech content, like our Facebook page