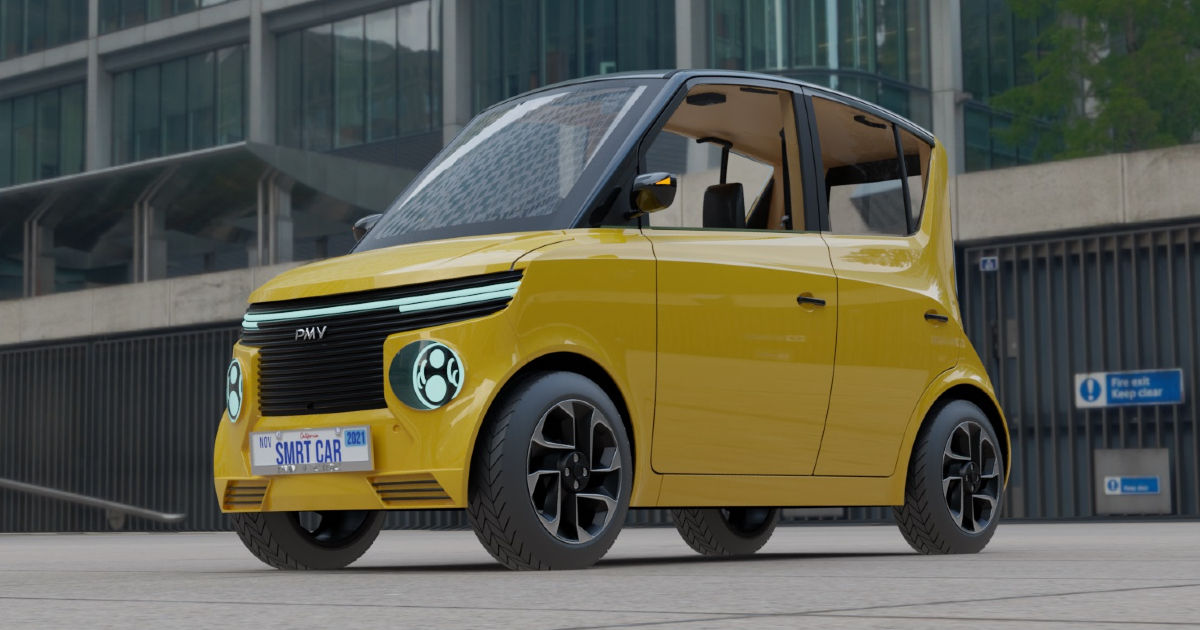 Electric cars have an unshakable resistance, a price tag much higher than what we see on a petrol or a diesel car. Regardless of the reason, this is a major deterrent for buyers from switching to the greener class of vehicles. A Mumbai-based start-up is now working on a solution yet unheard of – an electric car that will hit the Indian market with a starting price of Rs 4 lakh.
The daring attempt is being made by PMV Electric and will take the shape of a rather unique electric car by the name of EaS-E. The name may seem strange, but hides a more elaborate target – "Easy" transportation powered by batteries and motors. Everything about the electric car has then been designed to align with this purpose. The name even expands to make a statement – "Eco-friendly and Sustainable Electric" vehicle.
A new report by Financial Express now shares the expected launch price for EaS-E. After an interaction with PMV Electric founder Kalpit Patel, it mentions a Rs 4 lakh starting price (ex-showroom) for the electric car, and a possible launch date in July this year. Patel clears that the EV is still in its final prototype stage, and that there is still sometime before it becomes production-ready.
For now, the company has shared the EV's plans on its website. A visit to the page will show you exactly what you would expect out of an electric car that spells "Easy" right in its name. A two-seater but in a way that none of us have seen in the Indian market before. How? The two seats are centrally aligned, with one at the front and the other at the back. Meaning your co-passenger will not be seating alongside you but instead, behind you, even though there will just be the two of you in the car.
As we can see in the images, this streamlines the car to a minimal width in comparison to what we see on a conventional "car." PMV Electric says that this will also increase the privacy offered to each occupant of the car. Though why you would need it in this form, especially in a vehicle that moves on public roads all day long, is anyone's guess. The undeniable plus is the added cabin space both occupants will enjoy.
The company defines EaS-E as a 4 Wheeler Quadricycle meant for personal mobility. Since it is not a "car" as we know it, the width is restricted to a mere 1157 mm while the length ends at 2915 mm, just below 3 metres. For context, this is shorter than the Tata Nano by about 0.2 metres. The easy-to-see USP – almost negligible space required and a minimal requirement of power and backup.
In numbers, this equates to a range of 160 km on a single charge and a top speed of 70 kmph, thanks to a PMSM motor. The electric car is front wheel drive and features disc brakes at the front, drum brakes at back, and a new-age vehicular features like regenerative braking as well as Daytime Running Lights or DRLs. There is also an LCD infotainment that will help control features like remote key-less entry, electronically controlled mirrors, remote connectivity and diagnostics, Cruise control, Remote Parking assist as well as an EaS-E Mode for feet-free driving in traffic.
To be honest, there is little that you can compare EaS-E to. Though if I was to make an attempt, I would say that the short form factor reminds me of the Ora R1 that was showcased at the Auto Expo 2020 by Great Wall Motors. Poised to debut as the world's most affordable electric car, it seems like Ora R1 has already lost the competition to EaS-E. Though it remains to be seen if everything pans out in the way the company has planned it.