When you think of Bluetooth speakers, JBL, Creative, and Sony are some of the names that pop-up in your head. However, there are some unconventional speakers that transcend the mere concept of sound quality and practical design. Aside from letting you enjoy the music, these speakers give you the bragging rights of owning something unique and irresistibly cool. So, without further ado, let's boggle your mind with some of the most interesting commercially available wireless speakers:
Devialet Phantom
Here's a speaker that looks like alien technology from Luc Besson's French sci-fi movie The Fifth Element (1997). Developed by Devialet, the Phantom Premier is probably the most peculiar piece of consumer technology. The company claims that over 80 aerodynamics, acoustics, and automobile engineers worked together to develop this speaker. It is reported a decade of research and 25 million euros were invested in this project. This 12 kg of beautiful beast produces explosive bass driven by 60 kg thrust. This explains why Devialet has sealed off the Phantom's cabinet using 1.2 tons of pressure. The speaker maxes out at a whopping 108 Decibels. To put things in perspective, according to Encyclopedia Britannica (it is like Wikipedia but with accurate information) a live rock concert peaks at 110 Decibels. The only thing that I hate about this product is its starting price of $1,6790.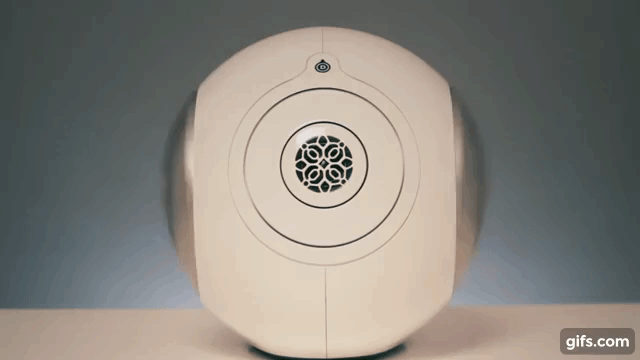 Cotodama Lyric Speaker
Sometimes you think you have seen it all. But every once in a while, you are baffled by a product like Cotodama's Lyric Speaker. It is like a boombox that displays lyrics in real time on a translucent LCD screen. How cool is that! Its Japanese innovators have also developed a technology that automatically detects the mood of a song to alter the textography accordingly. For instance, if you are playing a ballad, the visual style of Lyric Speaker will go soft. On the other hand, play an up-beat song and the text will fly. The device packs in two 20W drivers under its 22-inch transparent screen. Moreover, it is also equipped with two passive radiators to enhance low frequencies for bass aficionados. Once again, my only gripe about this speaker is its $4,500 price tag.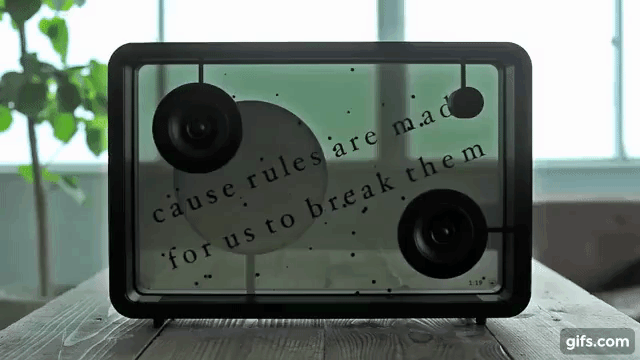 Soundsoul Fountain Speaker
Ouch! The previous two product were undoubtedly exorbitant. Let's restore some balance to the universe with an affordable yet cool speaker. It is probably developed by Chinese people who must have visited Bellagio Fountains in Las Vegas. Alright let's not compare the scale but Soundsoul's speakers roll music, lights, and fountain into a single gadget. The setup is quite simple. An acrylic encasing holds water, which is shot up at variable speeds using a fan powered by an electric motor. The intensity of a fan and effectively the fountains is synced with music. And yes, this gadget is also sprinkled with plenty of LEDs. The Soundsoul Fountain Speaker connects to your phone, tablet, or laptop using a 3.5 mm audio jack. It comes with two 3W drivers, so the total output is just 6W. But come on, it has miniature fountains for your desktop.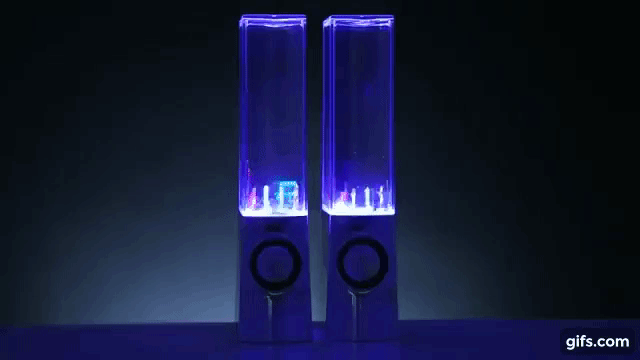 Fireside Audiobox
If you think that a mini fountain synced to music was interesting, then check out Grey Street Design's Fireside Audiobox. It is a Bluetooth speaker that uses actual flames as audio visualizer. Understandably so, this gadget requires a propane canister to work. According to the manufacturer, a 16.4 oz (about half kg) canister ideally last for eight hours. So yeah, it is meant to be used for special occasions. Its creator, Tyrone Hazen mapped the Ruben's Tube (also known as standing flame tube) to audio waves. As a result, you get unique flame pattern for each song. Currently, the Fireside Audiobox costs $549, which is quite a lot of cash, but what else can put on such mesmerizing show of sound and fire?