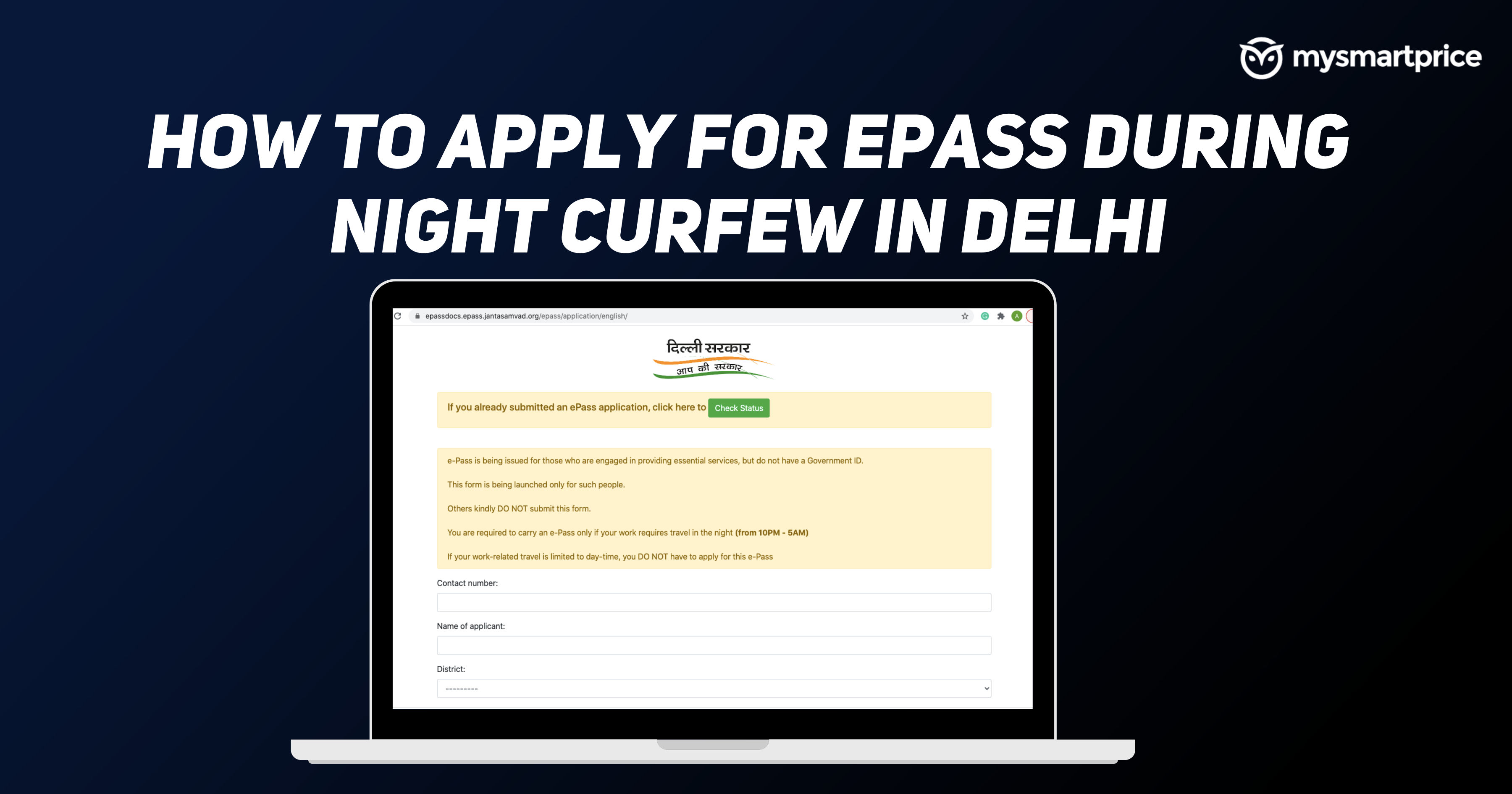 India is once again witnessing an unprecedented surge in COVID-19 infections. As per different reports, India has recorded 1.15 lakh new COVID cases on April 7th, which is the highest since the beginning of the pandemic. The national capital is also facing the grim situation of increasing the COVID-19 positivity rate. So, in order to curb the fresh COVID-19 cases, the Delhi government has imposed a night curfew in the capital from 10:00 PM to 5:00 AM.
During this period, the general public is not allowed to travel during these hours. However, those who are offering essential services or working with private security, and more, have to go out during these hours. Such individuals have to apply for an e-pass. But what is an e-Pass? how do you apply for it? Questions like these tend to baffle many. But you need not worry as we are here to help you. In this article, we are going to tell you all the details about the Delhi Night Curfew and how you can get an ePass by following some simple steps.
Also Read: CoWIN 2.0: How to Register for COVID-19 Vaccine, Choose Vaccination Location, Book Slot
What is e-Pass, Why is It Required?
ePass is basically a permission slip issued by the Delhi government that allows individuals to travel during curfew hours. Citizens need to obtain an e-pass if they need to travel during this time in Delhi. They need to either carry a hard copy or soft copy of the ePass, which need to be shown to the authorities at checkpoints during the curfew period. Without ePass, you will not be able to travel from one place to another.
Who All are Exempted?
As per the order by the Delhi Disaster Management Authority, people working with government bodies are exempted from this order. This means they can travel without restriction during this period, however, they need to present an office ID card during the inspection. Apart from this, here are categories of individuals that are exempted from the above restriction:
Officers/officials of Government of India, public corporations, officials of GNCT of Delhi involved in emergency services such as Health and Family Welfare and all related to medical establishments.
Individuals working as police, prisons, home guards, civil defence, fire and emergency services, district administration, pay & account office, electricity, water and sanitation, public transport, Disaster Management and related services, NIC, NCC, and municipal services are exempted from the night curfew.
All private medical personnel such as Doctors, nursing staff, paramedical, etc. and other
hospital services are exempted from the curfew. However, they need to present valid ID card during the inspection.
Pregnant women and patients for getting medical and health services. People travelling from airports, railway stations, ISBTs are allowed to travel on the production of a valid ticket.
Officers/officials· related to the functioning of offices of Diplomats of various countries as well as
persons holding any constitutional post are also exempted from the night curfew.
Who are Exempted but Need to Carry e-Pass?
The order also reveals a list of categories that are exempted from the night curfew, but they need to first apply for an ePass. This means if you lie in any below-mentioned list of personnel, you will need to apply for ePass in order to travel during the curfew hours. Here's the list:
Shops, dealing with foods, groceries, fruits & vegetables, dairy & milk booths, meat &
fish, animal fodder, pharmaceuticals, medicines and medical equipment.
Print and Electronic media personnel will need to apply for ePass for travelling during these hours.
Telecommunications, Internet services, broadcasting and cable services, IT and IT-enabled services.
Delivery of all essential goods including foods, pharmaceuticals, medical equipment
through e-commerce.
Petrol pumps, LPG, CNG, petroleum and gas retail and storage outlets.
Power generation, transmission and distribution units and services.
Private security services, banks, insurance offices, and ATMs.
Cold storage and warehousing services, manufacturing units of essential commodities, and production units or services, which require the continuous process.
Lastly, persons who are going for COVID-19 vaccination will be allowed during these hours only if they have an e-pass in soft or hard copy.
How to Apply and Submit ePass Application on Jantasamvad Portal Online?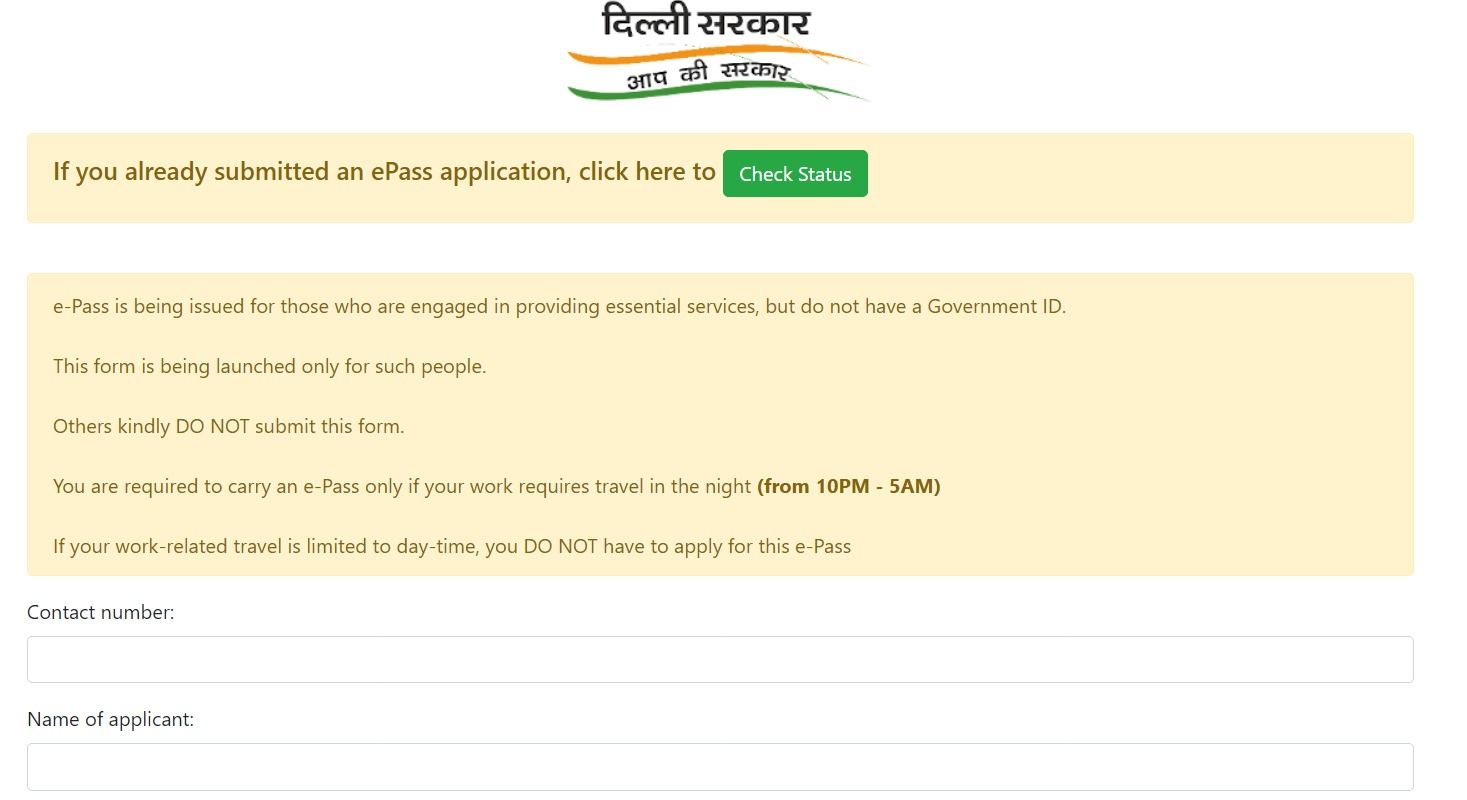 The process of applying for an e-pass is fairly simple. People working in the above-mentioned areas will have to visit the Delhi government website to apply for the e-pass. Here's how you can do it.
Go to jantasamvad.org and select ePass for Night Curfew (10PM to 05AM from the dropdown menu. Alternatively, you can click on this link.
Users then need to enter all the details including contact number, name, district, address of the office.
After that, you need to select the type of services, such as shops, media, banks, essential service, private security services, and more from the drop-down menu.
You then need to fill in the date from which you want the e-pass to the end date of the e-pass.
Individuals need to upload an ID proof, which should be of a maximum of 4MB size along with other documents like visiting card, shop/business license (maximum file size is 4MB).
Tick on the acknowledgement button and click on Submit. Once done, you will get a reference number through which you check whether you have got an e-pass or not.
List of ID Proofs Supported
As per the website, users need to present one identity proof and one official identity proof. Users can use their Aadhaar card, PAN Card, Driving License, Passport, voter ID card, and more for identity proof. For other documents, one can submit a visiting card, office ID card, shop/business license, and more. Furthermore, any ID proof that shows you follow in the above-mentioned categories will work as well.
How to Check ePass Application Status

You can also check the status of your e-pass by going to the same website. You can click here and enter the 7 character ePass ID to check the status of your application.
Delhi Night Curfew Timings
As per the orders of the DDMA, the Delhi Night Curfew is effective till April 30th. Furthermore, the night curfew will start from 10:00 PM every day till the said date. The curfew will end at 5:00 AM on daily basis.
Thanks for reading till the end of this article. For more such informative and exclusive tech content, like our Facebook page