Highlights
EPF website in India is currently down as users are unable to check their passbooks.
EPF users are unable to check their passbooks on the UMANG app as well.
Several users have posted their grievances regarding the same on Twitter.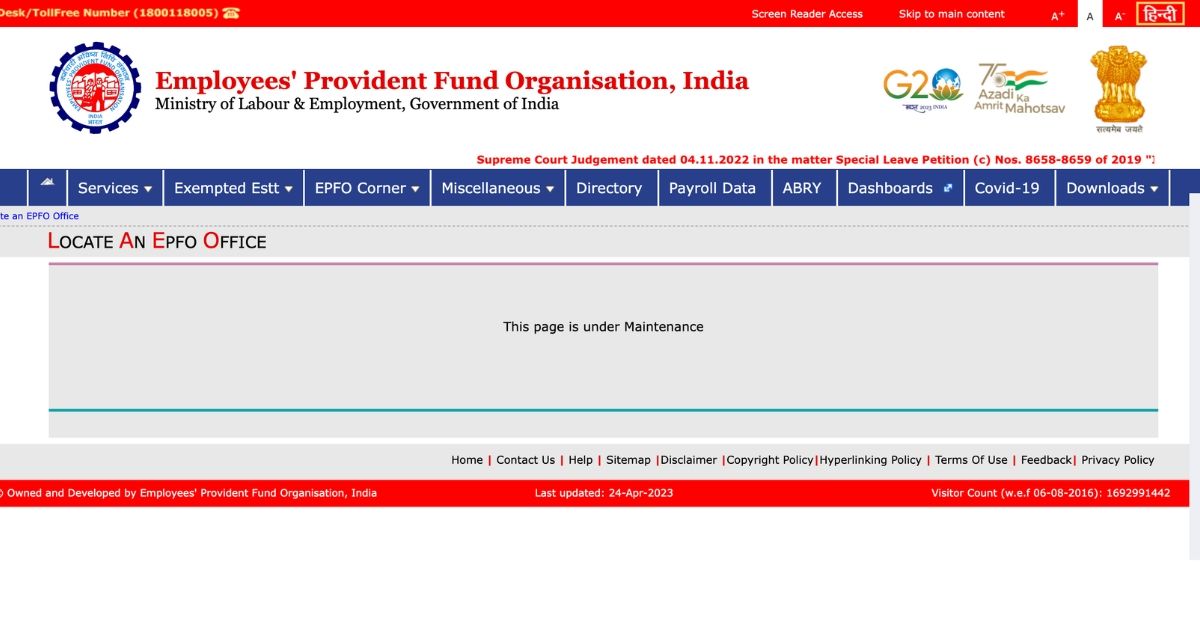 EPF users are unable to check their passbooks online currently. At the time of writing this article, the EPFO or Employees' Provident Fund Organisation, India's website, was showing a "This page is under maintenance" notification to visitors. Several users have also posted screenshots on Twitter with responses ranging from "Service Unavailable" to "The service you were looking for is experiencing some issue, please try again." Users are unable to check their passbook balance on the UMANG app as well. Here's everything your need to know.
EPF Users Unable to Check Passbook Balance As EPFO Website Faces Downtime
View your EPF passbook on UMANG App with these easy steps…#AmritMahotsav #epfowithyou #epf #epfo #Tamil@byadavbjp @Rameswar_Teli @LabourMinistry pic.twitter.com/WYsbyNsOfN

— EPFO (@socialepfo) May 2, 2023
The official handle of EPFO on Twitter – @socialepfo, recently posted an image asking users to check their EPF passbook on the Umang app with the simple steps listed. However, the tweet (see above) invited a barrage of grievances from EPF users who have been unable to check their EPF passbooks for the last couple of weeks. Users are getting service unavailable, heavy load, and experiencing issues notifications. According to the official EPFO handle, "The concerned team is looking into the matter. Kindly wait for some time. The matter will be resolved shortly."
Twitter Reaction to EPFO Website Downtime
Several users have posted their grievances online. Here are some of the tweets posted by irate EPF users.
Im keep getting this..in umang app. I need the statment. Please let me know any alternate way to get this, pic.twitter.com/gMH1H7aYl7

— Venkatesh Babu Murugan (@Itsmeevenkatesh) May 2, 2023
EPFO service is not loading on web nor on Umang app from many days.. What's wrong? Also when will the 2022-2023 Interest for EPFo will be credited?

— prashant (@Prashantvaria9) May 2, 2023
Kab shi rheta hai @PMOIndia @minmsme pic.twitter.com/eg73wyNJVB

— himanshu (@HimashuKu) May 3, 2023
i am not able to access my passbook via portal or using UMANG app. this is happening very frequently and last 3 days. Is there any technical issue?

— KK-Bagavath Gita (@mkskrish) May 2, 2023
@byadavbjp The Epfo passbook website is down from many days, now it says the page is missing on web server.Can your ministry take some quick action to address this issue?? There is always some or other issue with EPFO website. @Rameswar_Teli @nsitharaman @AmitShah @PiyushGoyal pic.twitter.com/3jpjQB50NF

— Prithish Babu🇮🇳 (@prithishbabu) April 25, 2023
Experiencing the worst service from the EPFO portal, it's been a long time but still EPFO passbook website is down. @_DigitalIndia @narendramodi Along with that they have given a number to know your balance which is a fake as per users who reported on Truecaller. #EPFOisDown pic.twitter.com/2NtokT63tF

— Nilesh Jha (@nileshjha0007) May 2, 2023
LAST FIFTEEN DAYS DOWN OF EPFO ONLINE SERVICES
What's up pic.twitter.com/oCSsU7ivhl

— TUSHAR UJAGARE (@tusharujagare) April 26, 2023
When can one view the passbook?? Looks like it is down for ages… #EPFO #PF #passbook #digitalindia BS in the name of #digitalinclusion @PMOIndia pic.twitter.com/mtVrBx1hG4

— Fulltosss (@FullTosss) April 27, 2023
It appears that the EPFO website has been under maintenance for the last couple of weeks. Have you also been facing the issue? Let us know in the comments section below.