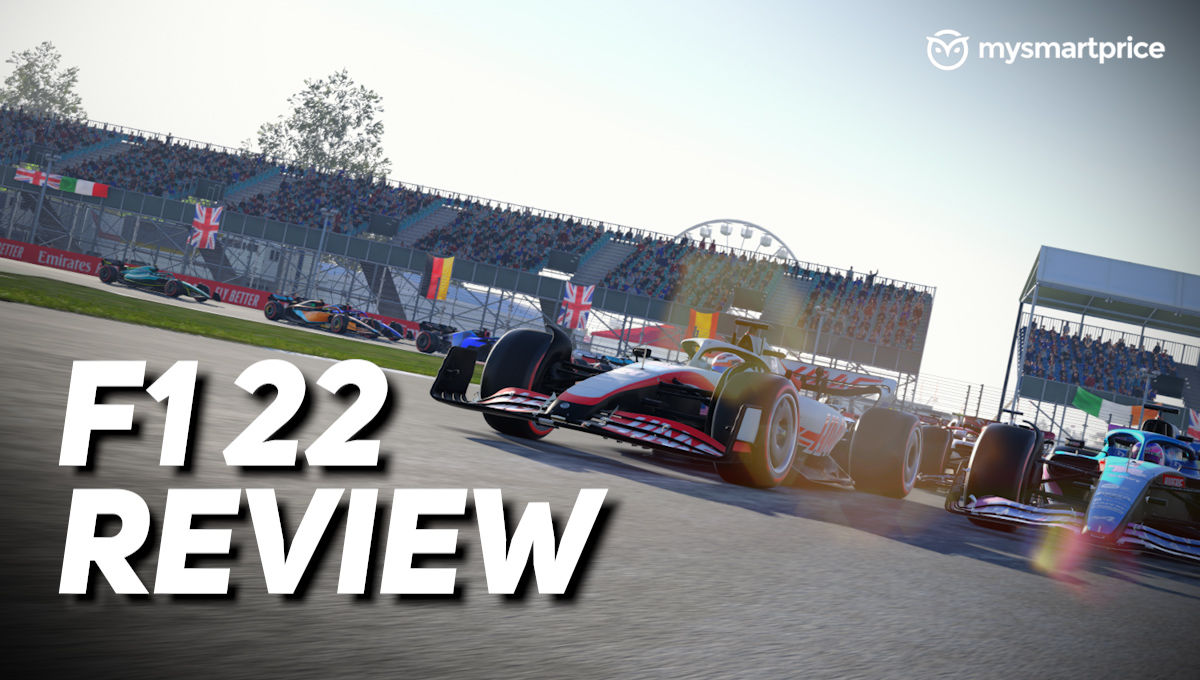 After Electronic Arts' acquisition of Codemasters early last year, the future of the Formula 1 gaming franchise was hotly debated. 'Is EA going to turn it into another slot machine-esque game like FIFA, littered with in-game purchases?' was the biggest question asked by fans. Surprisingly, F1 21 was a very mellow experience for an EA game. Sure, there was the overly-dramatic 'Braking Point' mode, but then, it wasn't a money-grubbing scheme. It was, in a way, a newborn EA baby.
What Is Good?
Beautifully rendered 2022 F1 cars
New handling model
Newbie friendly
Supercars are fun to drift
VR mode available
Adaptive AI difficulty
What Is Bad?
Dated physics engine
F1 Life is tacky
No major changes to career mode
Now, F1 22 is here, and it is an adolescent EA kid – it has in-game purchases in the form of furniture (seriously), supercars, tacky merchandise from Puma and AntiSocialSocialClub. Oh, and it also has the latest-spec Formula 1 cars.
But it makes sense. Formula 1 is going big on marketing, and the success of Netflix's Drive to Survive series is proof of that, as it brought in hordes of Gen-Z fans to the dying sport. It followed the mantra of accessibility and entertainment in a passively-consumable fashion. F1 22 is the actively-consumable version of the same. For purists and long-term fans of the game, the supercars and the flashy 'F1 Life' means very little, but for first-timers, this can be a solid stepping stone to the world of simcade racing. Let's find out how in this review.
F1 22 Review: What's new
A choice of furniture, supercars and tacky clothing
The biggest talking point of F1 22 has been the introduction of 'F1 Life'. It's essentially a lifestyle simulator that lets you customise your off-track look (with high street brands), home (with purchasable furniture) and even a garage. In your garage, you can keep your swanky roadcars, just like how F1 drivers do it. Or at least that was the intention. In reality, the childish, brand-obsessed nature of this mode has left many people disappointed. Choosing furniture seems out of place and distasteful, and the choice of attires is extremely tacky.
The supercars are actually incredible. In fact, the game makes you choose and race a supercar the first time you boot it up, and it's not that bad. You can race with as many as 10 supercars from Aston Martin, Ferrari, Mercedes AMG and Mclaren in three ways – in career events, Pirelli Hot Laps in the solo menu and in time trials.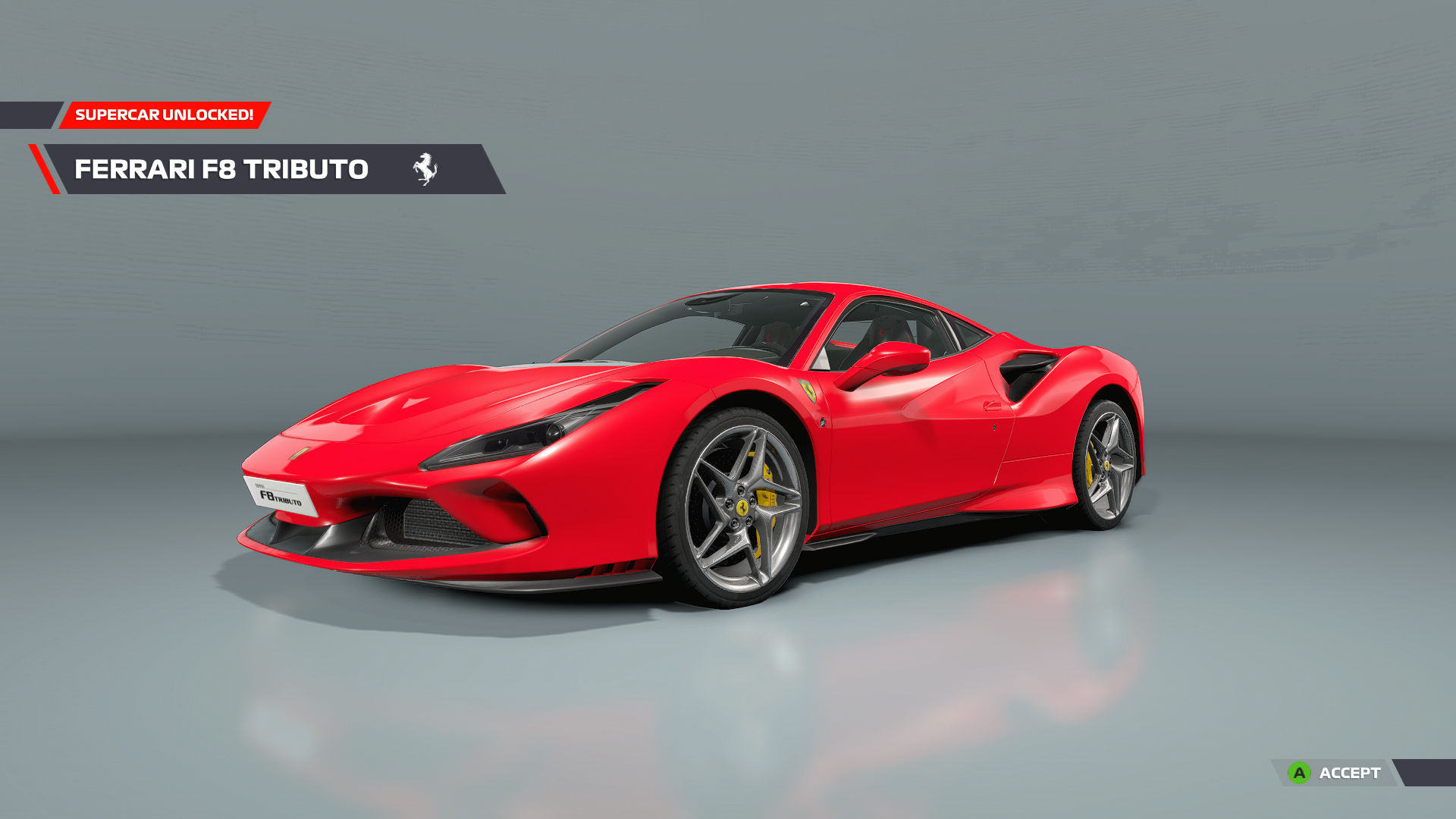 The Pirelli Hot Laps mode is taken from its real life counterpart, you get three types of races here – autocross, drift and duels. The races in this mode are too short and lack thrill and we were done with them very soon.
We had a ton of fun with time trials though. That's where we really started to enjoy the supercars. We spent more time perfecting our time with supercars on full fledged tracks than racing the F1 cars. They do steer like shopping carts, but using the handbrake unleashes them in a drift. All supercars have different steering and engine characteristics.
If you think about it, this seems like EA's way to bridge the gap between the world of fast paced arcade racers like Need For Speed and Formula 1, where racing is technical.
The new formula
The 2022 Formula 1 season sees a change in regulations – cars have simplified front and rear wings, and a more rounded-off design to reduce turbulent airflow behind the car. They also bring back the 'ground effect' which was exploited by several Formula 1 teams between 1978 and 1982. It is essentially a way to create suction between the floor of the car and the road to get better grip in corners. All this is done to make racing closer.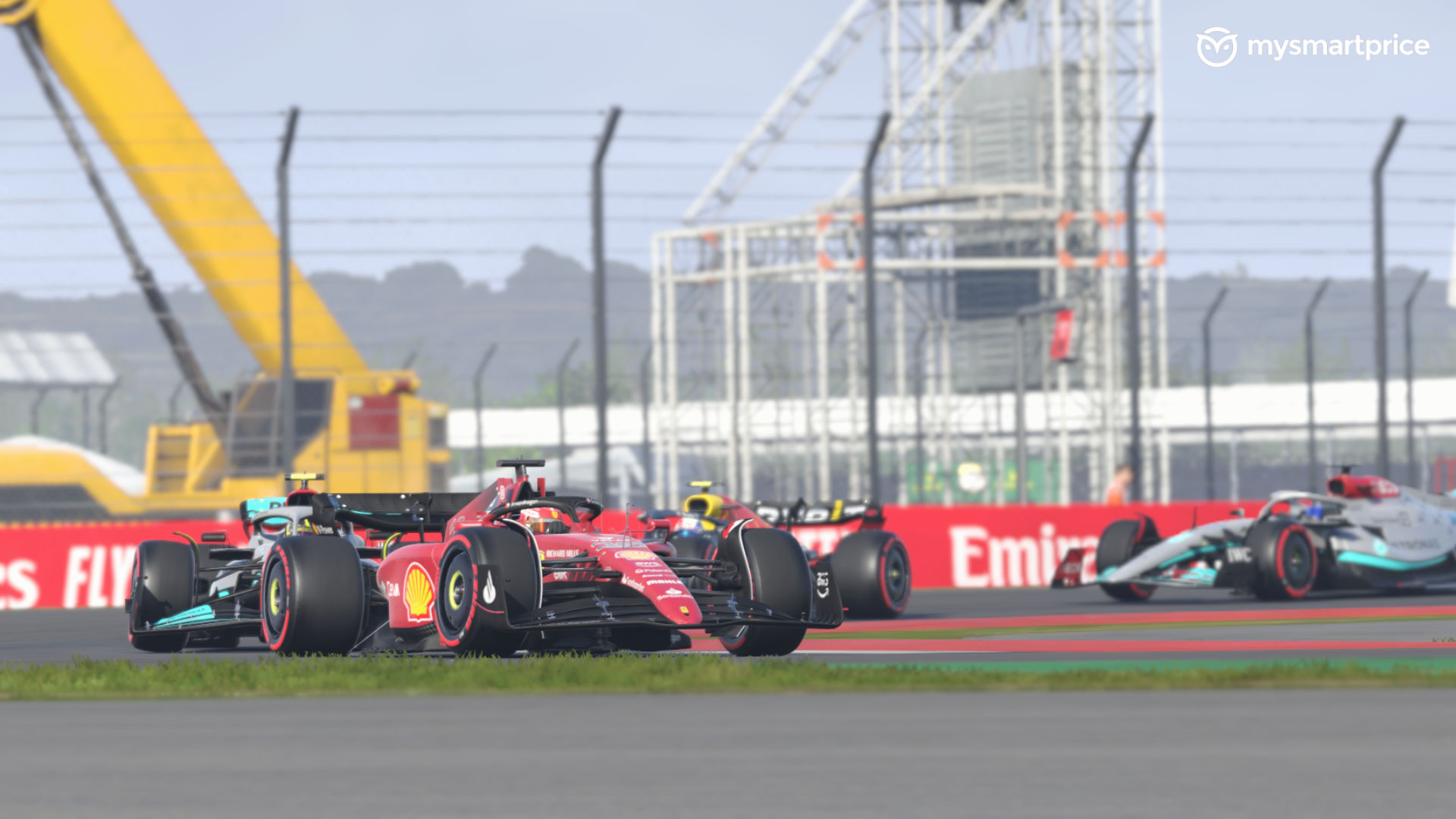 F1 22 has the new cars in all of their aerodynamic, ray traced glory, but the ground effect cannot be experienced in the game, sadly. We have seen several drivers struggle with an issue called 'porpoising' caused by the aforementioned ground effect. It's when cars bounce up and down while going down on a straight, causing a loss in grip. While the handling model has been changed significantly, porpoising isn't here.
Speaking of handling, track surfaces have been improved significantly since F1 21, and the game doesn't glitch out crucial corners such as the turn 4 and 5 chicane at Monza, where a phantom bump on the kerb would send your car flying into the gravel. Steering feels natural, and it's fun to battle it out with opponents. The traction control, however, has been made a little more difficult. Medium traction control is now equivalent to keeping it off in F1 2021, and it requires you to relearn throttle feathering. It can be really frustrating for those playing with controllers, especially in cambered corners such as turn 10 at Bahrain and the entire Red Bull Ring. The new cars also have more understeer, thanks to the higher kerb weight of the cars. So, you'll find yourself tinkering around car setups more than ever before to extract better handling out of cars. Keeping the traction control on Full will be the most comfortable for newer players, but at the cost of slower lap times.
There's a brand new circuit – Miami! Racing on street circuits on controllers is challenging, but Miami's a fun track to race on. It's short, it has wide lanes and long straights. Also, for the first time in three years, the game and the real season have the same tracks and in the same progression. Although Portimao and Shanghai aren't on the calendar, they are still included in the game as bonus tracks.
Granular controls in the pits & race starts
Pit stops have been very dull since the modern F1 games came into existence, because you just have to sit and stare after your car enters the pits. The time taken for the pit stops was also very random. To make it more exciting, there's an element of skill in F1 22. To make a quicker pit stop, you now have to time your turns into the pit box. This takes some time to master, but it can be a deciding factor in a long race. Further, you now also get to position your car in a grid slot. This isn't as elegant as it sounds, because you'll often find the game resetting your position because of the level of perfection required for it. To us, the manual pit stop makes more sense as it can actually decide the outcome of a sweaty race. The latter seems like a gimmick.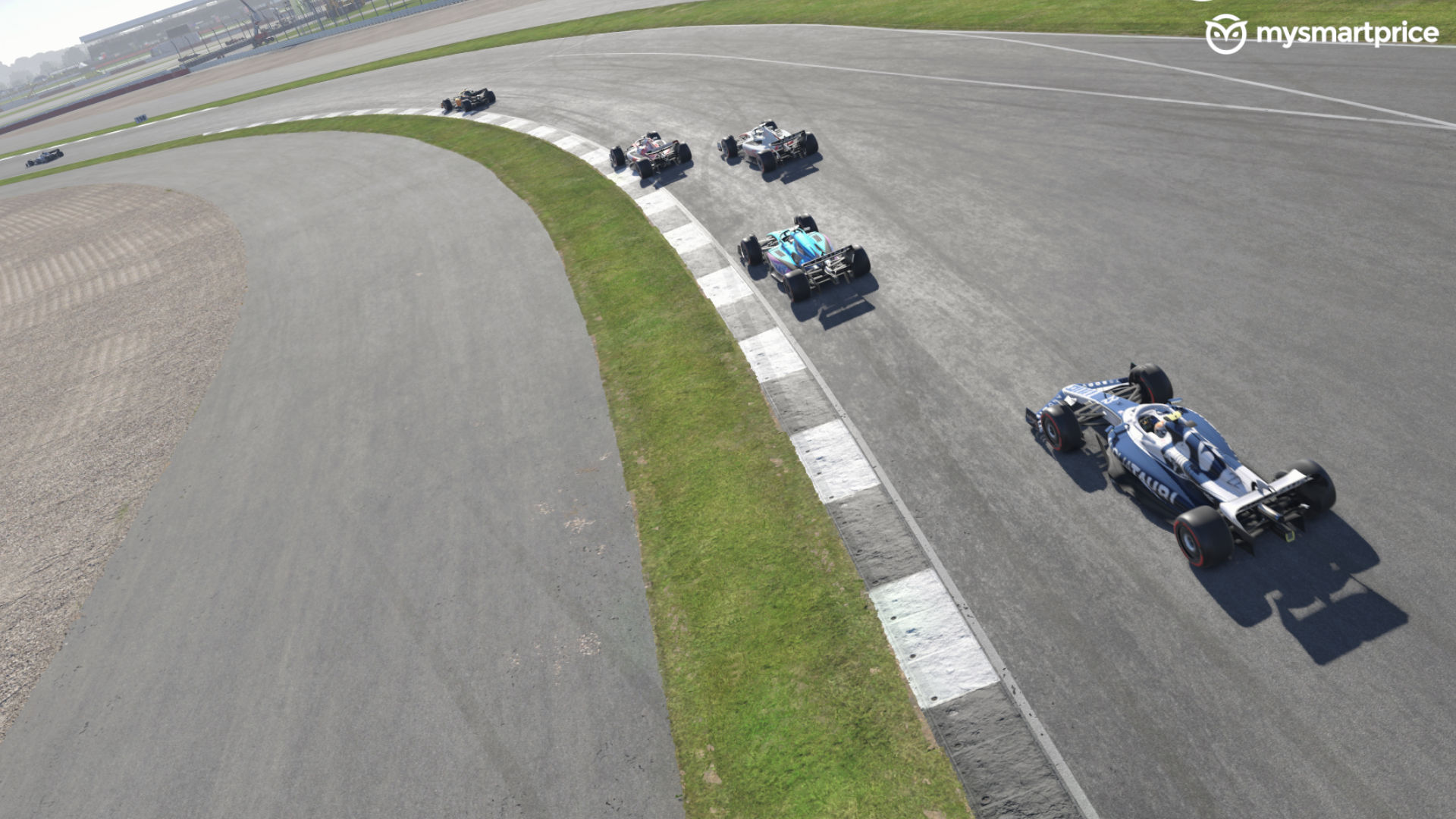 Smarter AI
F1 22 features adaptive AI, which learns your driving patterns and matches your level of difficulty, making for a more realistic and closer racing. In the previous versions of the game, 80% would be our sweet spot, but in F1 22, we had to reduce the difficulty just because of its dynamic nature. It's the first time in the history of the franchise that we saw the AI perform manoeuvres such as dive bombs, which kind of took us by surprise. But, at lower difficulty levels, you'll still see the AI drivers brake early and park their cars on the racing line. AI also race themselves realistically, often three abreast. This makes for a more realistic action if you are making your way up the positions, because if the cars engaged in a battle lose time, and you can snatch two to three spots in a really satisfying move.
F1 Sprint is here
Although sprint races were introduced in the 2021 season, they have arrived in the F1 games only this year. It's not that big of a deal to be honest, because you can reduce sprint distance too and it takes away the point of a sprint race. But, if you're really up for a challenge, you can try a full length sprint, but here the tire management will be key or else you'd end up sliding around in the final stages of a race.
Upbeat music
We were also really happy with the fact that the game now no longer has a single soundtrack theme. This is where the EA-fication is evident, because you now have a catchy mix of electronic, R&B and Hip-Hop songs gracing the menus. F1 21 had a really depressing menu music, and this is such a breath of fresh air.
F1 goes virtual
Also, this is the first F1 game with baked in support for virtual reality headsets, and it shows you a prompt to choose between the regular and VR version of the game every time you start it. We sadly never got the chance to try it, but going by what's there on YouTube, it seems like a fun little addition that adds to the realism of the game.
Goodbye, Jeff
Jeff, the ever-faithful race engineer since the Codemasters days, is no longer here to irritate you with poorly timed lines. Instead, we now have the ex-Mclaren mechanic Marc Preistley, who sounds way more natural. F1 22 also introduces Natalie Pinkham and Alex Jacques as commentators. You aren't going to hear them all that often, but it's nice to have more people nevertheless.
Gameplay and graphics
We tried the game out on a gaming laptop with Ryzen 7 6800H CPU with Nvidia GeForce RTX 3050 graphics and 16GB of RAM.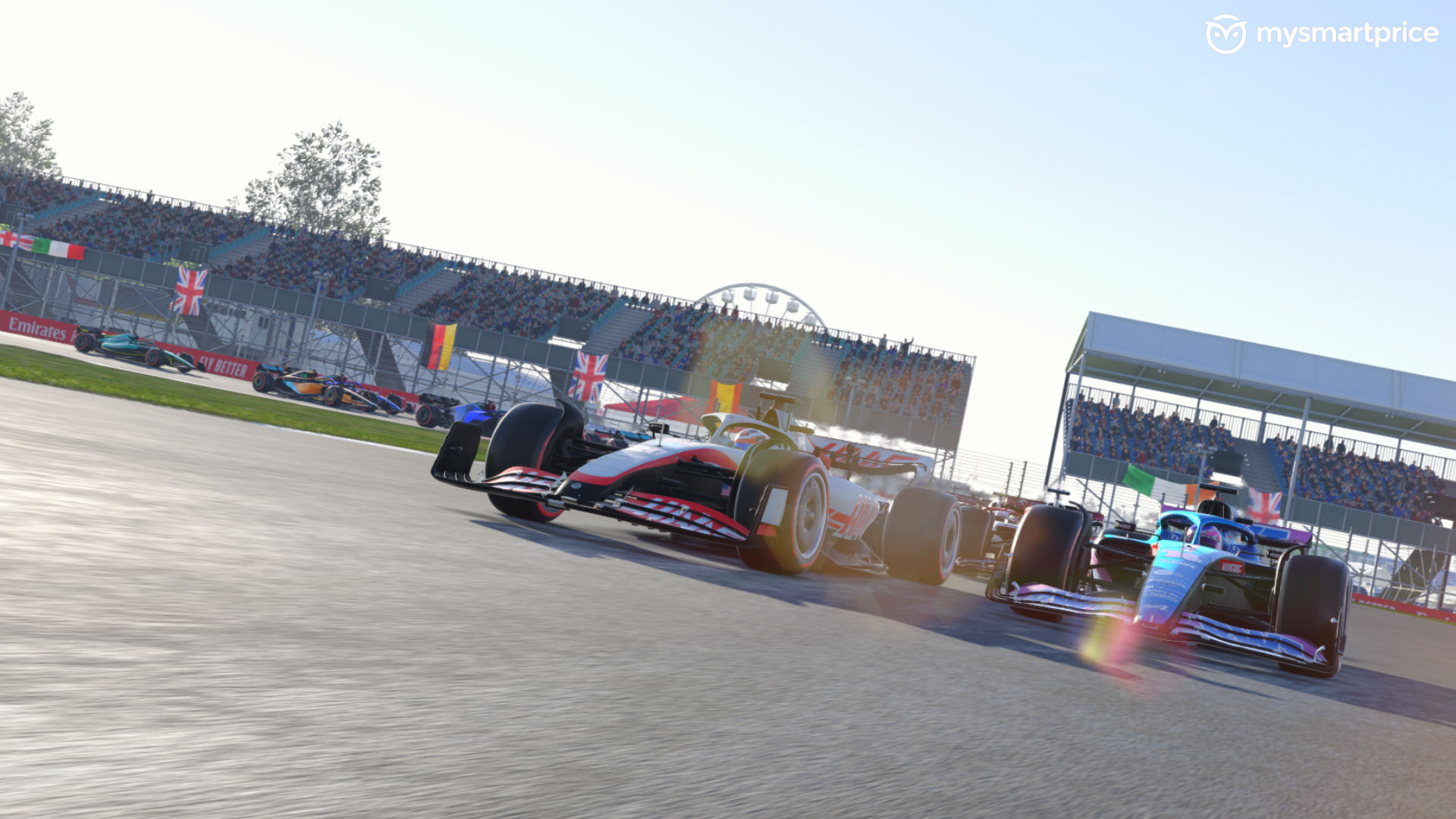 Career game modes, such as My Team and Driver are taken straight out of F1 21, with very little changes. The former puts you in the seat of a team boss-cum-driver, and you can choose to lead a well-moneyed outfit or an up and coming team with a low budget for more difficulty. The latter mode makes you a driver working up the ranks in the world of Formula 1. You can either start your journey from F2, or end up directly in F1 in any team of your choice.
The cringe-fest of Braking Point has been scrapped this year, but it's slated to return in a couple of years.
Multiplayer lobby is taken from F1 21, and the interface is unnecessarily complicated with different tabs for casual and serious races. The one in F1 2020 was the best implementation of this. They have fixed server issues quite a lot, and we haven't noticed strange session start glitches as of now, where the game would get stuck in either the load screen or the pre-garage cutscene. Esports mode and F1 Events are also here, just like the last two iterations of the game.
In terms of engine sounds, F1 22 has reduced the high pitch whine of the turbo in the mix and now you get to hear the really nice low end rumble of the engine. This is particularly pronounced in Alpine and Mercedes engines. In hindsight, the V6 sounds have come a long way since 2014, when they sounded like vacuum cleaners.
Crash physics have been slightly tweaked this time, but are based heavily on that of F1 21. So apart from the wings and tires, you can also damage the floor of the car, with significant impact on the performance of the car. While deflated tires are challenging to drive, they look the same as they did back in F1 2012.
The car models look amazing, especially with ray tracing turned on. Cars with matte finish paints could have looked better, but the overall renders of the car looks nothing short of stunning.
The racing overalls, hands of the drivers on the steering and other elements such as the crowds, clouds and support cars in the Ego Engine 4 appear dated. The same engine has been used in the franchise for the last seven years, and the ray traced graphics and new handling models are just a coating of paint on the cracks of the Ego Engine 4. It's time for an overhaul, and we hope EA brings in a new engine sometime soon.
F1 22 Review: Verdict
F1 22 is extremely attractive from a newcomers' perspective. It has supercars, the new F1 22 cars, good graphics for the most part, a lovely handling model, a dated yet entirely engaging career mode and a fun multiplayer mode. Are the outfits and home decor items appropriate for a racing game? We'll let you be the judge of that. The gaming engine too requires an overhaul, but for this year, it seems to be working just fine. At a price of Rs. 2,999, the game is a little expensive as always, but if you're a new F1 fan, you'll enjoy it. For the veterans, the appeal of the new regulation cars with official liveries is there, but you'll definitely find a much better simulation experience in a more affordable and heavily moddable Assetto Corsa, which is now about decade old.