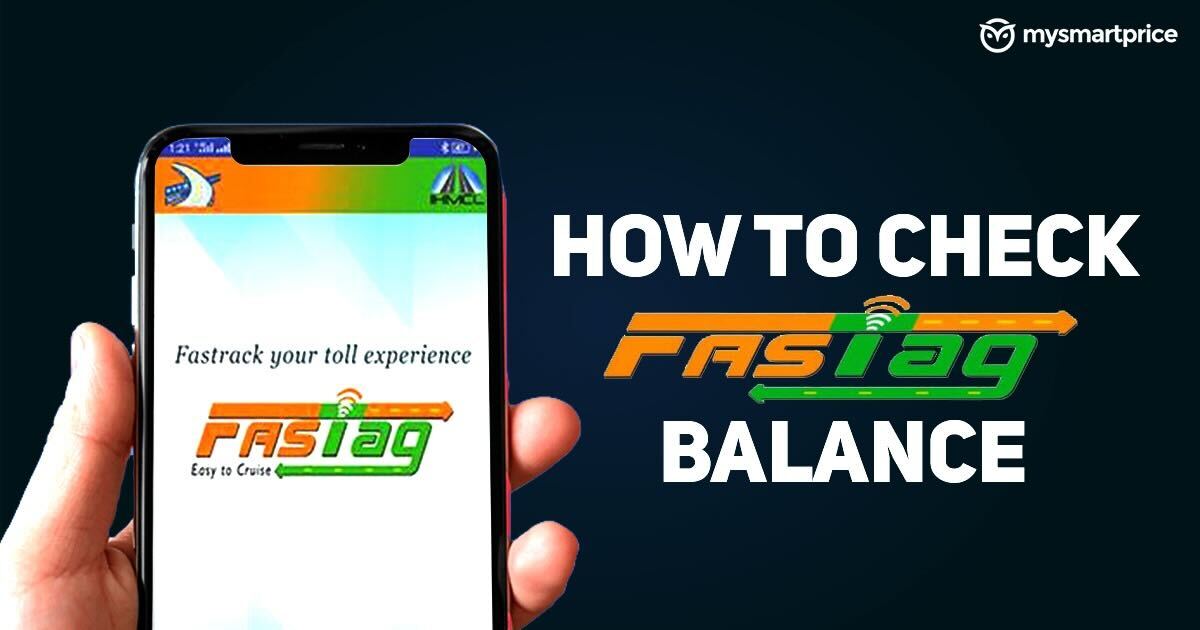 FASTag has become a ubiquitous presence in our cars. Issued under the order of the National Highways Authority of India, a FASTag is a radio frequency identification (RFID) sticker tag that can be purchased through various issuing vendors. The tag is a move to digitise the tolls paid at highway booths, with the eventual goal of expanding their use in authorised parking spots. Eventually, the goal behind a FASTag is to reduce the use of cash in tolls – and digitise the entire process.
If you're planning highway travel soon, here's our guide for you to check for your FASTag balance. We also answer a number of key questions on FASTag, balance enquiry, to help you better understand its importance.
Also Read: Indane Gas Booking Number & Online Process: How to Book Indane Gas Cylinder Through App, IVRS, SMS and More
How to Check FASTag Balance Through Official Websites
Before proceeding further, it's important to understand that FASTag does not have its own, standalone portal. Instead, it is given out by an issuing authority. These authorities are banks or banking services, which therefore allow users to link their accounts to a FASTag account.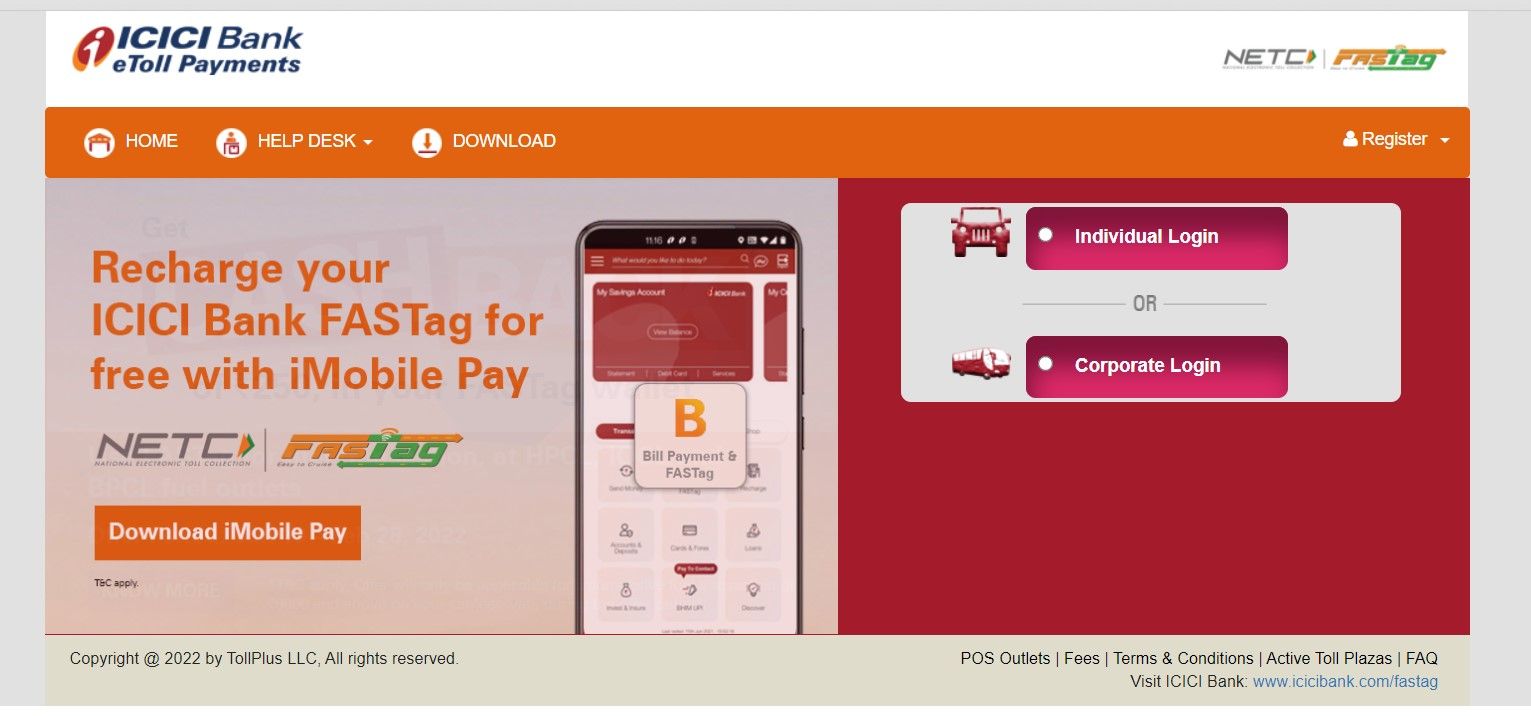 If you have already done this bit, you will already have a set of login details and your registered mobile number on this portal. Then, use the following steps to check your FASTag balance from your PC:
Search for the portal through which you had signed up for FASTag. For instance, if you signed up for it through ICICI Bank, simply search for 'ICICI FASTag', and access the official page for the portal.
Once you've located the site, you will find a login portal on it. Use your username and password to login, or choose a one-time password (OTP) login.
Some sites also let you login by using your vehicle registration number and OTP. Some, such as Paytm on the other hand, do not allow users to login through the website, and require you to use the app instead.
Also Read: How to Change Name in PAN Card 2022: Online and Offline Process, Fees, Required Documents
How to Check FASTag Balance Through Official App
Like websites, the process is largely similar on apps, too.
Download the mobile banking app of your FASTag issuer
On the app, you will find a dedicated FASTag section prior to login
On some apps, you may locate the section after logging in
Once you find it, the section will show your available FASTag balance, the latest deductions and provide a way to recharge
Alternatively, you can also download the NHAI My FASTag app to check your account balance
Also Read: EPF Balance Enquiry: How to Check Your EPF Balance via Website, App, Missed Call Service, and More
FASTag Balance Enquiry Through SMS Number
It is not mandatory to have data access in order to check for your FASTag balance. One easy way is to search in your inbox for the most recent NHAI or FASTag SMS alert. The latter will include your last available balance in your FASTag account.
If you don't have the SMS message, you can get your latest balance on SMS by giving a missed call on the official NHAI FASTag number: +918884333331
FASTag Balance Enquiry Through Customer Care Number
Finally, you can also call up the customer care portals of your FASTag issuer and ask for your account balance. The NHAI number is mentioned above, while the contacts of all other FASTag issuers can be found with the National Payments Council of India. The list is as follows:
| | |
| --- | --- |
| Issuing Bank | Customer Care Helpline No |
| Airtel Payments Bank | 400/8800-688-006 |
| Allahabad Bank | 1800-258-6680 |
| AU Small Finance Bank | 1800-258-7300 |
| Axis Bank Ltd | 1860-419-8585 |
| Bank of Baroda | 1800-103-4568 |
| Canara Bank | 1800-103-3568 |
| City Union Bank Ltd | 1800-258-7200 |
| Equitas Small Finance Bank | 1800-103-1222 |
| Federal Bank | 1800-266-9520 |
| FINO Payments Bank | 022-6868-1414 |
| HDFC Bank | 1800-120-1243 |
| ICICI Bank | 1800-210-0104 |
| IDBI Bank | 1800-266-1962 |
| IDFC First Bank | 1800-266-9970 |
| IndusInd Bank | 1860-210-8887 |
| Karur Vysya Bank | 1800-102-1916 |
| Kotak Mahindra Bank | 18-602-666-888 |
| Nagpur Nagarik Sahakari Bank | 1800-266-7183 |
| PAYTM Bank | 1800-120-4210 |
| Punjab Maharashtra Bank | NA |
| Punjab National Bank | 1800-419-6610 |
| Saraswat Bank | 1800-229-999/1800-266-5555 |
| South Indian Bank | 1800-425-1809 |
| State Bank of India | 1800-110-018 |
| Syndicate Bank | 1800-3011-3333 |
| Union Bank of India | 1800-258-6400 |
| YES BANK | 1800-3000-1113 |
Frequently Asked Questions (FAQs)
What is the validity of FASTag?
Each FASTag issued has a validity of five years from the date of issuance.
What are the charges for FASTag?
There are a number of charges associated with a FASTag, including a one-time, non-refundable joining fee, a refundable tag deposit, and a minimum first-time recharge (also called 'threshold amount'. Based on NHAI data at the moment, the charges are as follows:
| | | | |
| --- | --- | --- | --- |
| Tag Class | Description | Tag Deposit (Rs) | Threshold amount (Rs) |
| 4 | Car / Jeep / Van | 200 | 200 |
| 4 | TATA Ace and similar mini Light Commercial Vehicle | 200 | 100 |
| 5 | Light Commercial Vehicle / Mini Bus | 300 | 100 |
| 6 | Bus 3 Axle | 400 | 100 |
| 6 | Truck 3 Axle | 500 | 100 |
| 7 | Bus 2 Axle / Truck 2 Axle | 400 | 100 |
| 12 | Tractor / Tractor with trailer / Truck 4/ 5/ 6 Axle | 500 | 100 |
| 15 | Truck 7 Axle and above | 500 | 100 |
| 16 | Earth Moving / Heavy Construction Machinery | 500 | 100 |
What should be the minimum balance on FASTag?
The NHAI removed the need for a mandatory minimum balance in February 2021. As a result, users will be allowed to pass a toll booth as long as their account balance is not negative.
What happens if the FASTag doesn't have enough balance?
If your balance is running low, you will still be allowed to pass a toll booth. In this case, the latest charges will be deducted from the tag's security deposit, which must be recharged before you cross the next toll booth.
What will happen to account balance if FASTag is lost or damaged?
If the tag is lost or damaged, you will need to report it to the issuing bank by calling its customer centre. The latter will then backlist the tag to prevent any further transactions on it. The same can be reactivated by paying a reissuance fee, and registering with the same mobile or vehicle number.