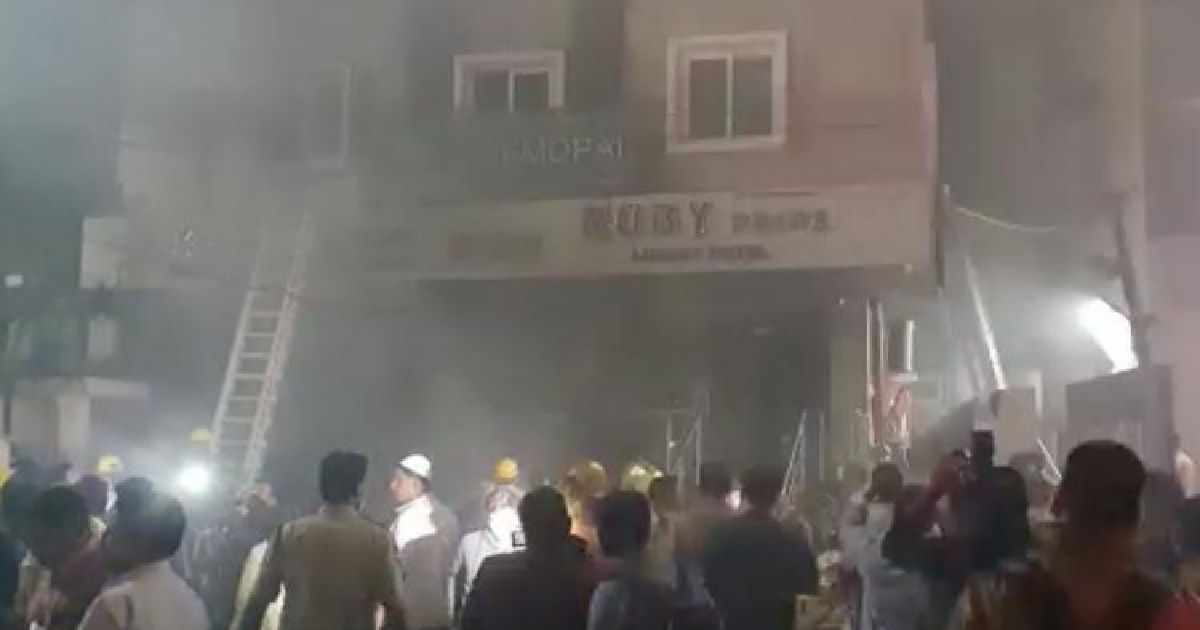 A fire broke out in an electric vehicle showroom located on the ground floor of a building in Telangana late Monday night. Reports indicate that eight people were killed while several others were injured after the fire spread to a lodge on the first and second floors of the building. Those injured now undergo treatment at a nearby hospital.
The incident is being reported from Telangana's Secunderabad, where the fire is said to have been started at the Ruby electric vehicle showroom located in Monda Market area. Though the exact cause of the fire is yet unknown, preliminary reports point to an explosion in either an electric bike or a generator inside the Ruby Motors showroom as the possible cause. Once started, the fire quickly spread to the rest of the building, trapping about 25 people on the upper floors.
The one exit to the building was located on the ground floor, next to the electric bike showroom from where the fire had spread. Those trapped on the upper floors were thus unable to exit the building due to heavy fire and smoke at the lone entry and exit point. Some of the tourists eventually died because of asphyxiation caused by the smoke.
Some of the people trapped on the upper floors of the building even tried to escape the fire by jumping through the windows and got injured in the process, as per a report by The News Minute. TNM quotes North Zone DCP Chandana Deepthi, saying that eight people died in the fire, of the 22 trapped, while the injured have been shifted to different hospitals.
The Fire Department, along with a few locals in the area, rescued the others by using crane ladders and other means. Telangana Home Minister Mohammad Mehmood Ali has launched a probe to find the exact cause of the fire. In a recent tweet acknowledging the incident, Prime Minister Narendra Modi expressed his grief over the mishappening and announced a compensation from the Prime Minister's National Relief Fund PMNRF, of Rs 2 lakh each for the family members of those who died in the mishap. The support also extends a sum of Rs 50,000 for each of those who were injured.
This is yet another incident of a fire that is related to an electric vehicle showroom in the past few months. In the first week of September, a similar fire broke out in an electric scooter showroom in Kozhikode, Kerala, due to a short circuit in a basement flooded with rainwater. No injuries were reported from the incident at the time.