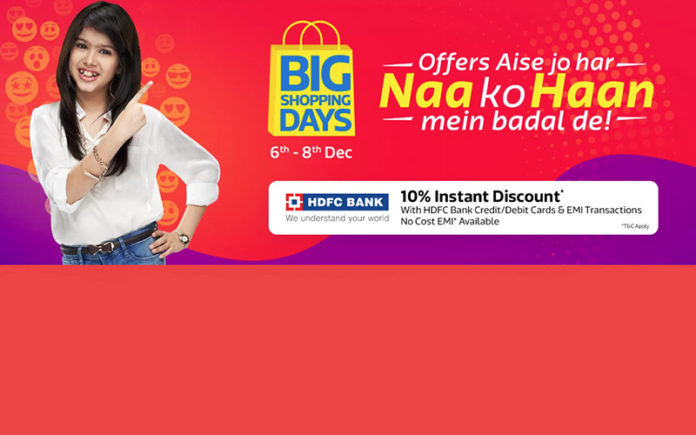 The Flipkart Big Shopping Days sale is nearly upon us, and it is not just going to be about mobile phones, but a wide range of products such as appliances, lifestyle, accessories, fashion and more. However, if you have to upgrade to a smartphone and if you want one that comes with attractive offers and a discount, this sale has got you covered.
There are several phone brands in India selling impressively designed and spec'd devices and best of all, their purchase will go easy on your wallet. If you want to prepare yourself for yet another shopping spree of these handsets, check out the details of the Flipkart Big Shopping Days sale here.
Flipkart Big Shopping Days Mobile Offers
The Flipkart Big Shopping Days sale will run from December 6-8, offering attractive discounts on several products. Smartphones that you might be interested in include the OPPO Realme 2 Pro, Nokia 6.1 Plus, Honor 9N and the POCO F1. These four devices will be available at Flipkart as soon as the Big Shopping Days sale goes live. Our recommendation is since you have a few days to figure out what you want, it will be in your best interest to bookmark the product links.
You can visit these links later when the sale has started. You can also avail a 10 percent discount with the HDFC credit or debit card with no cost EMIs. Every product will have different offers, so make sure to go through all of them before you decide what to purchase.
Starting with the Realme 2 Pro, the base model starts from INR 13,990. If you want to purchase the top-tier model that features 8GB RAM and 128GB of internal storage, it will cost you INR 17,990. EMIs start from INR 465 per month, and you get a 10 percent discount with your Axis Bank Buzz credit card. The maximum deduction allowed is INR 400 and you can only use this card once for this purchase.
The second bank offer gives you a 10 percent discount on your Mastercard for the first online payment, but the maximum amount allowed is INR 100, so it isn't as attractive as the first deal. The Jio partner offer gives you benefits worth INR 4,450 and up to 1TB data on a minimum recharge of INR 198 or INR 299. With this offer, you'll get cashback worth INR 2200 and it will be credited in the form of 44 cashback vouchers of INR 50 each in the MyJio App.
Coming to the Nokia 6.1 Plus (review), the price of this smartphone is INR 15,999, with EMIs starting at INR 532. This handset also comes with the same bank offers mentioned before and there is a different partner offer; the Airtel one. This will allow you to get INR 1,800 cashback in 36 discount coupons worth INR 50 each, which will be credited in the MyAirtel app.
As for the Honor 9N (review), the base model costs INR 11,999 for the 3GB RAM + 32GB model, while the highest-end model offers 4GB RAM, 128GB of internal storage and a price of INR 17,978. EMIs start from INR 2,000, which is much higher compared to the previous phones mentioned. The Honor 9N also gets the same bank discounts, but there is no Airtel or Jio partner offer.
Lastly, we have the POCO F1 (review), the cheapest Snapdragon 845 to date. Carrying a price of INR 20,999, there are several memory variants available, with one of them offering as much as 8GB RAM and 256GB of onboard storage. EMIs start from INR 698 per month, with no partner offer, but it gets the same bank offers we detailed before.
Flipkart Big Shopping Days Sale: Other Offers You Should Look out For
At the Flipkart Big Shopping Days sale landing page, you will be able to find several brands mentioned, but their offers are nowhere to be seen. More details will be provided as we move closer to December 6. If you are not able to view the offers on December 5, they will most likely be visible the next day. We can expect Xiaomi and Samsung to provide a wide range of products for sale, so watch out for those. The smartphones mentioned before should be on the top of your bucket list since they provide a ton of value.
After you're done reading about the Flipkart Big Shopping Days sale, you can check out our video below which tells about several devices under INR 15,000 that are better than the iPhone XR (review). The iPhone XR might be this year's most sensible and cheapest iPhone, but it is far from affordable. If you want to see a few handsets that fit well within your budget, make sure to watch the video.