Flipkart, the online retailer, has introduced plenty of interesting shopping experiences and to add to that list is the all-new Flipkart Group Buy feature that promises additional discounts.
Under the all-new Flipkart Group Buy feature, buyers will get an extra 15 percent off. This offer applies to select categories like shoes, jackets, kurtas, bags, T-shirts, Kids' clothing, watches, and jewellery. However, the company said that group must order within 24 hours to avail the additional discount. Notably, this feature is not listed on the homepage and to avail the benefit of this Flipkart Group Buy, you have to check the shopping website on mobile.
How To Find Flipkart Group Buy Feature
Step 1: First, tap on the fashion category in the Flipkart app, then swipe your finger down and scroll the screen.
Step 2: After that, you will see a banner for the Flipkart Group Buy Shop Together, Save Bigger.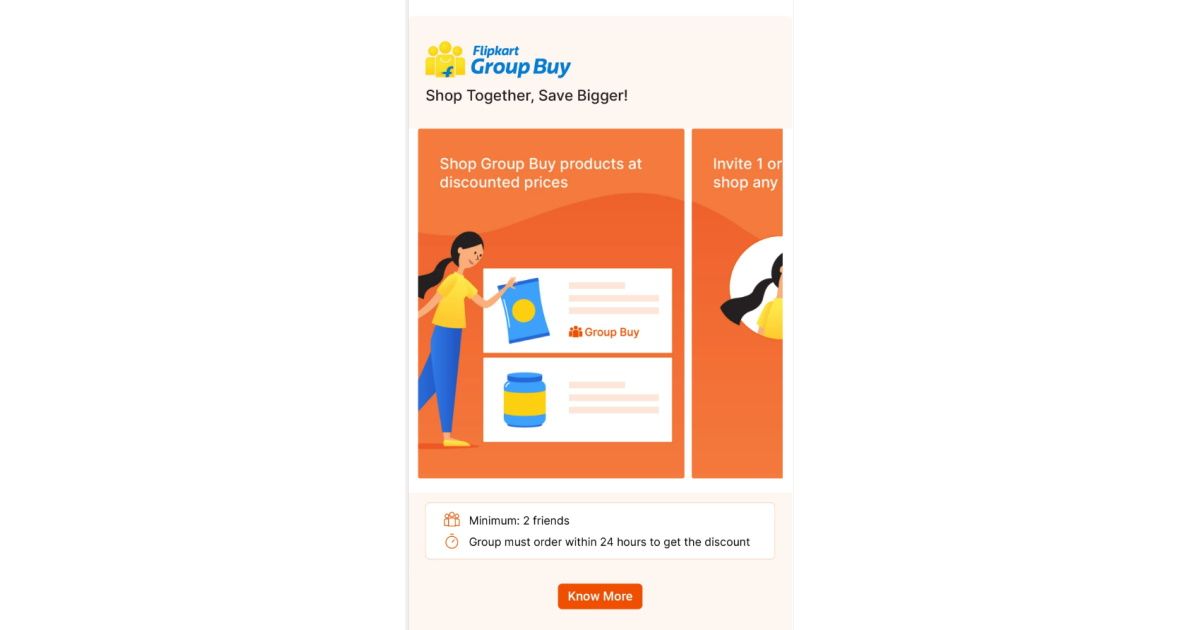 How To Get The Benefits Of Flipkart Group Buy Feature
Step 1: To avail Group Buy offer, you need to find Group Buy products first which are available under the mentioned categories.
Step 2: Now, you have to share the link with one or more friends to get the benefit of the offer. However, they have to shop within 24 hours. In case, your group fails to purchase anything under the period, then the order will be canceled and the money will be refunded.
The Flipkart Group Buy feature provides up to 90 percent off on T-shirts, which seems nice, but still, there is no clarity that friends are allowed to purchase anything via link or if they have to buy the same item to get the discount.
Flipkart Big Saving Days Sale: Details
For the unaware, the Flipkart Big Savings Days Sale is all set to start from Friday (December 16 to December 21). The upcoming sale is expected to be the last one for 2022. Notably, the company has introduced several offers and discounts to attract customers to all products, including, fashion products, smartphones, electronic devices, home appliances, and more.
Also, the e-commerce platform is providing 5 percent cashback via Axis Bank Credit card. In addition, the company is offering a Pay Later feature, which will allow users to get a gift card of Rs. 250 on select purchases.
Apart from that, the company has introduced complete mobile protection, No Cost EMI, and exchange offers on smartphones. The Flipkart upcoming sale has launched offers on the iPhone 14 as per the Big Saving Days 2022 banner and there is a high chance that the company will provide heavy discounts on the iPhone 13 and iPhone 12. In addition, the company is providing offers POCO, Realme, Vivo, and more.
The company has announced 75 percent off on smart TVs and home appliances. Also, there are discounts on laptops, including Dell Inspiron 3567 laptops and it will cost you just Rs 29,990 as against Rs 35,990.