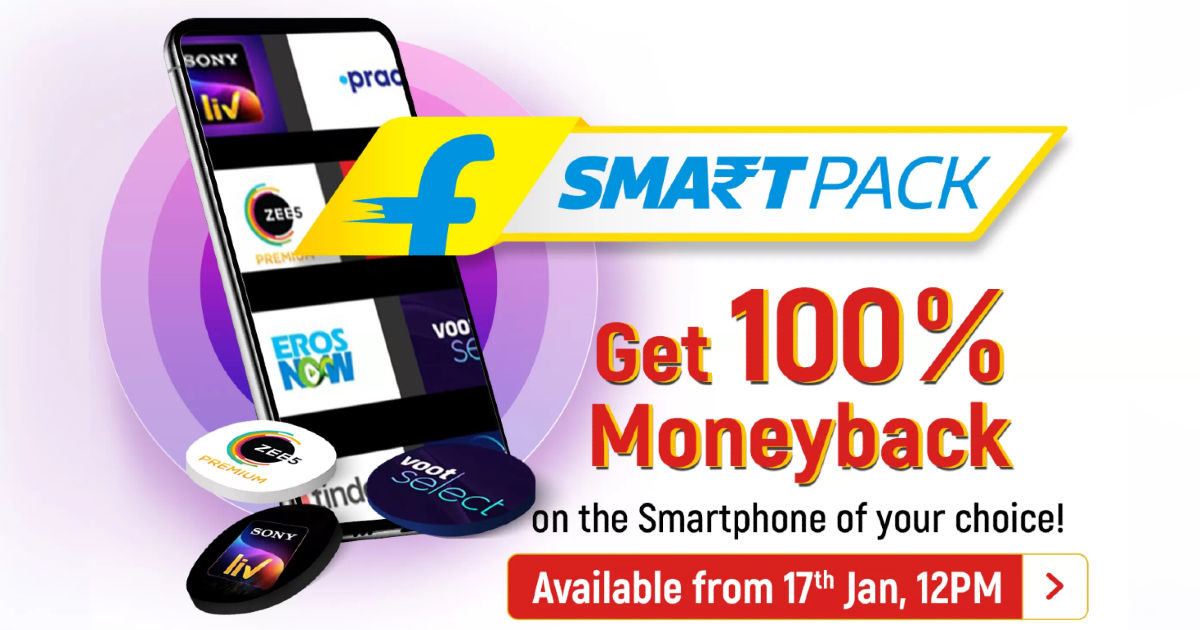 Flipkart is all set to launch an industry-first offering called Flipkart SmartPack from January 17. It's a one-of-a-kind subscription plan that can be opted for when buying a smartphone of your choice which returns 100 percent of the price after 12 or 18 months. It also opens up a world of premium services ranging from OTT platforms, health and lifestyle services, food delivery and more.
What is Flipkart SmartPack?
Flipkart SmartPack is a new program launched by the e-commerce giant which you can opt for when purchasing a new smartphone of your choice. You can pay as low as Rs 499 per month, get the 100 per cent of the price you paid for the phone credited in your bank account. Additionally, the program also gives you access to a bunch of premium subscription services.
There are three Flipkart SmartPack plans to choose from – Gold, Silver and Bronze Plans for a period of either 12 or 18 months. The Gold Pack will get you 100 percent money back, while the Silver plan will get you 80 per cent of the price paid for the phone. Similarly, the Bronze plan will recover 60 per cent of the cost of the phone after 12 or 18 months. You can return the phone in any working condition. Flipkart states as long as the smartphone turns on and the IMEI number can be read, you get 100 per cent of the money back.
Should you choose to keep the smartphone, the Gold plan will give back 60 per cent, the Silver plan 40 per cent, and the Bronze plan 20 percent of the money back.
What are the benefits of Flipkart SmartPack?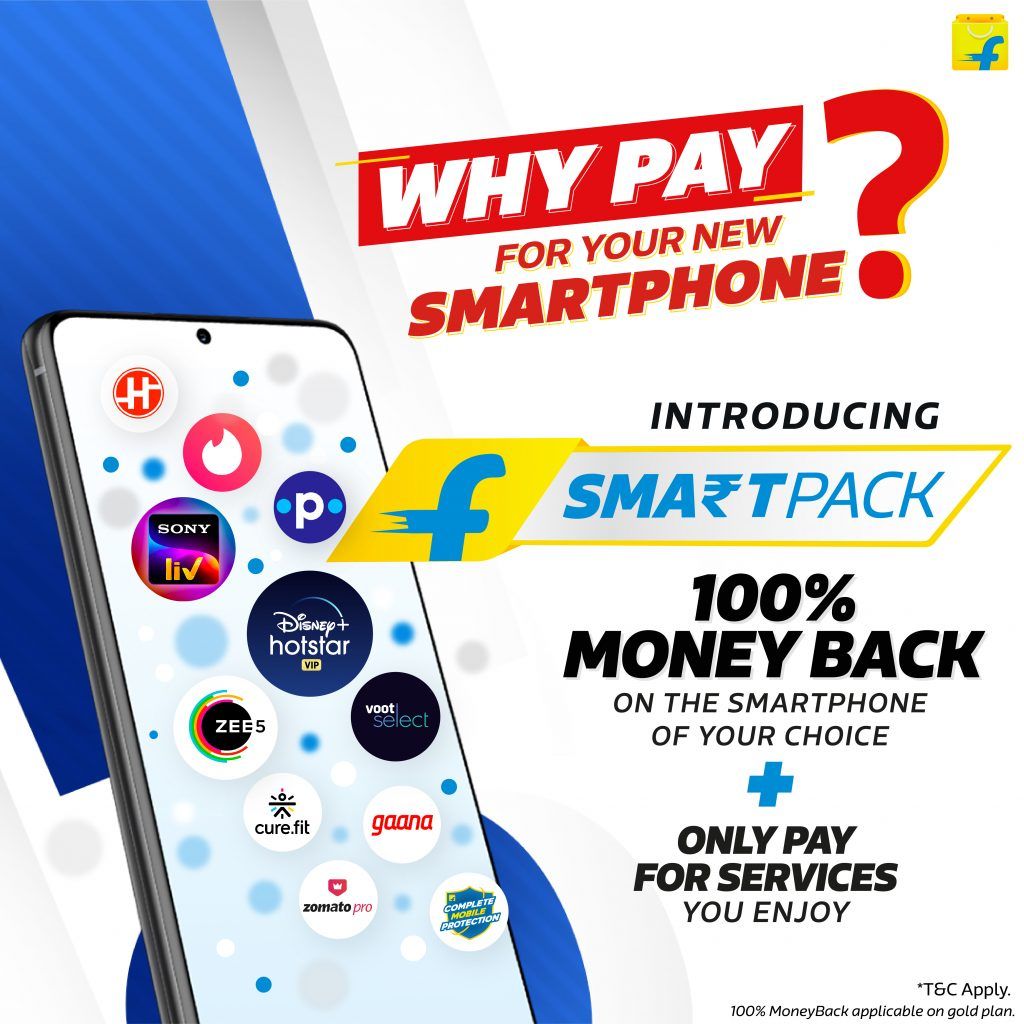 Using the Flipkart SmartPack, customers can get a new phone every year without really paying for it. Flipkart SmartPack also bundles a bunch of premium services to enjoy. Get access to Disney+ Hotstar, SonyLIV, Zee5 Premium, Eros Now, Zomato Pro, Gaana Plus, Tinder+ and more. The service is available for smartphones from all brands including Redmi, POCO, Realme, Infinix, Vivo, Motorola and more.
How to avail a Flipkart SmartPack?
You can avail a Flipkart SmartPack in four easy steps –
1. Choose your favourite smartphone on Flipkart.
2. Pick a Flipkart SmartPack of your choice for a duration of either 12 or 18 months.
3. Pay for the smartphone upfront and, pay for your SmartPack every month.
4. Return the smartphone after 12/18 months in any working condition and get money back for your smartphone credited to your bank account.
Just the catalyst 2021 was looking for..
At face value, Flipkart SmartPack seems to be a win-win for the consumer for a number of ways. The biggest one, of course is the ability to return your smartphone in just about any condition. As long as it turns on and the IMEI number can be read. And Flipkart will return the entire amount you paid for the smartphone. That's something impossible to get even when exchanging a year-old smartphone, or selling it to refurbishing companies.
Next are the add-on premium services you get for the monthly payments you make. Some of them are services we use on a daily basis, and others are handy additions. This includes the best online services for entertainment and more – Disney+ Hotstar, Sony LIV, Zee5, Eros Now, Zomato, Curefit, Practo, Gaana, etc.
So do you like this new program from Flipkart? Will you be buying a new Flipkart SmartPack? Let us know in the comments.