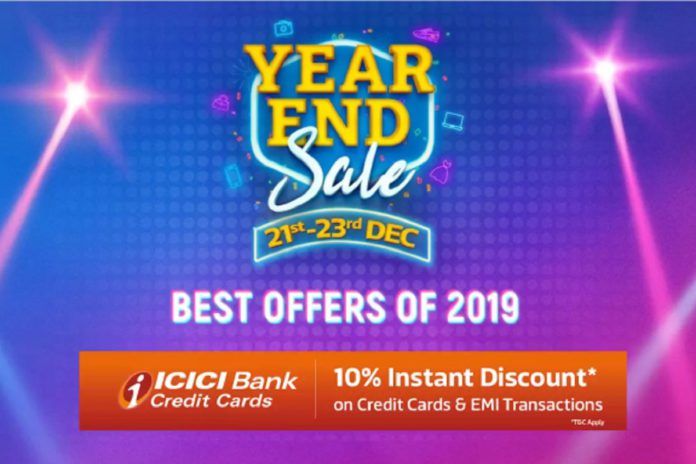 Missed out on the umpteen number of discount sales held by leading e-commerce platforms earlier this year? Well, fret not! There is always a new one around the corner. In the latest instance, Flipkart has announced its rather obviously named 'Year End Sale' which is slated to go live starting December 21. As the norm usually is, apart from discounted prices on a wide variety of products, you can also avail exchange offers, extended warranty services and cardless credit offers among others. The Flipkart Year End sale spans multiple categories with the most popular being the mobiles and tablets segment. While it would be near-impossible to list each and every discounted product available during the sale in this article, here are a select few offers that Flipkart thinks you may find interesting.
Flipkart Year End Sale: Deals to watch out for
Most of the products that are going for discounted prices seem to be older products. The deal that Samsung touts the most on the landing page for the year end sale is the availability of the Samsung Galaxy S9 with a starting price of ₹ 27,999 for the 4GB+64GB version. Similarly, the price of the  Galaxy S9 Plus starts at ₹ 29,999 for the 6GB+64GB version.  Google's Pixel 3a XL that currently retails for ₹ 34,000 will be sold for ₹ 30,000 during the sale. While the prices are certainly decent, do keep in mind that some of these handsets are more than a year old. If you are looking for discounts on newer phones, the iPhone 11 series will start from ₹ 64,900 for the 64GB version of the iPhone 11. You can take a look at all the deals on smartphones and laptops by clicking this link.
For laptops and electronics, Flipkart claims users can avail upto 80% off on select items. Some of the products included in this list are Acer gaming laptops, Samsung and Apple Watches, Sony home theater systems, and cameras from almost all leading camera brands. Another major category where Flipkart expects to see lots of traction is TVs and appliances. There are deals on LED Smart TVs, washing machines and refrigerators. Now might also be a good time to buy an AC since prices generally tend to go up during summers when ACs are in huge demand here in India. Apart from these standard deals, Flipkart says that consumers can avail special Blockbuster deals at 12am, 8am and 4pm everyday during the sale period. Then there is the 'rush hours' sale that lasts only till 2 am.
Flipkart Year End Sale Bank discounts and EMI offers
As the norm is, if you own credit or debit cards from certain banks, you are entitled for additional discounts that apply over and above Flipkart's existing discount. ICICI Bank credit card holders, for example, can avail an additional 10% instant discount on purchases made using their cards. You will also be able to avail offers on debit card EMI, no cost EMI and tailor made deals for Bajaj Finserv customers. In case you happen to be a Flipkart Plus customer, the sale will be open for you a few hours earlier than standard users and all these offers would be live starting 8 PM on December 20. For other users, the sale would go live starting 12 am on December 21.