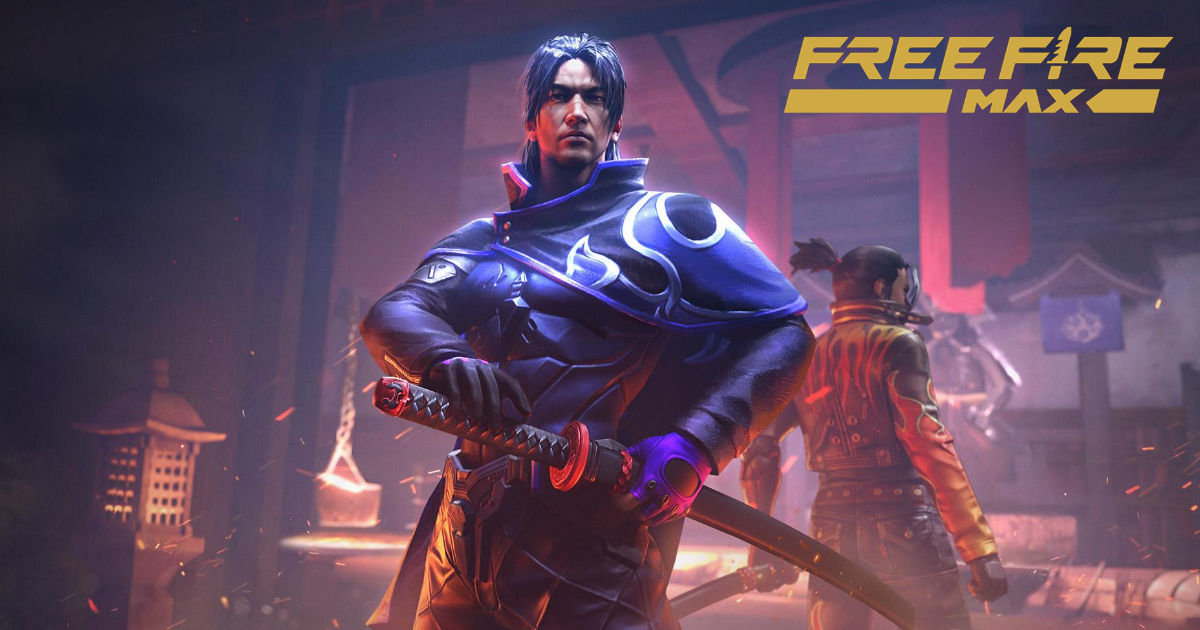 Garena has launched Free Fire MAX Light Fest event series for the Indian server which will offer players exciting rewards for free throughout this month. The developers have also launched the event calendar which outlines the major rewards and the events set in the new series of Light Fest.
Each month, Garena introduces new series of events which offer several freebies for Free Fire MAX users. After the conclusion of Double Trouble events, Garena announced the launch of a new event series, Light Fest, for Indian users on Friday, October 7th. This next event series, as the name implies, is focused on the Diwali holiday and will include a broad array of free rewards, including pets, clothes, vouchers, item cosmetics, loadout items, Magic Cubes, and more.
Also Read: Enforcement Directorate Raids Coda Offices in India in Money Laundering Case Involving Garena Free Fire
Garena Free Fire MAX Light Fest Events Bring Multiple Free Rewards In-Game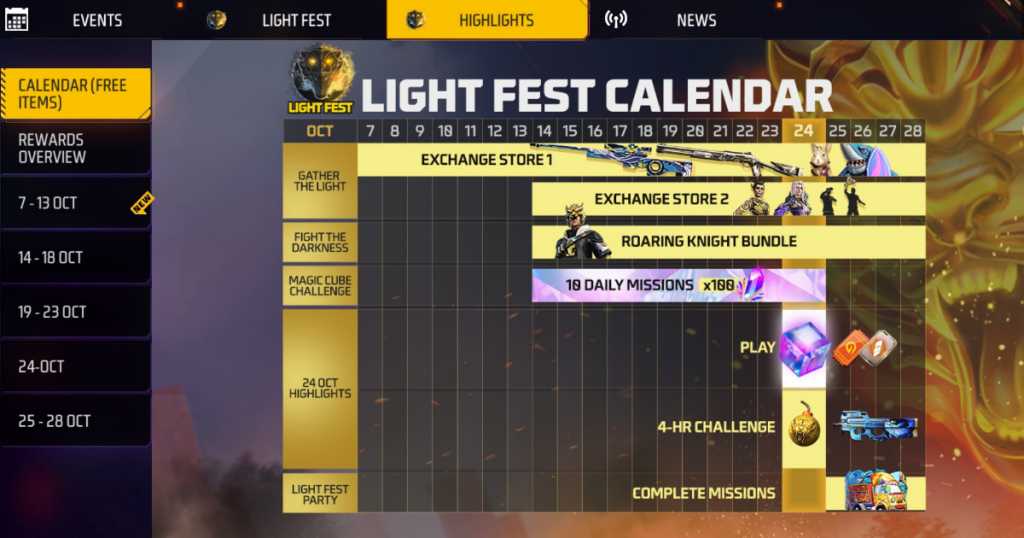 As mentioned above, the new series has begun on 7 October and will remain active for three weeks before coming to an end on 28 October. During the allotted time, there will be multiple events taking place in the game as part of the Light Fest series, where players have to complete a few tasks to earn rewards.
Here is the event calendar of the Free Fire MAX Light Fest series which will be active from 7 Oct to 28 Oct:
Exchange Store 1: Gather the Light – 7 October to 28 October
Exchange Store 2: Gather the Light – 14 October to 28 October
Roaring Knight bundle: Fight the Darkness  – 14 October to 28 October
Daily missions for Cube Fragments: Magic Cube Challenge – 14 October to 24 October
Peak Day 24 October highlights – 24 October
Light Fest Party – 24 October to 28 October
As of today, 'Login for Backpack' and 'Gather the Light' events are ongoing while the latter is one of the exclusives in the series.
Also Read: Free Fire MAX EP53 Jutsu Elemental Elite Bundle Goes For Pre-Order: Expected to Launch in October
Login for Backpack – Grab Golden Eagle Backpack for Free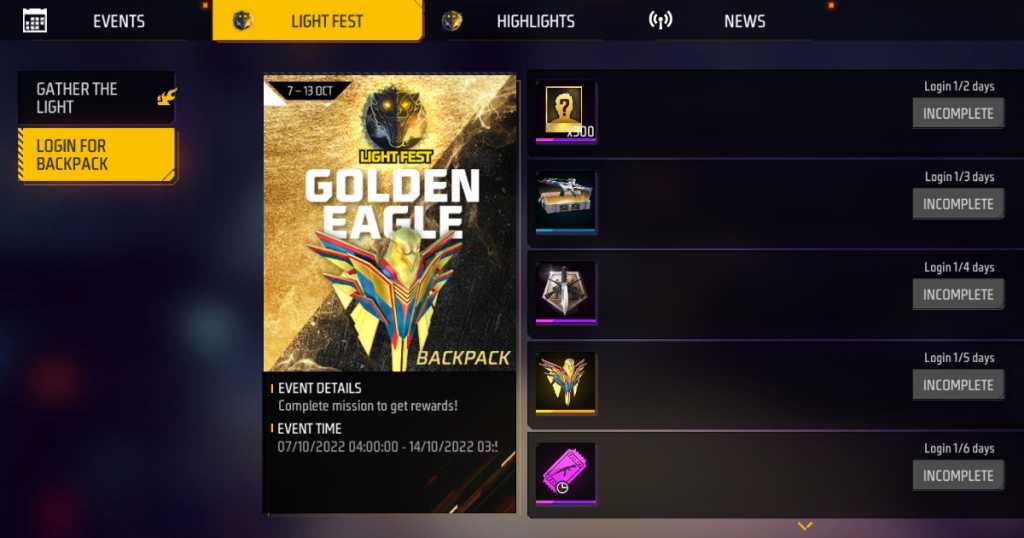 The login for the backpack event will remain active till 13 October 2022 and all players need to do is log in every day to grab the ultimate backpack skin for free. Players need to login into the game for 5 days without skipping to earn the backpack skin. There are also other rewards set in the event which include Universal Fragments, Deadly bat weapon loot crate, Bounty Token etc.
Gather the Light Event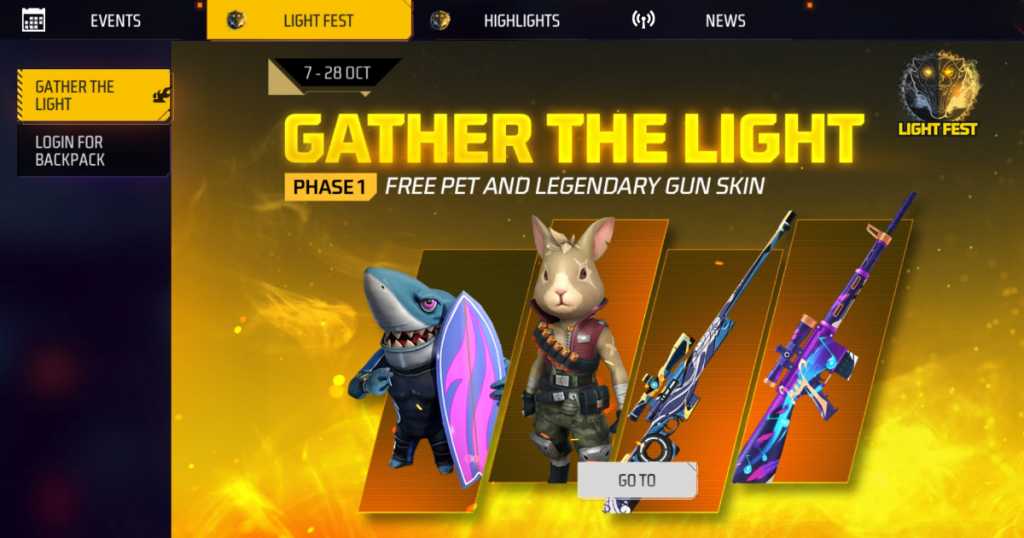 This event will remain active till 28 October and offers players a wide variety of items where players can stand a chance to claim a legendary gun skin, a pet, a costume bundle along with one emote. Players must gather unique Light Tokens from a variety of sources, including Daily and Team Missions. You may then exchange these special tokens for a multitude of goodies, such as permanent gun skins, pets, clothing bundles, emotes, and more.
There will be new missions included in the game each day at 4 AM IST and players will have to complete all of them before they are up for resetting again. All of these missions must be completed in either the casual or ranked modes of Garena's Free Fire MAX.
Exchange Store 1 will contain gun skins including Vector – FFWS 2021, Kingfisher – Moonlight Ballad, AWM – Wavebreaker Kaze, and M1014 – Enhanced Armo. Out of all these players can claim only one reward. Along with the gun skins, store 1 will feature free pets that include Detective Panda, Ottero, Finn, and Agent Hop from which only one is redeemable.
The Exchange Store 2 will start on 14 October and will feature bundles and emotes. Apart from these, there are many other rewards and events awaiting to kick off in the following days. Players can get their hands on the new Roaring Knight Bundle for free through the Fight the Darkness event. Moreover, you can also win a couple of Magic Cubes in the Magic Cube Challenge.
Also Read: Free Fire MAX Elite Pass 52 Pre-Order Begins Ahead of September Launch