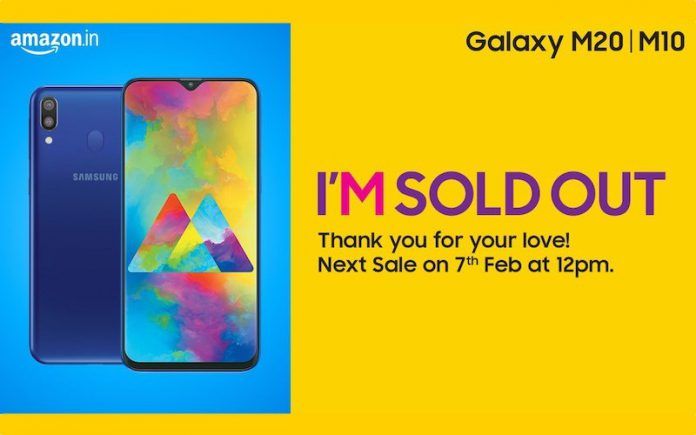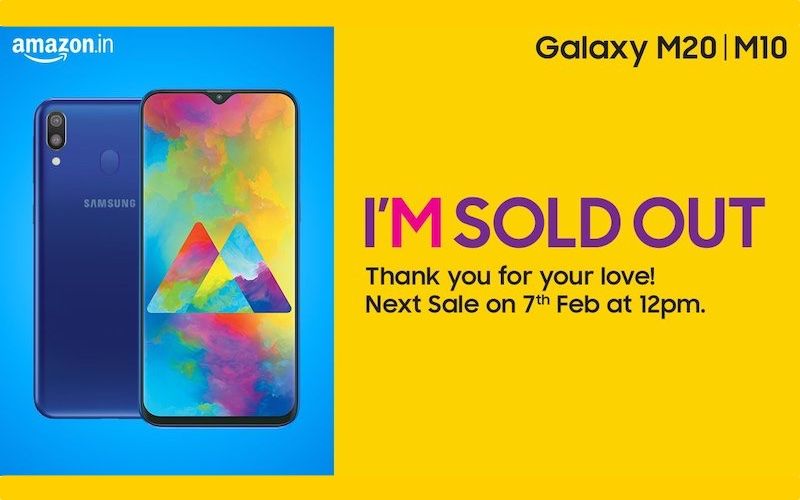 Just one week after Samsung unveiled its new M-Series handsets the Galaxy M10 and the Galaxy M20, both these handsets went on sale for the first time on Amazon.in and the Samsung India Store earlier today. Both the handsets, however, went out of stock within minutes as thousands of users lapped up both the phones within a short span of time. Just 45 minutes after the sale started at 12 p.m., Samsung used their official Twitter handle to announce that both the handsets will now be available for the next sale on February 7, just two days from now.
How soon did the Samsung Galaxy M10, and the Galaxy M20 go out of stock?
While it was evident that Samsung's new M-Series line up will be well-received by the Indian consumer who still swears by Samsung's reputation, even Samsung themselves might not have expected the massive response that both these handsets have received. According to several users who tried buying the phones, both the Galaxy M10 and the Galaxy M20 were out of stock within a minute of the sale opening. Samsung themselves have not confirmed the time it took for the devices to go out of stock. Here is the official tweet from Samsung.
Here is a tweet from a user who claimed that the phones were out of stock within a minute.
Some others were lucky and managed to purchase the device.
What's the big deal with the Samsung Galaxy M10 and the Galaxy M20?
If you are still wondering why two budget Samsung devices are making headlines all over, here's an explanation.
Samsung has for the past few years remained a silent observer even as brands like Xiaomi, Oppo, Vivo, and of late ASUS launched a virtual assault on the high volume entry level and budget handsets segment. A little over four years since Xiaomi came to India, they were able to do the unthinkable and overtook Samsung as the number one smartphones brand in the country. This seems to have ruffled a few feathers at Samsung's India headquarters. The result? The company launched its brand new M Series devices which have been designed for the Indian market and saw the first global launch in the country.
While still not as competitive as many other devices in their respective price brackets, both the Galaxy M10 and the Galaxy M20 will drive a lot of sales for Samsung just because of their brand name. Both the devices, however, are much better value propositions compared to Samsung's older entry-level and budget offerings from the infamous J-Series.