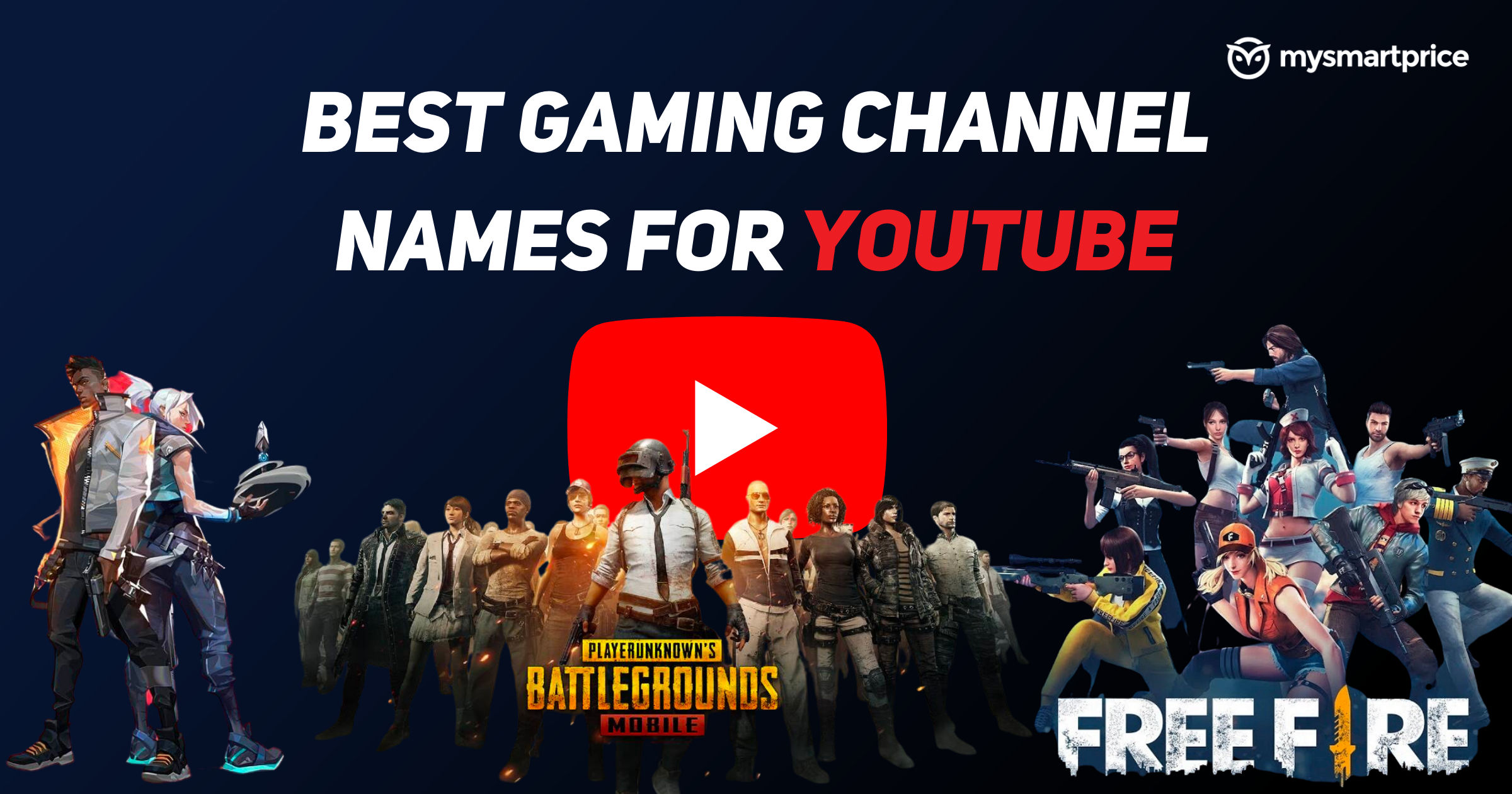 The gaming industry is on the rise, and YouTube is currently the best platform to grow. Creators in the gaming category have been growing and getting a lot of audiences rapidly. They have been earning a good amount from their YouTube channel. Creators such as Mortal, Dynamo Gaming, Maxtern, and more are some of the popular gaming creators in India.
If you are thinking about creating your own YouTube gaming channel and looking to grow rapidly, then it's important to keep a catchy and attractive channel name. We are going to suggest some of the best gaming channel names on YouTube and how you can change your channel name. That said, let's start with the list:
Also read: Gaming Names 2023: 250+ Cool, Badass, Legendary, Funny Gaming Names for Boys and Girls
200+ Best Gaming Channel Names for YouTube
Here's the list of the best channel names that you can use while creating your channel. You can just simply copy the name you liked and paste it on YouTube.
Gaming Fanatics
Geeky Gamer
The Gaming Consultant
King of Games
Fortnite Lover
Game Slayer
Arqade
Buffering The Game
Cool Gamers
Gaming With Friends
Gamers Guild
Game On DudeCheap Thrills Gamer
Moments Of Gaming
Well Played!
Games And More Games!
Gamer Rants
You Can Play This Too!
Mind-Blowing Games
GameXplain
Falcon Gaming
Odd Squad
Six Degrees of Gaming
Captain Sparklez
Clueless Gamer
Critical Damage
Deadlox
8-Bit Game Studio
The Hot Dog Gamer
New Gaming
Gaming with Friends
My Way to Game
Smart Gaming
The Funny Gamer
Classic Gaming Channel
Hardcore Gamers Only! (HGO)
Nerd Gaming Community
Game Cults
Gaming Trivia
Gamers Life
Gamers Survival Guide
Feed Gaming
Player Unknown
PUBG King
PUBG Vids
PUBG Tactics
PUBG Tips and Tricks
Ready to Squad Up?
Become Unstoppable
PUBG Moments!
Chicken Dinner
Achieve Greatness
Apex Legends
Battle Royale Live
Chicken Nuggets Squad
Crafty Looters

Pixel Playground

Retro Rascals

Joystick Heroes

Arcade Aces

Button Bashers

The Virtual Vixens

Game Sphere

The Digital Dynasty

Game Vortex

Screen Soldier

Dark Army Team
Duty First
Last One Standing
Fearless Fighter
Awesome Duo
Ultimate Squad
Professional Outfitters
Invincible Team
Death Squad University
The King of Killings
Winner Winner
PUBG Quest
Winning in PUBG
Alpha Legends
Fun World Events
Live Action Adventures
Block Builders
Sword and Armor Games!
Craft Gaming
Minecraft Clips
Minecraft Creativity
Lucky Block Challenge
Digging Deep
King of the Ladder
Minecraft Island
Minecraft Adventure Time
Minecraft Anime Style
Legend of Zelda
Zombie Sheep
Creeper Daily
Angry Creeper
Cowardly Creeper
Zombie Pigman
Explosion Sheep
The Enderman
The Creeper
The Cave Spider
The Skeleton
Gotta Arm them All
Attack Boiz
Royal Empire
Blue Artillery Clan
Clash Of Furious
Country Clash
SuperClash
Clan Battles
Clan Wars Strategy
Kingdom Clash
War Gaming
Clash of Emotions
The Crusher
King of the Hill
The Castle
Clash of Clans Central
Loot Vs Reap
Spoils of War
Raise Your Banner
Modern War Gaming
FunGamerz
Knights Of Plastic
Realtime Gaming
Attack Camp
The Clan's Might
Clash of Clans Kings
Express Gaming
Chronicle Kings
Crossroad to Victory
Drop of Damage
Gaming Squad
Fortnite Soldiers
Gamerz Squad
Ninja Enough
Fortnite Jarvis
East Tilted Towers
Lonely Lodge
Raptor Valley Fortnite
Wailing Woods
Full Moon Fortnite
Fortnite Cube
Game On Dude
On the Game
Gamer Rants
Retro Gaming TV
Paradise Palms
Flush Factory
Fatal Fields
Fortnite Banners
Robloxers
Robloxopoly
World of Roblox
Everyone Loves Roblox
Fun with Roblox
The ROBLOXian Gamer
I'm Playing ROBLOX!
Roblox Zone
Super Roblox
Bloxxers
Building Maniacs
BROblox
Builders By Blox
Gaminggenix
Horizon Gaming
Odyssey Gaming
Capture the Cube
Roblox Roleplays
Let's Play Roblox
Amazing Roblox
Real Life Roblox
Gaming All the Time
Tons of Games
Smash Gaming
Wailing Woods
Gamers Partner
Clueless Gamers
Totally Legit Gaming
Gamingnetic
Monk Gaming
Portal Gaming
Elite Gaming
Raven
Dynasty Gaming
Polished Games
Gaminggholic
Sim Gaming
Gamingsy
Capture Games
Pirate Gaming
Gamingwind
Pack Gamer
Serenity Gamer
Earth Gamer
Forged Gamer
Hotline Gaming
Excel Games
Gamingish
Agile Gaming
Gamingopedia
Artificial Gaming
Chiffchaff Gamer
Venom Gaming
Destructor Gaming
Boss Gaming
Link Gaming
Extreme Games
Sky Gaming
Swish Games
Edge Gaming
Dudes Gaming
Overwatch Gaming
Walker Gaming
Tips to create best gaming channel name for YouTube
A good channel name can get you more views, like counts, and more subscribers. Therefore, it's important to keep a good channel name that can attract a larger audience and them visit your channel. Here're some best name tips that you can use to select your next YouTube channel name.
Also Read: YouTube: How to Upload Video on YouTube from Mobile and Computer
A channel name should be related to the content that is being posted on your channel. For example, if you are making videos on Battlegrounds Mobile India, then you can add something like BGMI Gamers.

A channel name should be unique and simple so that it comes in the search list on YouTube.

Keep your channel name catchy so that your audience finds it interesting and click on your channel and visit it.
How to change your channel name on YouTube
If you are looking to change your channel's name, follow the steps mentioned below.
Go to

YouTube Creator Studio.

On the left, scroll down the menu bar to Customization and go to the Basic Info section.

Tap on the edit icon next to your channel name.

Now, add the channel name you want to change to.

Click on Publish and your new channel will be updated in a few hours.
How to generate your own YouTube gaming channel name online?
If you want more YouTube gaming channel names, you can generate them using various gaming channel name generator tools. Here are some of the best name generators for gaming channels:
To use these tools, enter a word or two in the box given. The generator will give you different suggestions based on the word you mentioned.
Frequently Asked Questions
1) What are the top 10 gaming youtube channel names?
Here are the best top 10 gaming channel names we featured here:
Game Slayer

Well Played!

You Can Play This Too!

Winner Winner

Alpha Legends

Creeper Daily

Bloxxers

Odyssey Gaming

Deadlox

Retro Rascals
2) Which are the best gaming channel names for Free Fire Max?
Here are some of the best Free Fire Max gaming channel names:
Max Warrior

TheFireGirl

Moonlight

Max Power