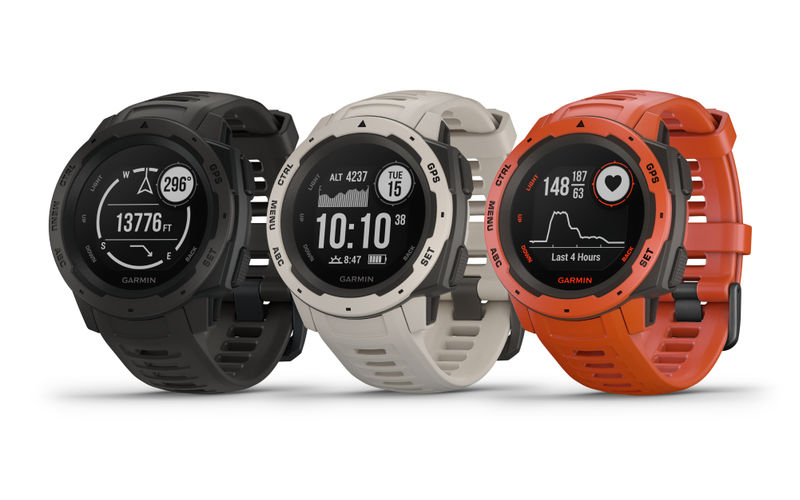 Garmin has launched an interesting, capable and tough smartwatch in India. The Garmin Instinct is a smart wearable device that also offers fitness and health monitoring features. Also, the company has ensured the Instinct wearable has plenty of relevant and mainstream features, and still remains exceptionally tough.
Garmin, a company that specializes in guidance systems and intelligent navigation technologies, has introduced the Garmin Instinct smart wearable device, commonly known as a smartwatch, in India. Garmin India launched the Garmin Instinct fitness tracker with built-in GPS, 3-axis compass, a barometric altimeter, and other specifications. Let's look at the important aspects like the price, availability, specifications, and features of the Garmin Instinct smartwatch.
Garmin Instinct Smartwatch Specifications, Features
The Garmin Instinct is a smart wearable device that sits on the wrist of the user. It is an all-digital fitness and activity tracker that benefits from several top-end specifications and hardware that's crammed into a circular fiber-reinforced polymer case.
The Garmin Instinct smartwatch sports thermal, shock and water resistant. Incidentally, the wearable has secured the coveted U.S. military standard 810G (US MIL-STD 810G) for exceptional outdoor toughness. In simple words, everyday fitness activities, including swimming should not have any effect on the performance of the Garmin Instinct smartwatch.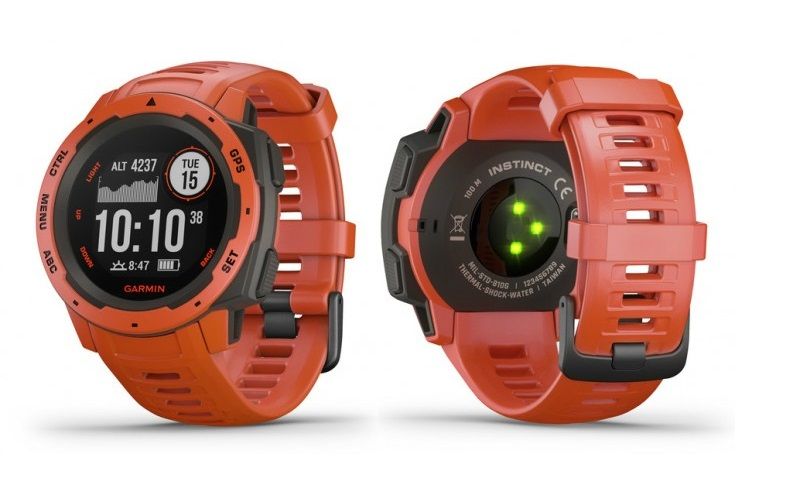 Understanding the shortcomings of several smartwatches, Garmin assures the display is chemically-strengthened and scratch-resistant. Moreover, the company claims the wearable offers exceptionally good readability even under bright sunlight.
The Garmin Instinct smartwatch can monitor heart rate activity. The company claims the device can also detect stress levels of the wearer. Also, the smart wearable device comes pre-loaded with several activity profiles like running, biking, swimming and many more. The smartwatch comes with support for multiple navigation systems including GPS, GLONASS, and Galileo. Also, it packs a 3-axis compass as well as barometric altimeter. In simple words, even serious hikers, climbers, and trekkers can depend on the Garmin Instinct smartwatch.
Garmin hasn't confirmed the exact capacity of the Li-ion battery that powers the Garmin Instinct. However, the company claims the battery can offer a runtime of up to 14 days. Given the fact the device sports a rather large body and minimal color display, we are inclined to believe the claim, but we reserve any judgment until the device is reviewed.
Garmin Instinct Smartwatch Price, Availability
Garmin has officially launched the Garmin Instinct smartwatch. The smart wearable sports an introductory price of INR 26,999. The device has launched in three sports-centric colors: Flame Red, Graphite and Tundra.
Interested buyers can grab the Garmin Instinct offline at Garmin's authorized stores and select Helios stores. For online shoppers, the smartwatch will be available on several e-commerce websites like Amazon, Paytm Mall and thegarminstore.in. Garmin has several fitness and activity tracker wearable devices that the company has launched in India.