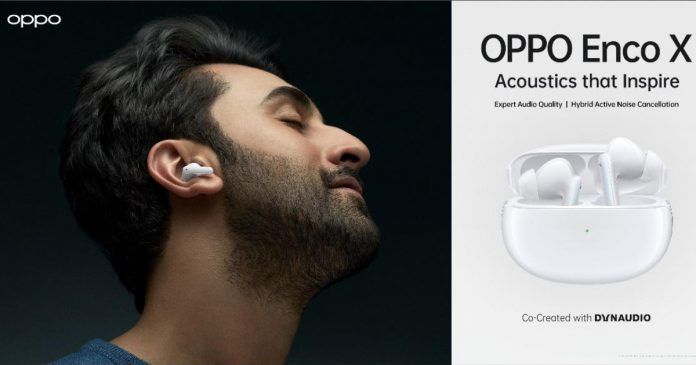 OPPO has always infused a breath of freshness with its range of products that always has something new to offer. As a brand, OPPO has relentlessly strengthened its position in tech space, whether it be smartphones or other peripherals such as earphones. For decades now, the brand has been at the forefront of designing some of the finest audio peripherals, starting with MP3 and MP4 players in mid 2000s. Even today, people remember it fondly, for its natural audio quality, reduced weight, and plush padding. OPPO is leveraging this expertise to build truly wireless earphones. With its slew of best-in-class audio products, the brand has remained consistent to revolutionize the audio segment with some impressive products.
The new OPPO Enco X True Wireless Noise Cancelling Earphones brings you digitally precise sound in its truest form. The earphones have been co-created with the Danish HiFi audio brand Dynaudio, taking care of every aspect of acoustics and design to bring you a product like no other. is here to play in the big leagues.
Last year, we saw a resurgence of sorts with OPPO introducing a plethora of wireless audio products. From the LDAC-toting Hi-Res OPPO Enco M31 neckband-style earphones to the ANC TWS earbuds Enco W51, OPPO has been on a mission to leave us spellbound.
Bringing a sublime audio experience
Firstly, we are really excited about the collaboration of OPPO with Dynaudio, a Danish HiFi audio brand with expertise in making high-end speakers, to launch OPPO Enco X True Wireless Noise Cancelling Earphones. Established in 1977, the company is famous for its hand-crafted audio solutions that gives you the best sound possible. With this fruitful partnership, OPPO evaluated 30 different materials and 152 components and went through 120 rounds of structural fine-tuning in collaboration with the largest acoustic laboratory of Dynaudio.
The OPPO Enco X True Wireless Noise Cancelling Earphones also features a dual driver setup, with a 11mm coaxial driver and a 6mm balanced membrane driver. Together, they ensure the smooth delivery of any type of frequency. The balanced membrane driver drives the extension in the high frequency range while the co-axial driver offers a good extension in the low end. So, you can expect your bass to sound full and big.
The OPPO Enco X True Wireless Noise Cancelling Earphones is a powerful device and is likely to be a true winner in the audio segment. The earphones include support for LHDC or Low Latency High-Definition Audio. This is a hi-fidelity audio codec that offers up to 400-kbps transmission rate and a bitrate of 48kHz/24bit. This feature comes in handy when the earphones are used with compatible smartphones and source devices.
It was in 2007 when the OPPO first released the DBEE 1.0 Dynamic Audio technology. With the OPPO Enco X True Wireless Noise Cancelling Earphones, the brand is all set to introduce the new DBEE 3.0 Acoustic System. This is a custom-made algorithm that ensures zero loss in transmission latency and assists the hardware drivers in reproducing crystal clear audio.
The story does not end here. OPPO's newest offering comes with active noise cancellation (ANC) as well. This feature is driven by a dual-core Bluetooth noise reduction chip. Essentially, it uses the Feed-forward and Feedback noise control mechanisms to ensure the best possible noise cancelling tech.
Currently when majority of us are working from home, it is essential to remain productive. OPPO's newest product with ANC technology will not only help users to focus entirely on the work at hand but also enable them to take calls without any background noise impeding it. What you need to know is that ANC has four settings: max noise cancellation, noise cancellation, transparency mode when you want to be aware of your surroundings without taking off your earphones, or simply turn noise cancellation off. You can seamlessly switch between various settings.
The OPPO Enco X True Wireless Noise Cancelling Earphones also uses a triple-mic noise reduction design for calls. Each side has three highly sensitive microphones, and two of the out-of-ear microphones are for beamforming. What this means is that calls through these buds sound great.
Are You Excited?
So, the OPPO Enco X True Wireless Noise Cancelling Earphones are obviously shaping up to be a very formidable premium pair of truly wireless earbuds. With a premium design and convenient touch controls, they are perfect for any role.
The company is set to release the earphones in India in what promises to be a spectacular launch. OPPO has a legacy of offering experiences that goes beyond the product. It has consistently set the bar when it comes to product launches, whether it be a drone show or the first-ever music show launch. The launch of OPPO Enco X True Wireless Noise Cancelling Earphones will be no different. Scheduled for 18th January 2021, we can barely hold our excitement as to what the company has in store for us.
Thanks for reading till the end of this article. For more such informative and exclusive tech content, like our Facebook page