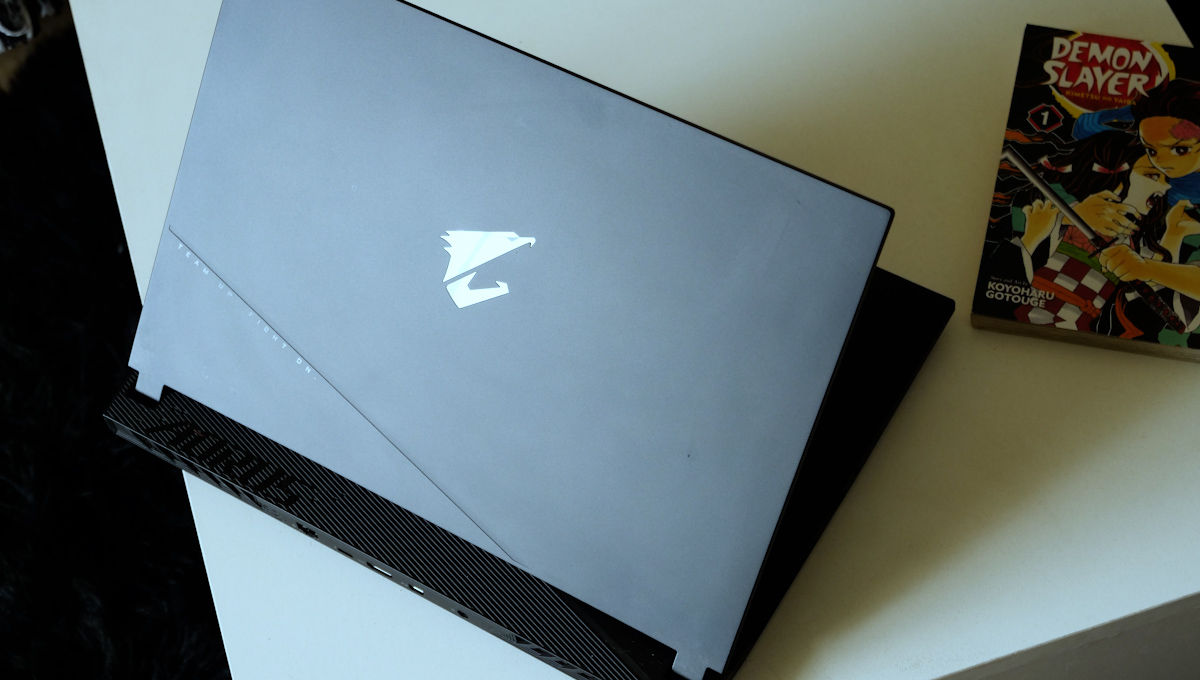 Gigabyte's a stalwart at making computer components, but putting all that know-how together to miniaturise everything and building a laptop requires some guts. That's why the new AORUS 15 BSF is such a big deal for the brand. Complete with powerful specifications, RGB lights and even a mascot, and the AORUS 15 BSF is set to take Gigabyte's baton against the likes of ASUS, Acer and HP. But does buying it at an eye-watering price of Rs 1,79,950 makes sense? Read our review to find out.
Gigabyte AORUS 15 BSF
Rs 1,79,950
KEYBOARD AND TRACKPAD
8.0/10
What Is Good?
Good sustained performance
Effective heat dissipation
Lovely port placement
Understated but unique design
What Is Bad?
Quirky utility software
Listless speakers
Pricey
Cumbersome auxiliary key placement
Gigabyte AORUS 15 BSF Review: Design, display and I/O
The Gigabyte AORUS 15 BSF has an understated metal build
It comes in four LCD display configurations, all spanning 15.6 inches.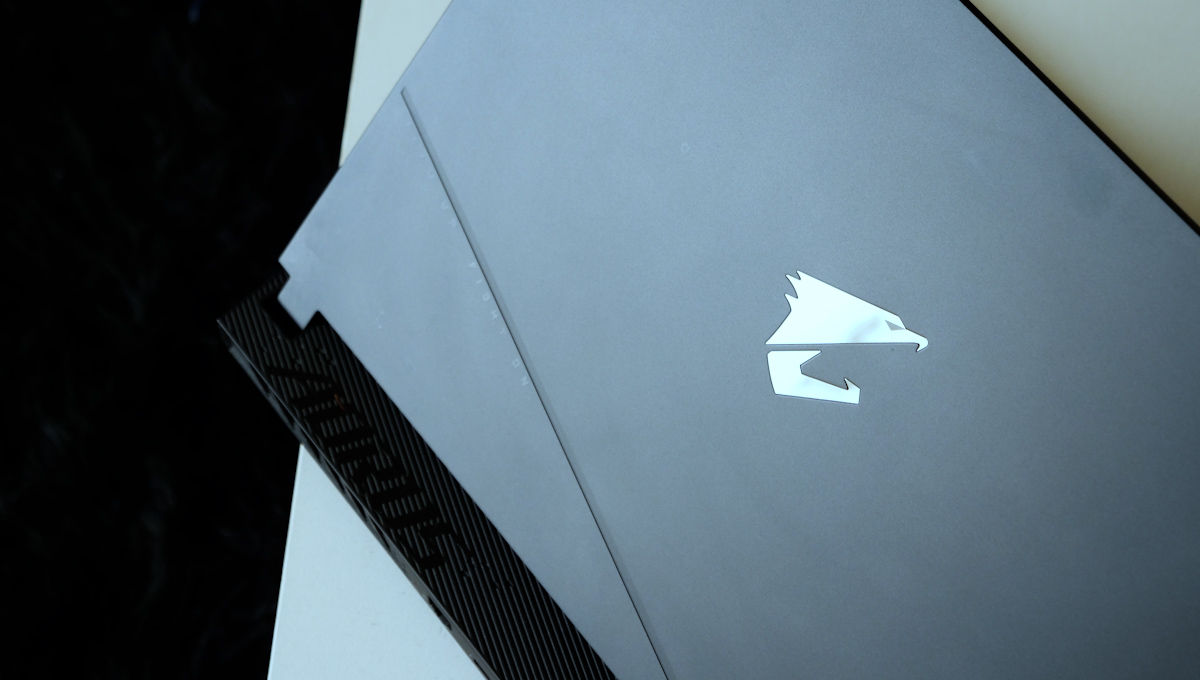 The AORUS 15 has a very stealthy design, to the point it may be considered boring by some gamers. It has a matte black texture covering every single surface of the laptop and except for the plastic bezels around the display, the AORUS has an all-metal build which adds to its premium-ness as well as smudge-gathering abilities.
It features RGB lights under the keyboard and on the hinge to keep gamers happy. To distinguish itself from other gaming laptops, the AORUS 15 features diagonal lines all around its body – some under the RGB hinge, some above the keyboard, in the form of some vents and below the keyboard, on the trackpad. A reflective AORUS logo completes the look. This isn't a portable gaming laptop, tipping the scales at 2.7 kilos, nor does it want to be one.
There are six vents to circulate hot whiffs of air produced by the AORUS' powerful internals. These are scattered symmetrically around the laptop's sides, back and underbelly.
We were pleased with the placement of ports here. The important I/O options are kept on the sides but aren't crammed unnecessarily. So, the left side hosts a headphone/mic combo port and one USB 3.2 Type-A port. It is also fairly clean, with a USB 3.2 Type-C port and two more Type-A ports. The rear of the laptop hosts all the connectivity options that'll mostly remain plugged in for a while, which include the RJ45 ethernet, charging, USB Type-C-cum-Thunderbolt and full-sized HDMI 2.1 ports along with a mini DisplayPort.
The chiclet-style keyboard lacks a numpad but has really fun travel and feedback. What we found unusual was the placement of the Home, Page Up/Down and End keys – they were the same size as the rest of the keys and sat right next to the arrow keys, enter and Backspace. Because of the lack of sensory cues, we ended up having a ton of mistypes. We still haven't gotten used to their placement.
What's good about the keyboard is that it supports per-key macro, so video editors and MoBA enthusiasts will love its customisability.
The trackpad is average-sized and placed centrally–which we don't often see in Windows gaming laptops. It's fine for an occasional swipe and drags on the screen, but we wouldn't trust it for anything more than that. It's a gaming laptop, and it'd be a cardinal sin if you bought it without a mouse!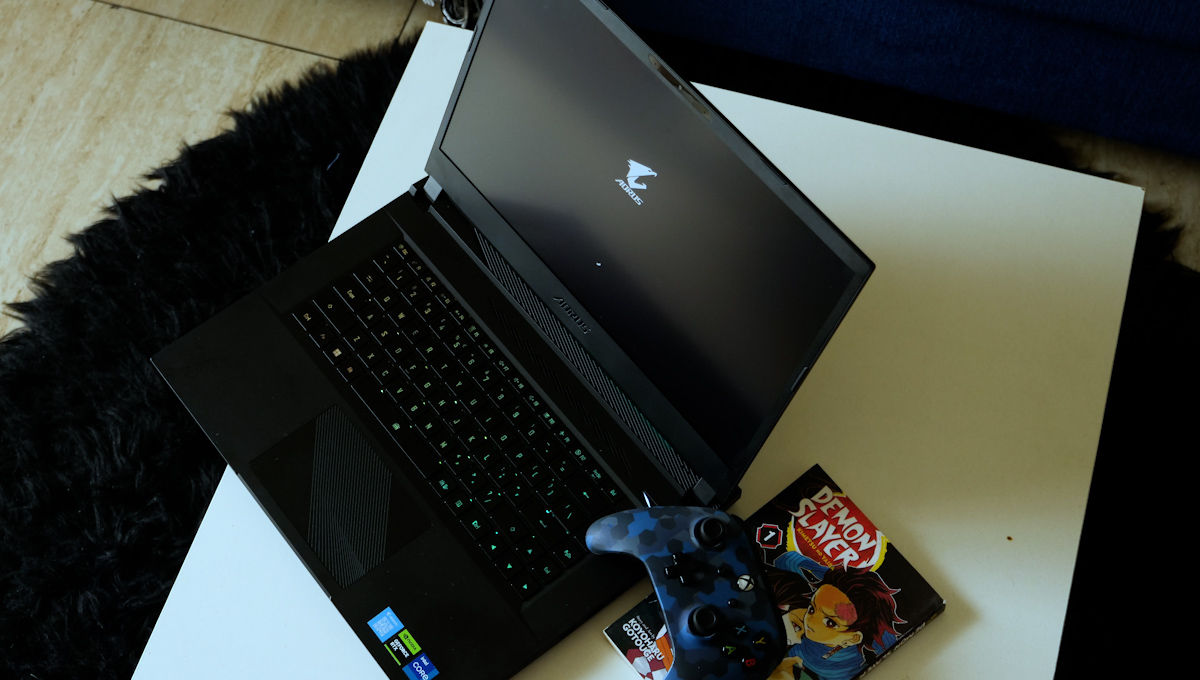 The AORUS 15 comes with a variety of LCD display options, but we received the one with QHD resolution refreshing at 165Hz. It has the conventional 16:9 aspect ratio and spans over 15.6 inches diagonally. While Gigabyte hasn't mentioned the use of a mini-LED panel here, the display can get bright and vivid, with good contrast. It's also great to play on. You can go up the configurations, but our honest advice would be to pick this if you're crazy for pixels or the tier above this, with FHD resolution and 240Hz refresh rate.
We advise against the top-tier 360Hz panel because it has only sRGB coverage, and the gains in refresh rates don't outweigh the price you'll pay.
This is another curious case of bottom-firing speakers we don't quite understand. There's a ton of space around the keyboard after chucking out the numpad, why not place the speakers there? Nevertheless, the speakers can get loud but lack depth because they don't have enough space to disperse the audio.
Gigabyte AORUS 15 BSF Review: Hardware, performance and battery
Our AORUS 15 was configured with Intel Core i7 13700H and Nvidia GeForce RTX 4070 graphics
It offers good performance under sustained loads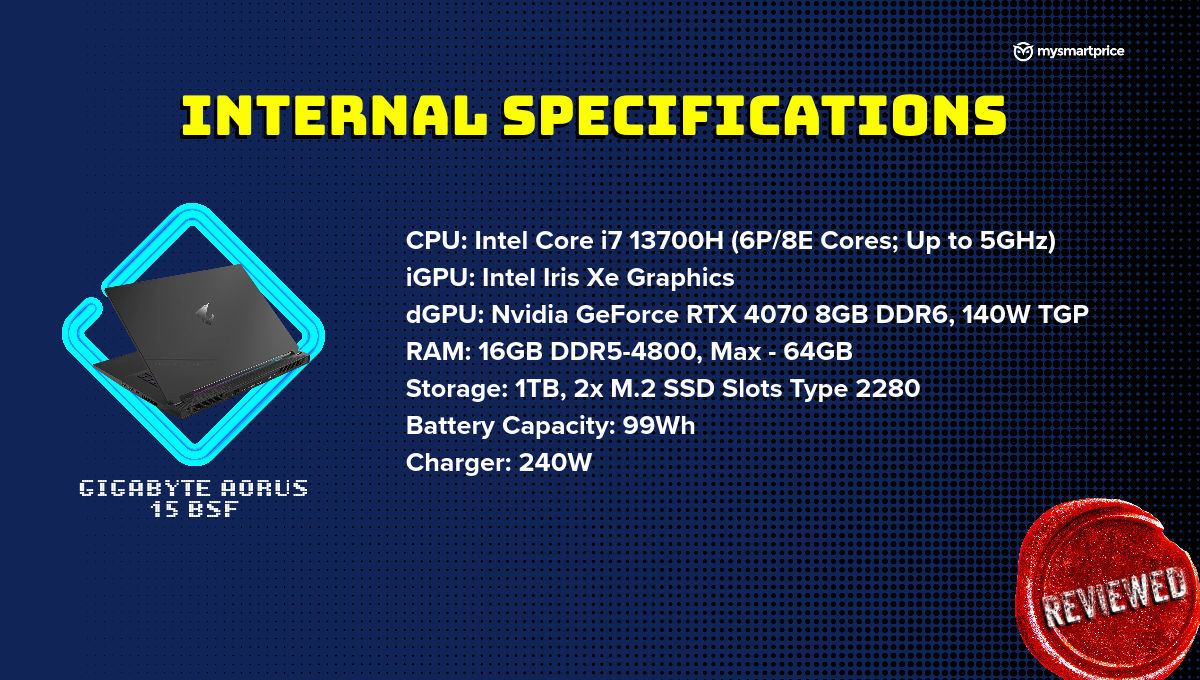 The 13th-Generation Intel Core i7 13700H powered our particular unit of the AORUS 15 mated to Nvidia GeForce RTX 4070 graphics. The brass tacks of the specifications are mentioned in the graphic above.
The AORUS 15 is more than capable of breezing through gaming and other resource-intensive tasks. It easily tackled most triple-A games and benchmarks, as shown in the table below. Because most laptops can achieve great frame rates at this price, it's all about performance under sustained loads, and that's where the AORUS shines. Over a three-hour gaming session, we didn't observe any noticeable loss in performance, and the exhaust temperatures were mainly under 60 degrees.
| | |
| --- | --- |
| Games | Average Frame Rates (FPS) |
| Apex Legends | 165 fps |
| Valorant | 370 fps |
| Shadow of the Tomb Raider Benchmark | 170 fps |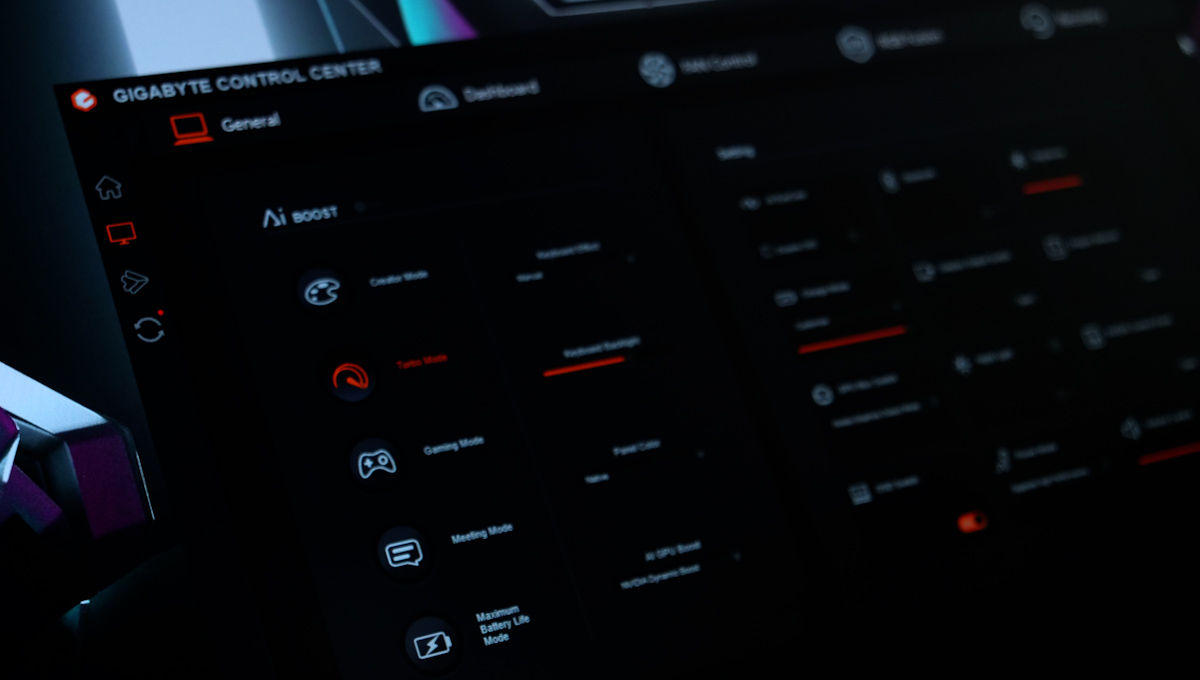 You can tweak the GPU speeds using the Gigabyte Control Centre Utility. While this app is the definition of simplicity, it's a bit too simple. For instance, you can't resize it, so people with poor eyesight will struggle to use it. Then, you don't get the molecular level of control over GPU output, and it's something that most other gaming laptops offer. Instead, you can choose from five GPU boost scenarios: Creator, Turbo, Gaming, Meeting and Power Saving Silence mode. If you don't want the headache of switching, Gigabyte also offers AI Boost mode, which automatically. This AI mode is hilarious because it raises the fan speed by notches, taking about an entire minute to go to the highest setting, making your laptop sound like a prima donna. Nevertheless, the AORUS 15 could easily dissipate the heat generated during heavy workloads, but at the expense of relatively loud fan noise.
For some reason, our particular unit would often struggle to load up basic apps such as the Steam client or even respond to Start menu queries, much like a moody kid.
The AORUS 15 lives up to its powerful gaming credentials with its hour-long battery life. While this is the norm for most gaming laptops, the AMD-powered ASUS TUF Gaming A15 has proven that powerful specs shouldn't mean low battery backup.
Luckily, it charges up quickly in under two hours using the bundled 240W charging brick, which you can also use to curl your biceps.
Gigabyte AORUS 15 BSF Review: Verdict
Gigabyte's attempt at creating a high-power machine for gamers and creators is a solid one. It looks the part and has a fantastic distribution of I/O options. Its display is nice and crisp, and it offers decent expandability too. Sure, its keyboard has a few issues, and the companion app feels a bit limited, but its sustained performance is commendable.
That's only until you look at its price – Rs 1,79,599.
For 30 grand less, you can get your hands on fully specced out ASUS TUF Gaming A15 (Review), which also comes fitted with the RTX 4070, is much lighter and has much better battery life. You may get a better deal during the sales season, but till then, it seems a little overpriced.