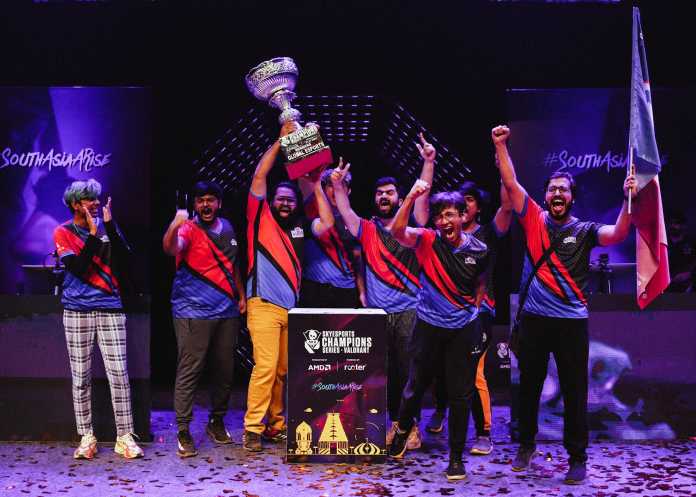 Valorant competitive has achieved new standards this year as it is rooting to a new level. The Road to VCT Event 2022 for southeast Asian Teams i.e., Skyesports Champions Series (SCS) was crowned by Global Esports, the titans of Indian Valorant Competitive. They earned their spot at the Valorant Champions Tour APAC Stage 2 where they have been seeded into the Group Stage.
Global eSports had been fighting in the tournament's Lower Bracket after losing to Orangutan Gaming early on and subsequently vanquishing them in the Lower Bracket finals to earn a playoff berth In the Finals! The Finals of their Road to VCT 2022 event featured two of the most prominent teams in the Indian Valorant Esports. They are none other than Enigma Gaming, the fearless team, and Skyesports Souvenir Mumbai Champions, Global Esports.
Global Esports crowned Champions of Skyesports Champions Series 2022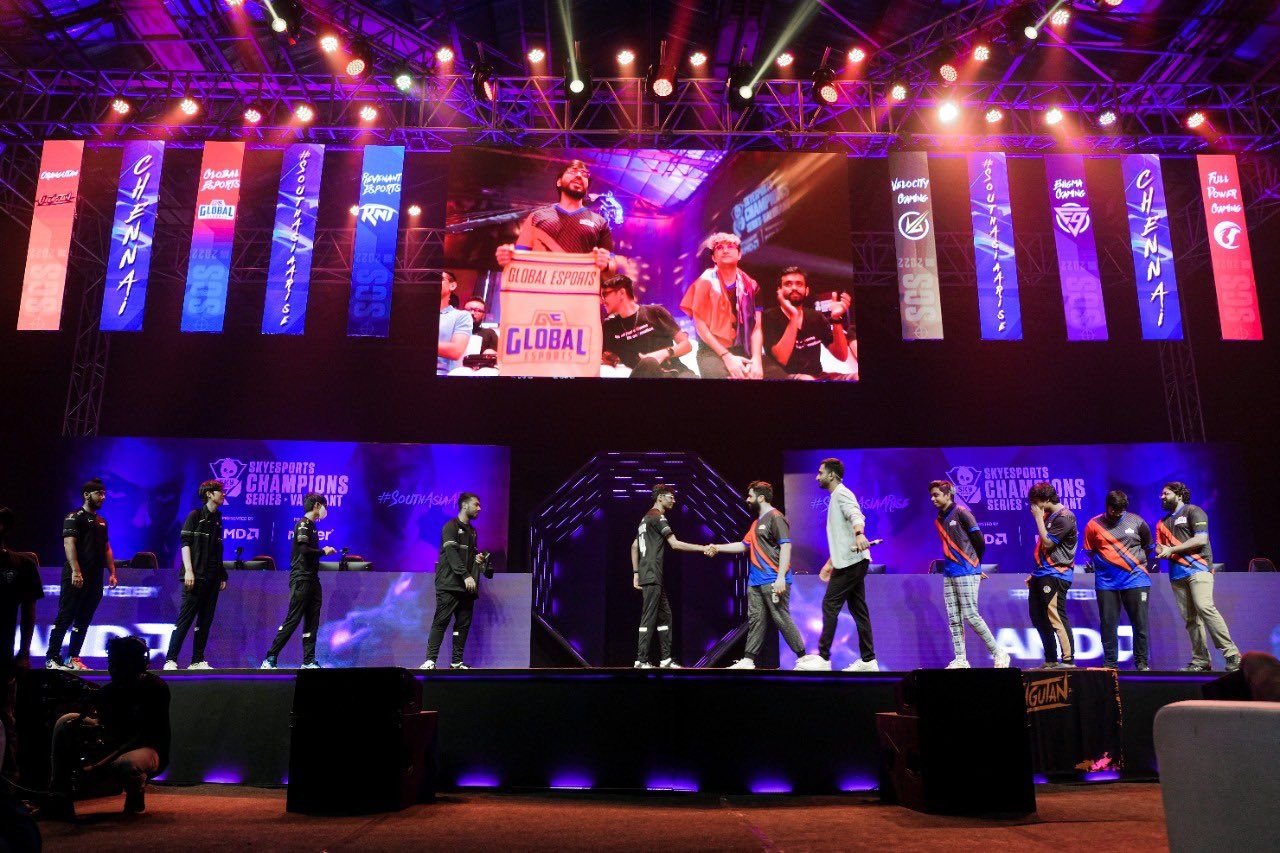 The play-ins and Finals which are the main stages of SCS were conducted as a LAN event and took place in Chennai. Global Esports beat Enigma Gaming 3-2 to conquer the Skyesports Champions Series and will represent South Asia as the defending champion. Enigma Gaming must compete in play-ins, while GE will skip that stage and will be seen competing in the top tier (group stage).
Ascent: Enigma Gaming 14-12 Global Esports
Split: Enigma Gaming 6-13 Global Esports
Haven: Enigma Gaming 13-11 Global Esports
Fracture: Enigma Gaming 8-13 Global Esports
Bind: Enigma Gaming 9-13 Global Esports
Enigma had the most incredible playoff run, qualifying for the semifinals as the top seed from Group A. In the playoffs, they crushed Velocity Gaming in round one and Orangutan in the second round to qualify for the Stage 2 VCT APAC challengers and achieve the Skyesports Champions Series finals.
Global Esports had to play a lot of matches compared to Enigma Gaming and they have beaten OG teams like Orangutan and Velocity Gaming which led to both teams' eliminations from the VCT 2022 Run.
The Grand Finals were played in BO5 format and you can see the summary above. Here is the prize pool Distribution:
Skyesports Champions Series 2022 Prize Pool Distribution
Congratulations Team @GlobalEsportsIn , the CHAMPIONS of Skyesports Champions Series – Chennai LAN! #LANKings#scs #chennai @playVALORANTsa pic.twitter.com/xM2itNrZAa

— Skyesports (@skyesportsindia) June 5, 2022
1st place: Global Esports – $15000
2nd place: Enigma Gaming – $7500
3rd place: Orangutan – $3000
4th place: Velocity Gaming – $3000
Emerging player: Rawfiul (Enigma) – $500
Both Enigma and Global Esports have been qualified for Riot's official event and they will represent our country as well as the entire region. With Global eSPorts attempting to make a lineup transition and Enigma Gaming staring wobbly at periods, it's uncertain which team will perform effectively in the VCT APAC Qualifiers Stage 2. The APAC Stage 2 will commence on June 9, 2022.
Thanks for reading till the end of this article. For more such informative and exclusive tech content, like our Facebook page