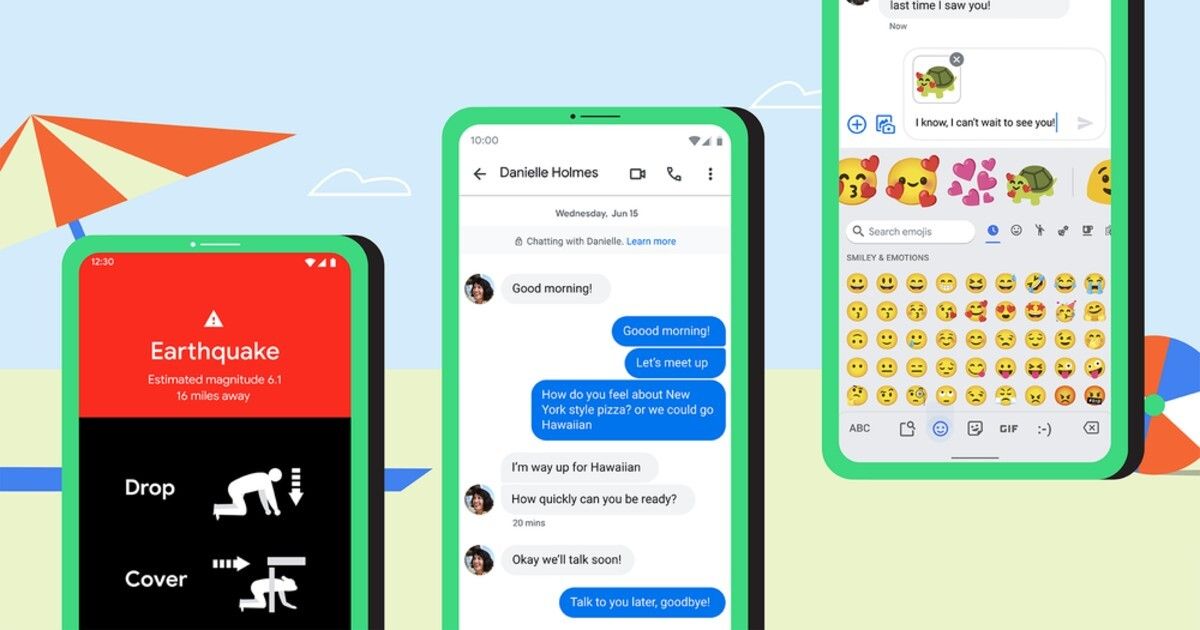 Google rolled out June 2021 security patch to its Pixel series smartphones along with a host of new features last week. The company brought in astrophotography, new Pride-themed wallpapers, and much more in the recent software release. Now, Google claims to be bringing 6 new Android features to all the smartphones later this year. Yes, you read that right. These new features won't be limited to only Pixel handsets, but will be rolled out all the devices later this year. Google mentions in a blog post that these 6 new features including earthquake detection, contextual emojis and more will be rolled out to all the handsets later this year. Let's check out more details on this ahead:
6 New Android Features Will Be Coming To All Smartphones Later This Year
Android Earthquake Alert System: Speaking about the essential features first, Google will start rolling out the Android Earthquake alert system globally starting this year. As per Google, the earthquake alert system will be rolled out in Turkey, the Philippines, Kazakhstan, Kyrgyz Republic, Tajikistan, Turkmenistan, and Uzbekistan. So far, this service was only available in New Zealand and Greece. With this new system, people in affected areas will receive an alert on their handsets seconds before an earthquake hit. Google mentions in a blog post that it is prioritizing to launch the Earthquake Alerts system in countries with higher earthquake risks, and hopes to bring this service in more and more countries over the coming year.
Star what's important with the Messages app: You might be receiving messages from family, friends, colleagues and others. Because of this, it's easy to get lost with the track of essential messages. However, now with this new feature, you will be able to star a message on your Messages app to keep track of what's important, and easily find it later without scrolling through all of your conversations. You can tap on the starred category if you want to revisit the message. The Starred message feature will be rolling out globally in the upcoming few weeks.
Find Perfect Emoji Kitchen sticker at the perfect time: Back in May, Google had introduced a new section in recently used Emoji Kitchen stickers so that you can quickly get back to the ones you use most frequently. Now, the company is adding contextual suggestions in Emoji Kitchen which will appear once you've typed a message. With this new feature, you will be able to discover the perfect emoji combination at the exact moment. This contextual Emoji Kitchen suggestion is already available in Gboard beta starting from today and it's coming to all Gboard users this summer with support for messages written in English, Spanish and Portuguese on devices running Android 6.0 and above.
Access favorite apps with just your voice: With this new feature, you will be able to open or search your favorite apps just with your voice. For example, if you say things like  "Hey Google, pay my Capital One bill" to jump into the app and complete the task. To access a full list of shortcuts, you can say "Hey Google, shortcuts."
Gaze detection on Voice Access: Voice access now has gaze detection. This feature is currently in beta for now. You can ask for Voice Access to work only when you are looking at the screen. Apart from this, Voice Access also has enhanced password input. When it recognizes a password field, it will let you input letters, numbers, and symbols.
More customization and new app experiences on Android Auto: Google is adding more customization and new app experiences on Android Auto for easier use. It's now easier to browse content with new tabs in your media apps, a "back to top" option, and an A to Z button in the scroll bar. Apart from this, Google is also adding EV charging, parking and navigation apps to use in Android Auto. Additionally, Google has improved the messaging experience, so that you can access your favorite messaging apps from the launcher screen. You can easily read and send new messages directly from apps like WhatsApp or Messages. This feature is now available globally. These new features work on devices running Android 6.0 or above when connected to a compatible car.
Thanks for reading till the end of this article. For more such informative and exclusive tech content, like our Facebook page