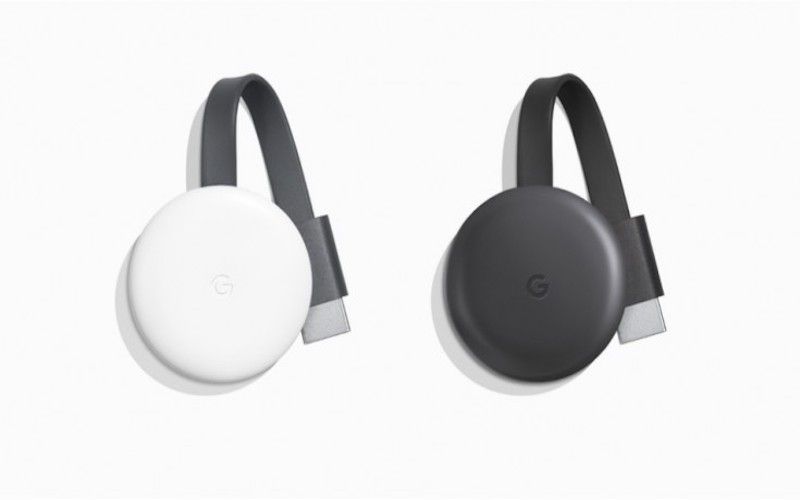 Three years after the Google Chromecast was first unveiled, there is a new version of it available which is faster. Depending on your personal preference, you would also find it either better looking or worse, as the glossy look has made way for a matte finish. The 2018 device, however, looks much the same as the first Google Chromecast, following the same hockey puck or disc-shaped design.
While the device was unveiled alongside the Google Pixel 3 and Pixel Slate, Google has not made any official announcement for the Indian market. And yet, the device is listed as not just on sale but as sold out on Flipkart, and at Rs. 3,499. That, apparently, is both the Maximum Retail Price (MRP) and the selling price. Take a look at what's new.
Google Chromecast Listed Sans Announcement
The Google Chromecast 2018 is the second iteration of the Chromecast device, which helps you cast your smartphone's content on your television set, for widescreen viewing and a full-fledged entertainment experience. While Smart TVs come with Chromecast or other built-in casting technology, regular TVs need external devices, and Amazon's Fire TV stick and Google's Chromecast are quite popular. What is mysterious is why Google has not made any announcement regarding the sale, price, and availability of the device in India, even as it was made available in several western countries from today, on October 10.
The Google Chromecast was first spotted as available for sale at Rs 3,499 earlier today, and by now it has even sold out. Flipkart does not mention when the next sale is, but you can use the 'Notify Me' option to stay updated about stocks coming in again. Meanwhile, the wait is on for Google's official acknowledgment of the Chromecast selling in India, at the above-mentioned price.
What's New in Google Chromecast?
First things first, the device looks similar but is not the same as the previous model, as it now carries the G mark for Google. It has a more well-rounded look to it, and comes in Matte finish in two colors: Chalk and Charcoal, or, in less fancy terms, matte white and matte black. What is important is that the Chromecast for 2018 is faster than the previous model, with 1080p streaming at 60fps now instead of 720p streaming at 60fps, as was the case with the earlier model. Another important addition is the support for connecting the Google Chromecast to the Google Home, so you can use voice control to play and navigate content on your television set.
Other features remain the same, and there isn't any Bluetooth or newer version of Wi-Fi with this Chromecast. If there is any, at least Google has not made it known yet. Flipkart also does not show any details of the device apart from listing it as a selector box with HDMI cable.
As and when there are any official announcements from Google we shall update this post or write a new report. Stay tuned with us, and let know what you think about the mysterious appearance and disappearance (sold out) of the Google Chromecast 2018.