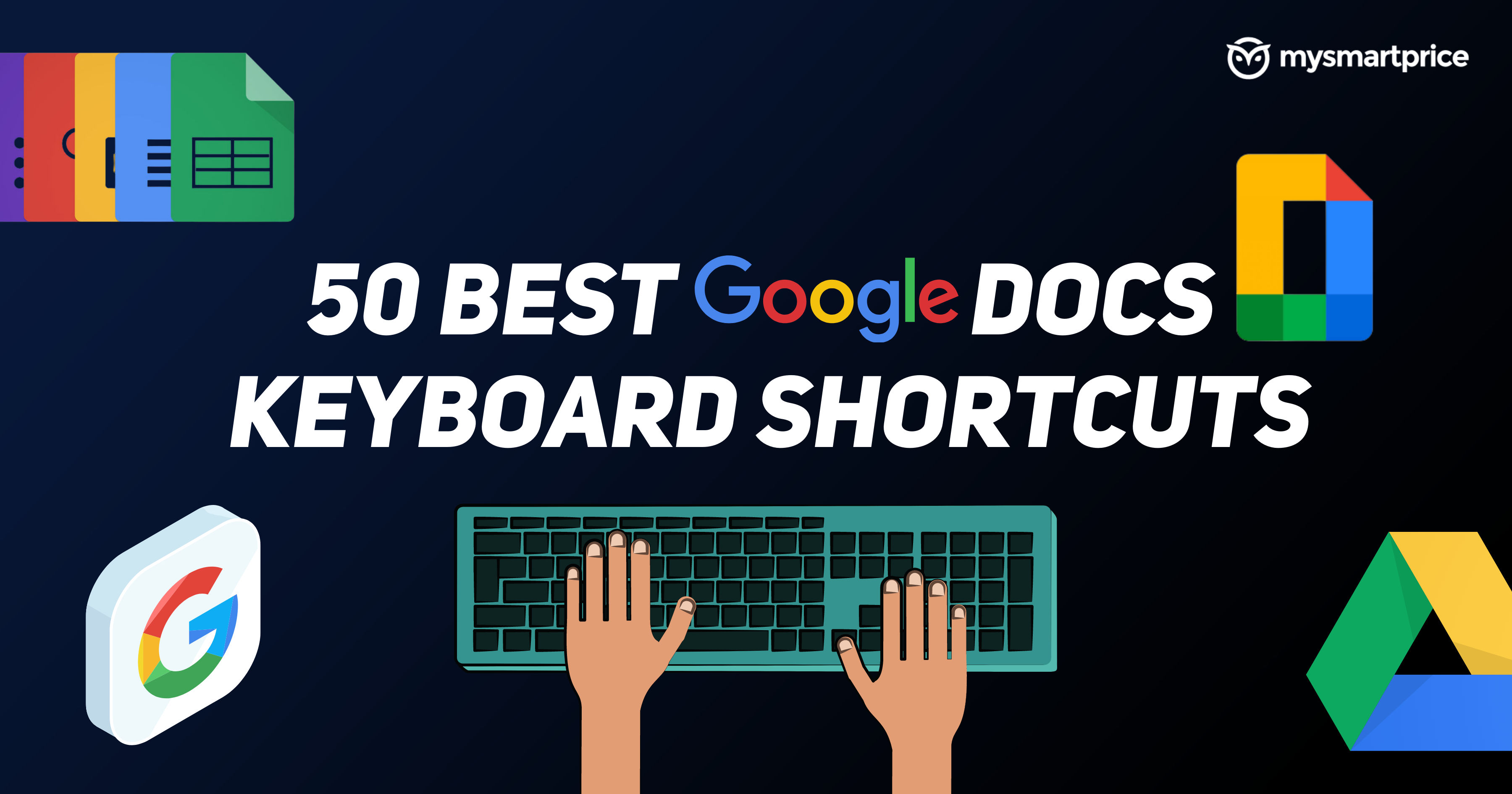 Google Docs are one of the most used online collaboration tools in the country. With Microsoft Word being largely used by enterprises with local document requirements, Google Docs has quickly become one of the most used tools for online collaborators, in a world where more people are increasingly working from remote locations. What makes the use of this tool more convenient are Google Docs shortcuts, which can not only make the most used features quick to access, but also make its usage highly ergonomic and convenient. On this note, we take a look at 50 of the best Google Docs shortcuts that you can use on both Windows PCs and Macs.
Also Read: How to Connect Mobile to Laptop or PC to Share Internet or Transfer Photos or Files? (mysmartprice.com)
Google Docs shortcuts on Windows and macOS PCs
On Windows, Google Docs shortcuts are slightly differently aligned in comparison to Macs, in terms of how the overall keyboard mapping differs between the two platforms. The keyboard combinations remain consistent across browsers, and if you use the software regularly, here are the most used keyboard combinations that you must know of.
Editor's note: The following table includes shortcuts that are not entirely general in nature. For instance, actions like bold, copy and undo have the same keyboard shortcuts on Google Docs as they do elsewhere. For the sake of convenience, we have chosen to list shortcuts that are typical to Docs, but are not general in nature, either.
Also Read: Word to PDF Converter: How to Convert Word Document to PDF File Online
| | | |
| --- | --- | --- |
| | Windows | Mac |
| Paste without formatting | Ctrl + Shift + v | ⌘ + Shift + v |
| Insert or edit link | Ctrl + k | ⌘ + k |
| Show common keyboard shortcuts | Ctrl + / | ⌘ + / |
| Find | Ctrl + f | ⌘ + f |
| Find and replace | Ctrl + h | ⌘ + Shift + h |
| Insert page break | Ctrl + Enter | ⌘ + Enter |
| Copy text formatting | Ctrl + Alt + c | ⌘ + Option + c |
| Paste text formatting | Ctrl + Alt + v | ⌘ + Option + v |
| Clear text formatting | Ctrl + \ | ⌘ + \ |
| Increase font size | Ctrl + Shift + > | ⌘ + Shift + > |
| Decrease font size | Ctrl + Shift + < | ⌘ + Shift + < |
| Increase paragraph indentation | Ctrl + ] | ⌘ + ] |
| Decrease paragraph indentation | Ctrl + [ | ⌘ + [ |
| Apply normal text style | Ctrl + Alt + 0 | ⌘ + Option + 0 |
| Apply heading style [1-6] | Ctrl + Alt + [1-6] | ⌘ + Option + [1-6] |
| Numbered list | Ctrl + Shift + 7 | ⌘ + Shift + 7 |
| Bulleted list | Ctrl + Shift + 8 | ⌘ + Shift + 8 |
| Move paragraph up/down | Ctrl + Shift + Up/down arrow | Ctrl + Shift + Up/down arrow |
| Alt text | Ctrl + Alt + y | ⌘ + Option + y |
| Resize larger | Ctrl + Alt + k | ⌘ + Option + k |
| Resize smaller | Ctrl + Alt + j | ⌘ + Option + j |
| Insert comment | Ctrl + Alt + m | ⌘ + Option + m |
| Open discussion thread | Ctrl + Alt + Shift + a | ⌘ + Option + Shift + a |
| Enter current comment | Ctrl + Enter | Ctrl + Enter |
| Insert footnote | Ctrl + Alt + f | ⌘ + Option + f |
| Context (right-click) menu | Ctrl + Shift + x or Ctrl + Shift + \ | ⌘ + Shift + \ |
| File menu | in Google Chrome: Alt + f, other browsers: Alt + Shift + f | Ctrl + Option + f |
| Edit menu | in Google Chrome: Alt + e, other browsers: Alt + Shift + e | Ctrl + Option + e |
| View menu | in Google Chrome: Alt + v, other browsers: Alt + Shift + v | Ctrl + Option + v |
| Insert menu | in Google Chrome: Alt + i, other browsers: Alt + Shift + i | Ctrl + Option + i |
| Format menu | in Google Chrome: Alt + o, other browsers: Alt + Shift + o | Ctrl + Option + o |
| Tools menu | in Google Chrome: Alt + t, other browsers: Alt + Shift + t | Ctrl + Option + t |
| Select current list item | holding Ctrl + Alt + Shift, press e then i | holding Ctrl + ⌘ + Shift, press e then i |
| Select all list items at current level | holding Ctrl + Alt + Shift, press e then o | holding Ctrl + ⌘ + Shift, press e then o |
| Show document outline | holding Ctrl + Alt, press a then h | holding Ctrl + ⌘, press a then h |
| Move to next heading [1-6] | holding Ctrl + Alt, press n then [1-6] | holding Ctrl + ⌘, press n then [1-6] |
| Move to next list | holding Ctrl + Alt, press n then o | holding Ctrl + ⌘, press n then o |
| Open revision history | Ctrl + Alt + Shift + h | ⌘ + Option + Shift + h |
| Open Explore tool | Ctrl + Alt + Shift + i | ⌘ + Option + Shift + i |
| Open spelling/grammar | Ctrl + Alt + x or F7 | ⌘ + Option + x or Fn + F7 |
| Open dictionary | Ctrl + Shift + y | ⌘ + Shift + y |
| Word count | Ctrl + Shift + c | ⌘ + Shift + c |
| Move to next misspelling | Ctrl + ' | ⌘ + ' |
| Move to previous misspelling | Ctrl + ; | ⌘ + ; |
| Insert or move to header | holding Ctrl + Alt, press o then h | holding Ctrl + ⌘, press o then h |
| Insert or move to footer | holding Ctrl + Alt, press o then f | holding Ctrl + ⌘, press o then f |
| Move to the start of the table | holding Ctrl + Alt + Shift, press t then s | holding Ctrl + ⌘ + Shift, press t then s |
| Move to the end of the table | holding Ctrl + Alt + Shift, press t then d | holding Ctrl + ⌘ + Shift, press t then d |
| Exit table | holding Ctrl + Alt + Shift, press t then e | holding Ctrl + ⌘ + Shift, press t then e |
| Move to the next table | holding Ctrl + Alt + Shift, press n then t | holding Ctrl + ⌘ + Shift, press n then t |
Thanks for reading till the end of this article. For more such informative and exclusive tech content, like our Facebook page