Earlier this year, an announced Chrome OS device –codenamed Drallion – was leaked, courtesy of 9to5Google and an engineer on Chromium Gerrit. According to the evidence they had found, the Drallion had an integrated privacy screen and a toggle to switch the privacy screen on. At that time the Drallion was suspected to be the first Chrome OS device to have the privacy screen feature. According to the evidence, the Drallion was being manufactured by Compal, a company known for designing devices for brands like HP and Lenovo. However, back then, it wasn't clear to which brand did the Drallion belong to. In simpler terms, there was no information about which brand would launch the Drallion.
Well, today we bring you big news regarding the Drallion, as we have spotted it on Geekbench, which not only reveals that the Drallion is actually a device from Google, but the listing of the Chrome OS device on the benchmarking platform reveals its key specifications as well. Let us have a look.
Google Drallion Spotted on Geekbench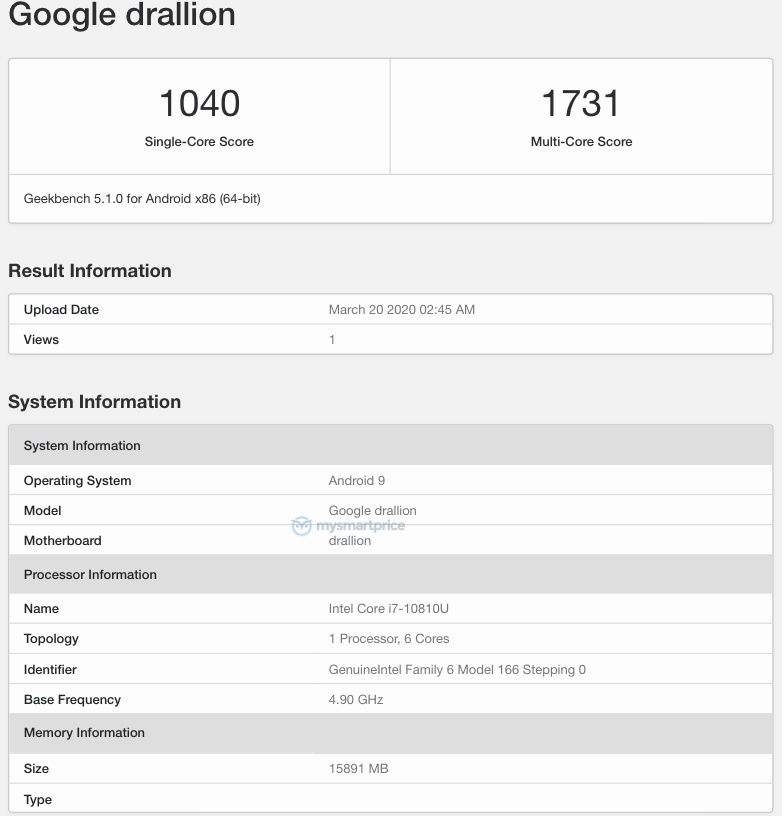 The first thing that caught our eye in the Geekbench listing of Drallion is that it is listed as a Google device. The model section lists the Chrome OS device as 'Google Drallion.' So, is this an upcoming Chrome OS (Pixel/PixelBook) device from Google? Could be. However, it is also possible that the Geekbench listing of the device has Google in the model name because Drallion uses Google's Chrome OS. We can't say for sure yet, at least until we get some more information on the device.
The Drallion's OS is listed as Android 9 but then the listing also shows that it has Intel Core i7 processor. Now, I don't recall any devices that come with a combo of Android 9 and Intel Core i7 processor. So, the Android 9 operating system listed here could most probably be the Chrome OS, and Geekbench might be showing it as Android 9 because Chrome OS is built on Android OS after all.
Google Drallion Features Unannounced Intel Chipset, Core i7-10810U
Anyway, the Geekbench listing shows that Drallion packs the Intel Core i7-10810U processor, which is another interesting fact about the device, as this is an unannounced Intel chipset. The Core i7-10810U processor was recently leaked, but the brand is yet to make it official. Usually, new chipsets make their debut with devices from brands like Apple and Google, which further confirms that Drallion is a Google device. According to the listing, the Drallion packs 16GB of RAM.
So, is the Google Drallion a laptop or a tablet? And when will it launch? Well, we don't have answers to that as of yet but we will dig more and keep you bringing interesting news like this one. Stay tuned.
Thanks for reading till the end of this article. For more such informative and exclusive tech content, like our Facebook page