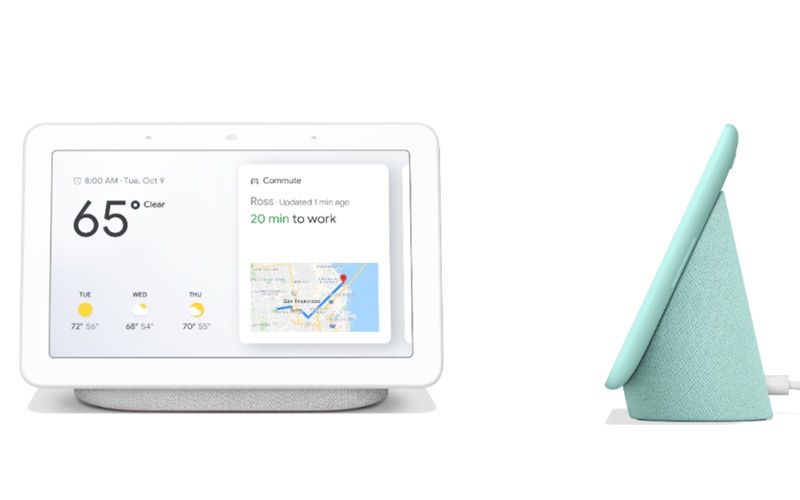 Google's launch event didn't only star its highlight launch of the Pixel 3 and Pixel 3 XL (review) smartphones, but also the launch of many other important devices. One among them is the Google Home Hub, which we had exclusively leaked weeks before its official unveiling. It was also leaked through an accidental promotional posting made by Google on its own website, hours before the announcement.
Google's Home Hub isn't its first attempt at making a smart home. In fact, the company has been trying effortlessly ever since 2017 with its Home Mini and Home Max, but they lacked a screen. In partnership with Lenovo, it had launched a Smart Display at CES 2018, which is quite similar to the Home Hub, but it featured a relatively smaller speaker.
Google Home Hub Launched At Google's Annual Launch Event
This is the company's first Assistant Smart Display and comes equipped with a 7-inch touchscreen. Like Google's other speakers, its Home Hub is available in similar colors, Chalk (gray), Mint, Pink, and Charcoal (black). The Smart Display has a fabric-covered base and on this Smart Display, the colors are applied everywhere. However, this doesn't apply to the bezel of the screen and the white power cord.
It not surprising that the Google Home Hub is powered by the Google Assistant. The Home Hub features a 'Hey Google' and 'Ok Google' hotword recognition. It is said to have different Google services like Search, Photos, and Maps optimized for the device to improve the user experience.
While this has a similar appearance to a tablet, it lacks a camera as Google says that it deliberately avoided it so users don't have to worry about their privacy at risk. While this may be the bright side to it, the negative is that Google Duo calls aren't supported due to the lack of a front-facing camera. One of the highlights of the device is the Home View feature which it has. This acts as a dashboard for all smart home devices, giving you a brief overview while also mentioning which devices are switched on. The Home Hub features deep integration with Nest products.
Google Home Hub Connectivity, Audio, Pricing
The Google Home Hub even acts as a sort of home entertainment center, allowing one to tune into YouTube and YouTube TV. The Hub boasts of full-range speakers and supports 802.11b/g/n/ac Wi-Fi at 2.4GHz and 5GHz bands, as well as Bluetooth. If you're geared towards a smart home, the Google Home Hub is definitely for you! The Google Home Hub is available for pre-order and priced at $149.
Check out our Pixel 3 XL unboxing video below. Don't forget to subscribe to our channel to get regular updates on new phones.