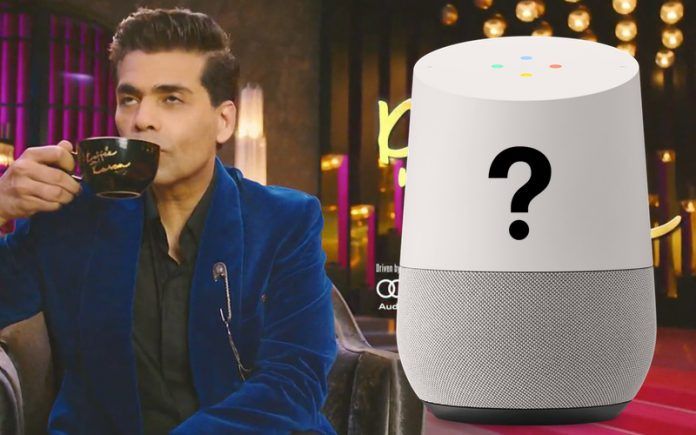 Looks like Hardik Pandya controversy ended up costing Star World's Koffee With Karan talk show more than it expected. At the beginning of season 6 of the show, the host Karan Johar bragged about the biggest brand associations with the show that included Audi and Google Home. With Google as the sponsor, some segments of the show were cleanly weaved around Google Home. However, in the latest episode of the show, we noticed that there was just no mention of Google Home. The brand name also disappeared from the cover bit of the show that earlier read 'Google Home Together With'. We can call this information a 'conjecture' – a word that was overly used on the very show.

Although there is no official statement concerning the disappearance of the sponsor from the running show, we can't help but relate it to the Pandya-Rahul controversy that clouded the show. It looks like Google is in no mood of associating itself with anything controversial, especially when it surrounds negative remarks on diversity and gender. The entire episode involving the two cricketers brazenly crossed the boundaries on racism and sexism. Both Pandya and Rahul have faced the repercussions surrounding their casual talk on the show, which rightfully ended up upsetting a majority of viewers. Even the show producers had to run a strip claiming that they do not resonate with the views depicted in the particular episode. The show's official streaming partner, Hotstar also removed the episode from the list.
Regardless of the controversy, we must note that the show very cleverly promoted the use of Google Home and integrated it effortlessly in the storyboard. Google Home was effectively used for starting segments like the rapid fire round, where the host used to ask the assistant to 'turn on the rapid fire lights'. One of the side-effects of the integration of Google Assistant involved triggering the it on Android phones with Assistant, Google Home or Home Mini units at viewer's home. Many annoyed users raised the issue on Twitter and Google was quick to acknowledge it.
Watching #KoffeeWithKaran keeps triggering my @Google home. My poor google assistant doesn't even know what 'Rapid fire lights' are!

— Priyanka Desai (@desai199404) November 20, 2018
It remains to be seen if Google India or the show producers come up with an official statement concerning the end of sponsorship. While we are talking about Google Home, you must check out our review, which logically traces the use of the device in India.
Thanks for reading till the end of this article. For more such informative and exclusive tech content, like our Facebook page