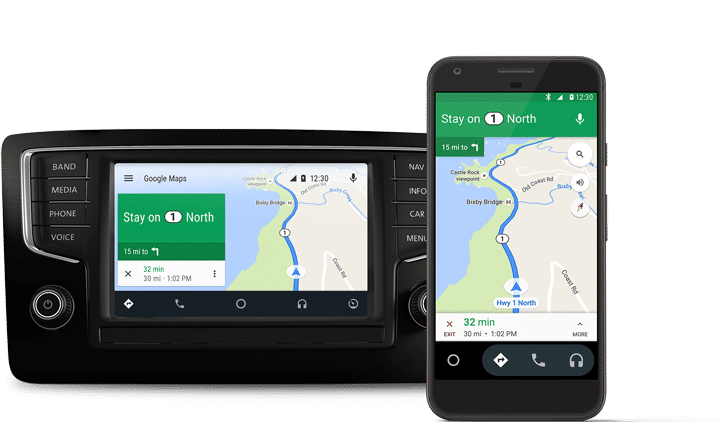 Google Android Auto is undergoing some significant improvements. The search giant is clearly trying hard to boost functionality of the platform while attempting to maintain optimum driver safety and road awareness.
Google's official blog recently had some interesting news about the Android Auto app. The app is available for free to download and use on the Google Play Store, and syncs the users' smartphones with the car's infotainment system. Google promised the new Android Auto features make the drive simple, personal and helpful. The app offers easier access to the users' favorite content with a significantly simplified and effective media browsing and search features, plus new ways to stay connected with visual message previews and group messaging.
Google Android Auto App Improvements Impact Several Popular Media Apps
Several features in the new Google Android Auto app have beneficial effect on several apps from Google as well as other developers. Some of the apps that will feature improved search and media consumption include Google Play Books, Google Play Music, iHeartRadio, Pocket Casts and Spotify. Meanwhile, communication platforms like Messages, Hangouts, and WhatsApp should also work with the new messaging features.
Google assures the new version brings a lot of relevant and personalized content to the forefront. This should help commuters spend less time browsing and more time consuming the content. The new version features improved layout and navigation features like larger album art views, which allows quick identification and selection.
Additionally, Google has reportedly improved the voice search functionality. The 'OK Google' now tries to understand the requests and arrange the search results in an understandable manner within simple categories.
Google Android Auto Improves In-Car Messaging With Support For Group Messaging
In-vehicle messaging is always considered unsafe. Understanding the same, Google Android Auto now offers completely optional short previews of incoming messages. Interestingly, the previews appear only when the vehicle is stopped. Users can enable or disable the feature via Android Auto's settings menu. Google claims this allows users the freedom to choose between privacy and convenience.
In addition to the short previews, Android Auto now supports apps that use MMS (Multimedia Messaging Service) and RCS (Rich Communication Services) as well. In other words, platforms like Messages, Hangouts, and WhatsApp can be more productive. Interestingly, Android Auto now works with Group Messaging feature as well.
Incidentally, not all the features will be deployed simultaneously. Google has assured that the development team is working on the new features, and they will be gradually sent out to Android Auto app users.
Google has been significantly improving Android Auto, and adding features that boost functionality. The company also promised true wireless functionality. With the inclusion of virtual AI-driven Google Assistant, Android Auto is on the way to becoming a comprehensive and smart in-car infotainment system.