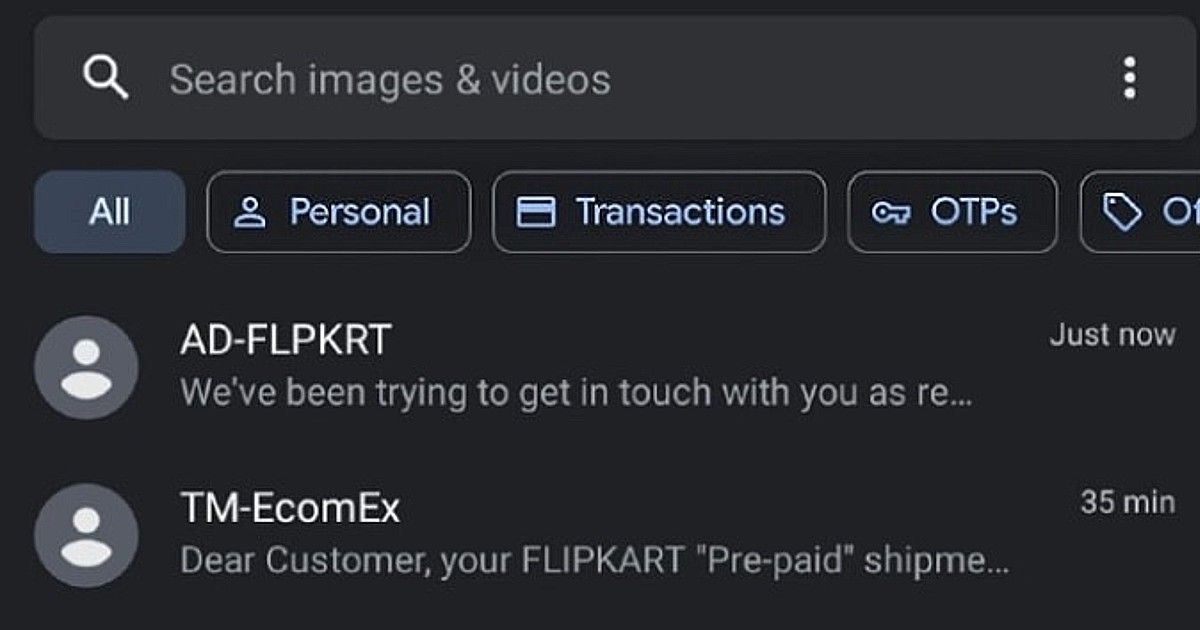 Google is reportedly issuing a wider rollout of its 'categories' feature for Google Messages. The feature is somewhat similar to the inbox grouping and organisation system found in custom software interfaces such as OnePlus' OxygenOS, but will work for the Google Messages app and offer a wider selection of categories. The feature was recently spotted in beta testing among a select few users, and according to reports, is now being rolled out more widely. However, it is important to note that the feature is not quite working as intended, since many users have also reported that while the category names are showing up in the Google Messages app, the category switching process is not quite happening.
The new feature seemingly adds five categories in the Google Messages app – Personal, Transactions, OTPs, Offers and 'More', which will likely feature miscellaneous promotions from various sources. With the new categories, Google aims to make the SMS inbox far less cluttered than its default, chronologically arranged list – something that can make finding personally sent SMS messages from individuals devilishly difficult to find. After having tested the service in beta for a while now, Google appears to be rolling out the category segregation out to a wider set of users now.
However, the final stable rollout is either being done in stages, or is still a short while away from a final rollout. According to reports, a limited number of users of Google Messages have already received the update that has added the categories as a top bar in the app, and the same can either be switched on or off using a toggle in the settings menu on the app. For some that have received the new feature, there have been reports stating that changing the category of messages in the Google Messages inbox is failing to alter the category or list of messages that should happen automatically.
Given that the feature is surfacing in an increasing number of reports right now, a stable rollout certainly appears to be on the cards.