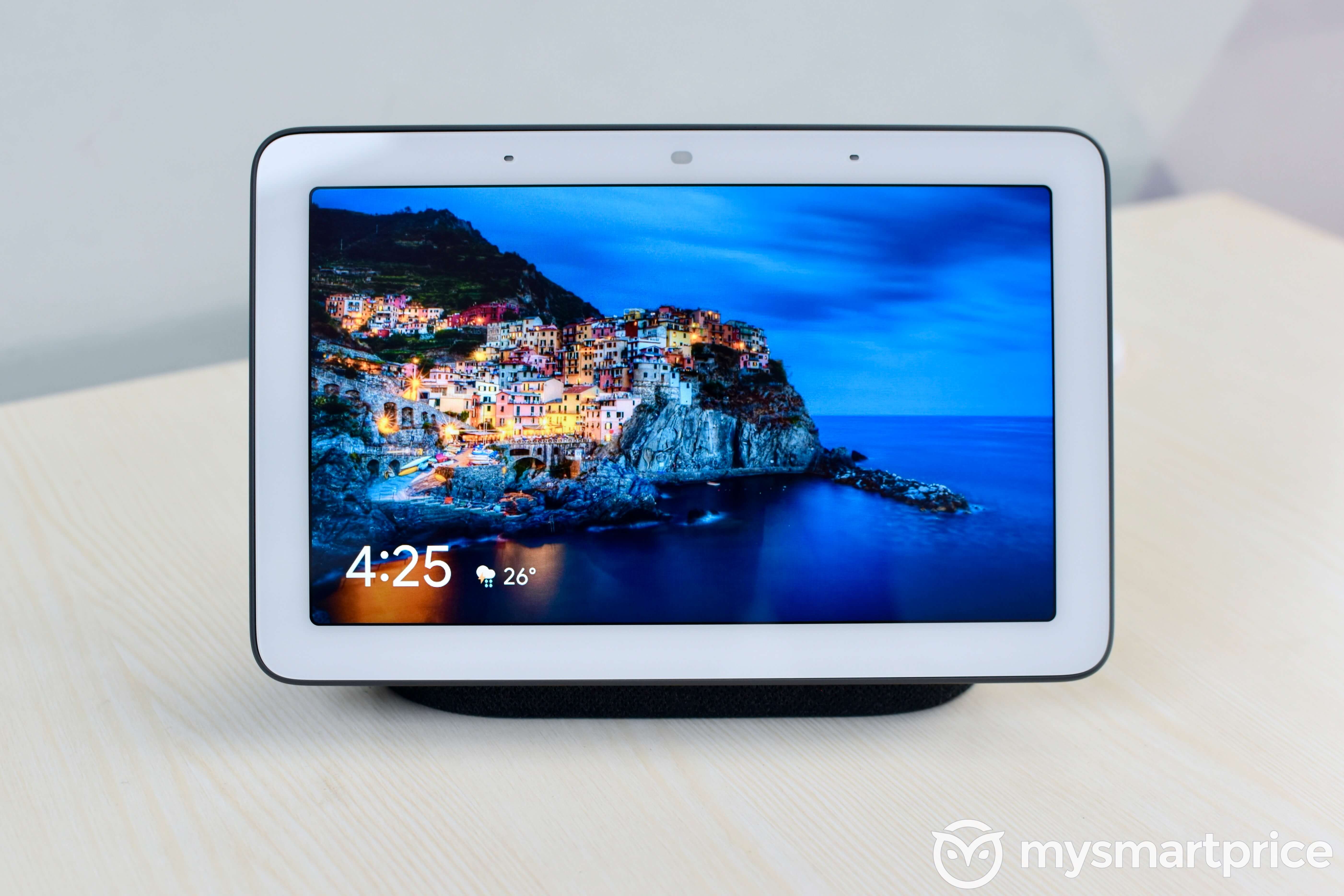 Google has steadily managed to bring its AI-powered voice assistant in most parts of our lives. It all started with the Google Assistant making its way into smartphones and tablets. Google Assistant then made its way into smartwatches, Chromebooks, TVs, smart speakers, and even soundbars. Last year, the search giant released a variant of Google Home with a 7-inch display to offer a visual representation of Google Assistant's responses. Additionally, its screen can also be used to play videos using built-in Chromecast or to stream videos or music directly from the internet. It can also act as a digital photo frame, complete with Google Photos integration, and a visual smart home control hub.
Now, almost one year after its original release in the US, Google has launched the Nest Hub and we had a chance to review it over the past month. Is it any better than the similarly priced Echo Show 5 or other Google Assistant-equipped smart displays from JBL and Lenovo? Let's find out.
[P_REVIEW post_id=166792 visual='full']
Google Nest Hub Design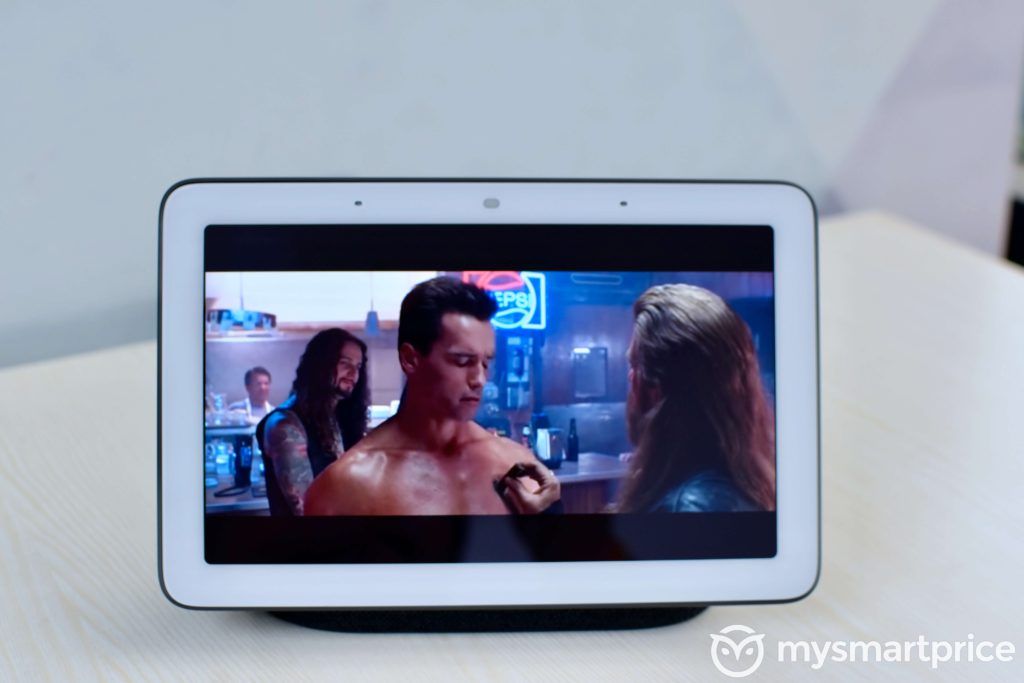 The Nest Hub looks like a 7-inch tablet attached on top of a mini-sized smart speaker. It comes in a combination of white and grey in which the screen part is white plastic, while the speaker on the rear is covered in grey-colored fabric material. The 7-inch touchscreen has a resolution of 1024×600 pixels, which turns out to 170ppi, but you won't use it at a distance that's closer than an arm's length. This means that you most likely won't notice pixelation. There are two microphones above the display along with an ambient light sensor and an ambient color temperature sensor.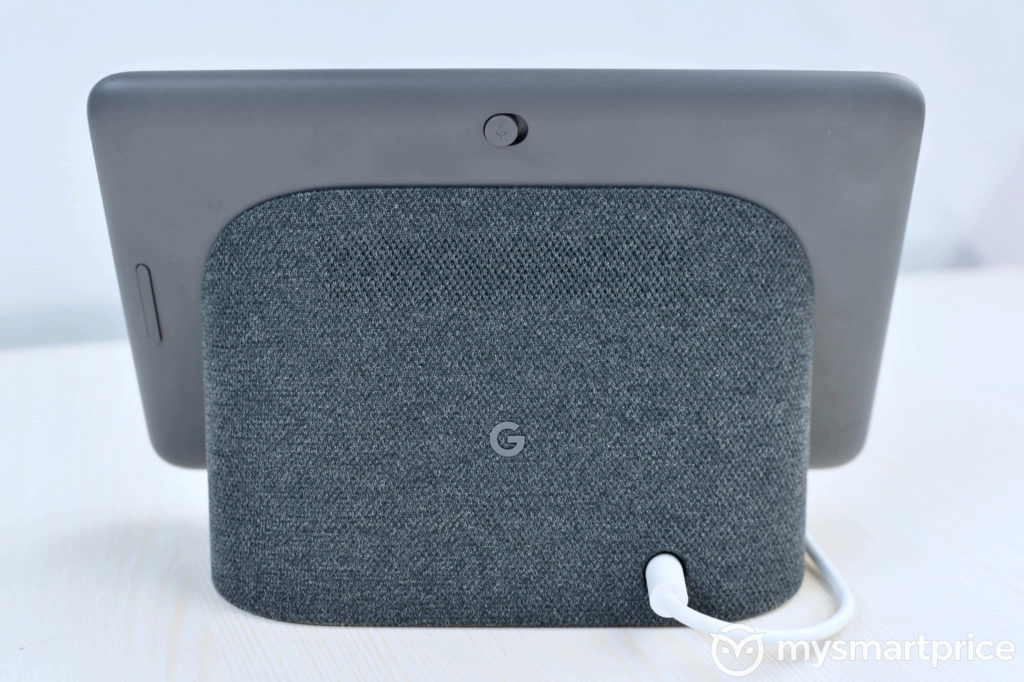 At the rear, there's a full-range loudspeaker. There's a mute switch on the rear if you're concerned about privacy (and you should be), especially after it was revealed that almost every smart speaker brand is revealing your voice recordings and data to their contractors. There is a volume rocker behind the display, but you can change the volume using on-screen controls. There's no audio line out on this speaker, something that's available on all Echo smart speakers. Overall, the Nest Hub has a very clean and minimalistic design which makes it blend well with most home setups, be it placing in the living room or in the kitchen.
Google Nest Hub Features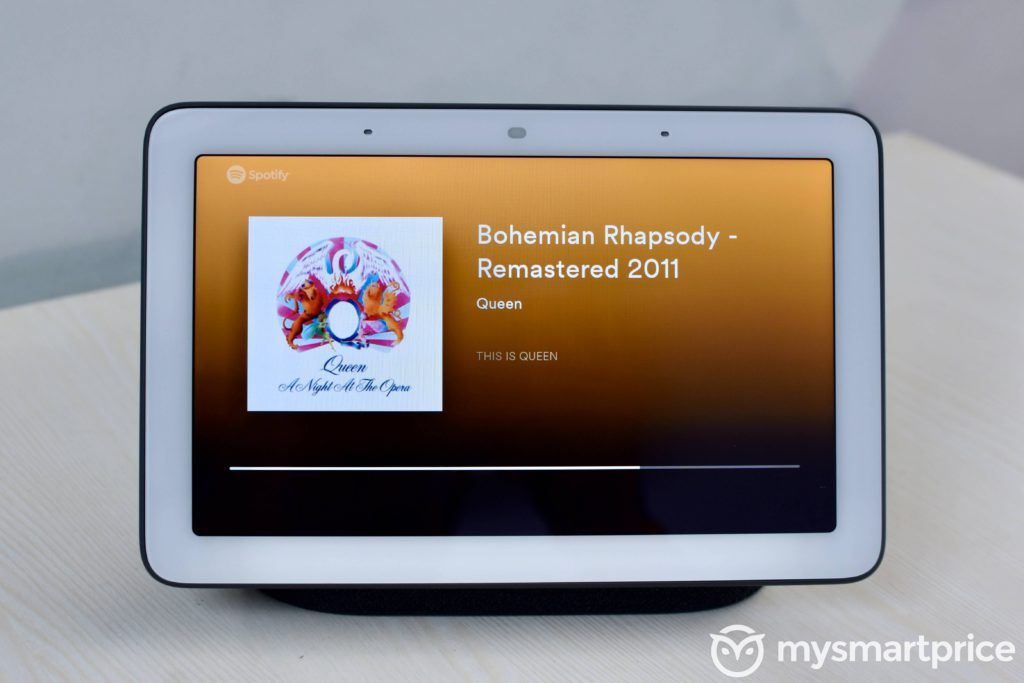 You can use the Nest Hub to stream music from the internet (through Gaana, JioSaavn, Spotify, TuneIn Radio, Wynk, YouTube Music, or YouTube). There's still no support for Amazon Prime Music or Apple Music integration, but you can use your smartphone app to cast music from both these services to the Nest Hub. If you are someone who's still using offline music, you'll be glad to know that you can connect your laptop, PC, smartphone or tablet to the Nest Hub via Bluetooth to play music. Or you can use Google Cast compatible apps to cast music from your phone to the Nest Hub.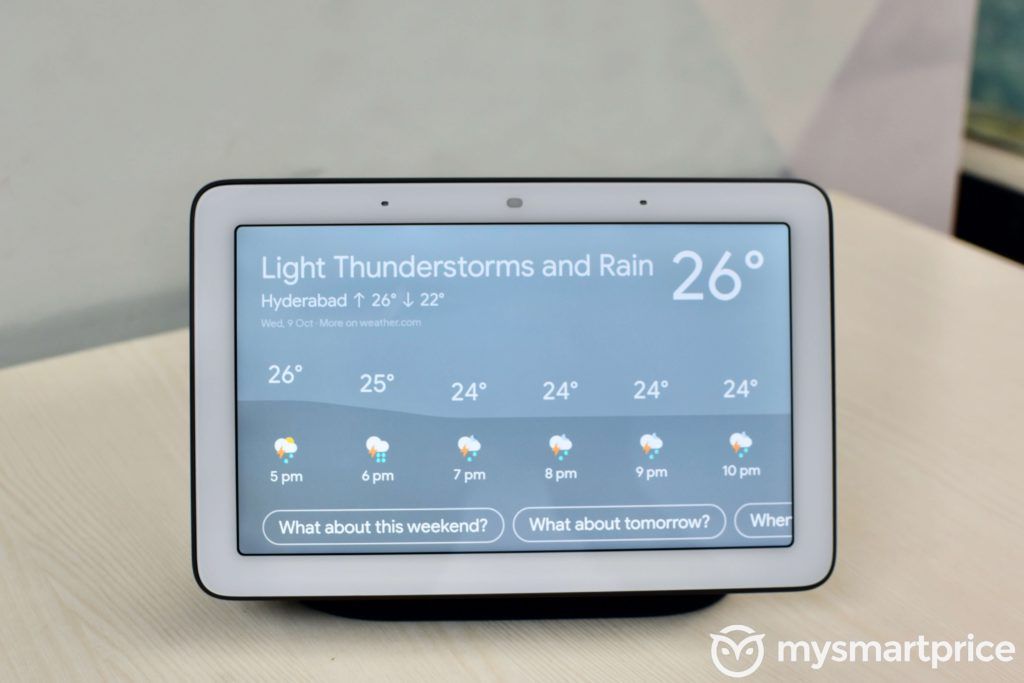 You can stream videos from online streaming services such as Amazon Prime Video, Hotstar, Netflix, and YouTube. You can also play videos from all Google Cast compatible apps or devices. You can also use the device to double up as your digital photo frame, complete with Google Photos integration. Alternatively, you can set it up to show time, curated images from the online art gallery, or images from alternative sources such as Facebook and Flickr.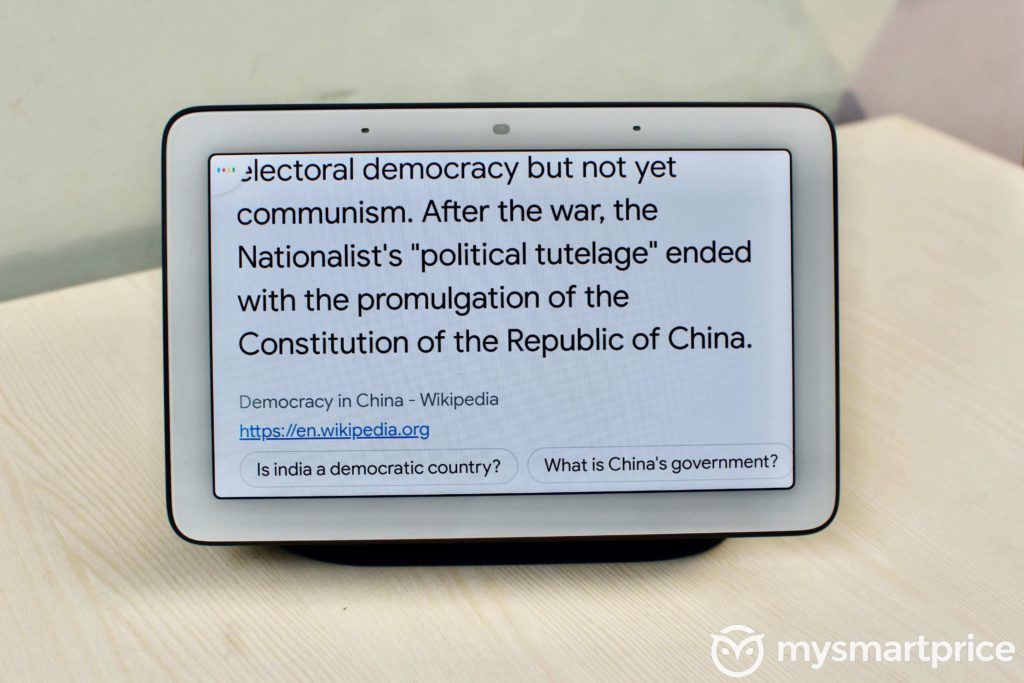 As usual, you can ask questions and get information from the web. You can also set up alarms and timers. Information such as current weather, upcoming meetings, and the upcoming flight schedules extracted from your Google Calendar and Gmail. It can also be clubbed with other Google Assistant-powered speakers on the home network to create a whole-home or multi-room audio system. You can use the Google Home app to set downtime (restrict access to music, video playback, and other types of information based on the day of the week and the time of the day).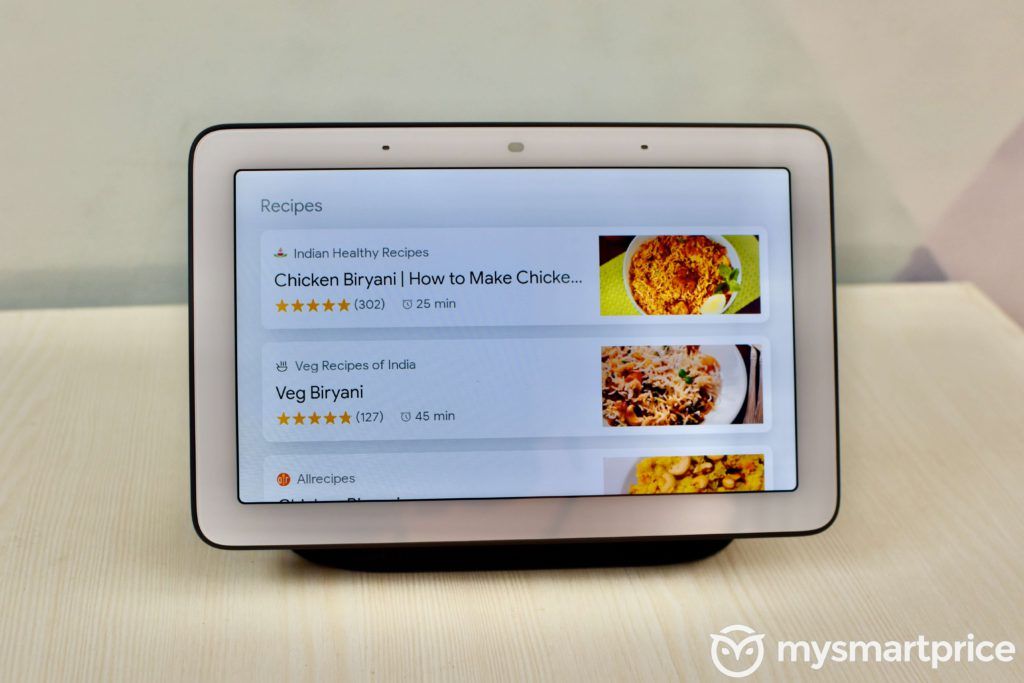 Various smart home products such as smart lights, switches, security cameras, and more that are compatible with the Google Assistant can also be controlled using the Nest Hub. Thanks to Google Duo integration, you can make voice calls to friends who use the calling service. There's no camera on this device, unlike the Echo Show 5 or the Google Assistant-powered Lenovo Smart Display, and this is where it loses a lot of points in the review.
Google Nest Hub Performance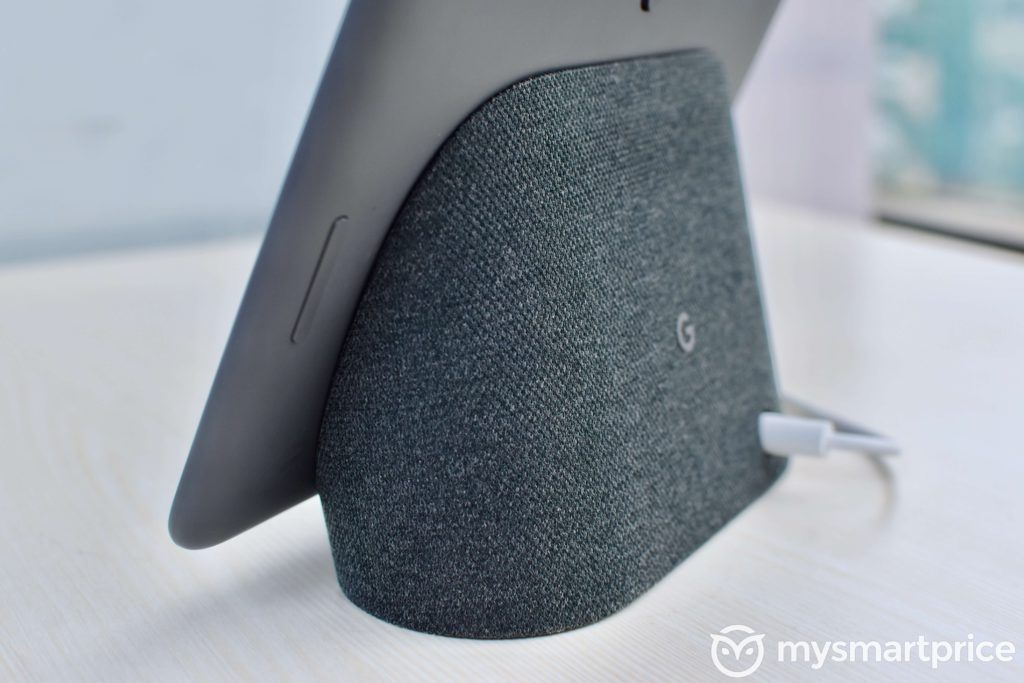 Having a display makes a ton of difference. Since a display offers visual feedback, you can easily control smart home devices, set alarms or timers, swipe through calendar entries or more. The screen on the Nest Hub is bright, at least for indoor conditions. And thanks to its ambient light and ambient color temperature sensors, the screen adjusts brightness and color temperature in a way that makes up for a great digital photo frame. For watching videos, the screen is bright enough but it doesn't look as colorful as smartphone screens. Touchscreen accuracy and smoothness felt on par with smartphones and tablets. Buttons offer nice tactile feedback.
Audio quality is nothing better than the Google Home Mini, which is rather disappointing. I expected better audio quality from the Nest Hub. There's no sparkle in highs and bass is lacking. Plus, there's very little sense of depth in audio. Comparatively, audio on the Google Home sounds richer and deeper, which in itself isn't a high bar. Bluetooth speakers that cost a quarter of the Nest Hub sound better.
Voice recognition quality of the Nest Hub is top-notch, but it didn't distinguish my voice from other members in my family most of the time even though the Voice Match feature was turned on. Hence, it did not show me information such as my calendar events, meetings, flight schedule, and more due to security reasons. Maybe having a camera on the device would've helped. The Nest Home Hub Max uses its front-facing camera to recognize users and shows their personal information accordingly. The UI was pretty fast and smooth.
Should You Buy The Nest Hub?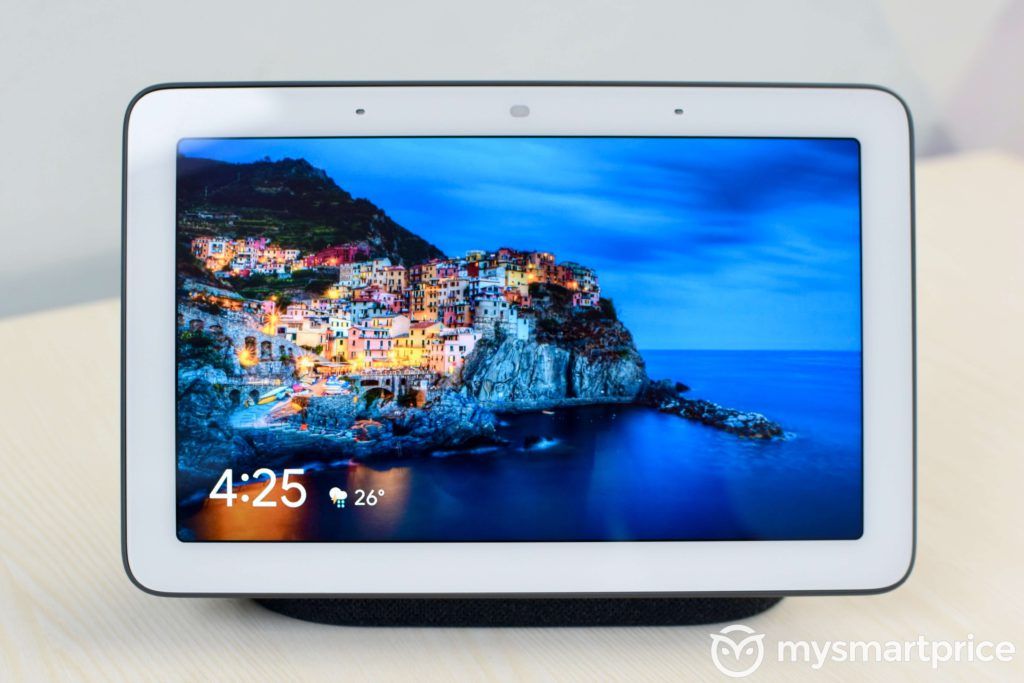 The Google Nest Hub nails the design part, blending in any room or environment, and it has a lot of features. It can not only show relevant information from the web but also display personal information through the Voice Match feature. Thanks to Google Assistant and Built-in Chromecast, you can stream music and videos from almost any popular media streaming service. It ties in with Google Photos extremely well and it features a nice screen. For privacy buffs, there's a mute switch. However, the device misses out on a front-facing camera that could've been used for video calls and user recognition. Even the audio quality could've been much better. What's worse is that if you don't like the audio quality of the built-in loudspeaker, you can't even play audio through an external speaker because it lacks a line-out port.
So, should you buy the Nest Hub for Rs 9,999? I don't think so, at least till its price drops. It is better to have a look at the slightly costlier Lenovo Smart Display, which features better audio quality and a front-facing camera for video calls. Or, if you're someone who is already invested in Alexa, get the Echo Show 5 instead.
What Is Good?
The display looks good.
The minimalistic design blends well within the home.
Google Assistant has a lot of services integrated into it, including Google Photos and YouTube.
Built-in Chromecast for casting images, music, and videos.
Privacy shutter button for the microphone.
What Is Bad?
Audio quality could be better.
No camera for video calls or user authentication.
Voice Match doesn't work as expected.
No headphone out.