Highlights
Google has started rolling out Passkeys to all Google account users worldwide.
According to Google, it's the easiest and most secure way to sign in to apps and websites.
Google rolled out Passkeys on Chrome for a limited set of websites and apps in December 2022.
Google Passkeys is not rolling out for all devices, apps, and websites for Google users worldwide. The Mountain View giant posted an official blog titled "The beginning of the end of the password" to announce the feature's rollout. Notably, Google already rolled out Passkeys on Chrome for a limited set of websites and apps in December 2022. Now it'll be available for all apps and websites on all devices, including smartphones, Macs, Windows PC, etc. It's similar to Apple's Keychain feature, which lets users sign in to apps and websites using Face ID or Touch ID. Here's all you need to know about the newly launched Google Passkeys feature.
Google Passkeys Now Rolling Out to All Users: What Is It?
Apple users will be familiar with the terrain since the company introduced Keychain in 1999 with macOS 8.6. It's now available on all Apple devices running iOS, iPadOS, macOS, etc. It is a password management system integrated into the OS that captures all user passwords. Next time a user visits a password-protected app or website, the system offers to sign in using Face ID or Touch ID without inserting a password again.
Google Passkeys work on the same concept and use the WebAuthn standard to generate a passkey that matches each website and lets you log in. Next time users visit password-protected websites and apps, they can log in using their Face ID, fingerprint ID, or the phone lock PIN. Google has introduced passkeys on Chrome for Windows 11, macOS, and Android devices.
Google warns users that in case their Google account is protected by 2-Step Verification or is enrolled in the Advanced Protection Program, Passkeys will bypass the second authentication step. It is because using Passkeys verifies that the user is in possession of their device.
Google Passkeys: System Requirements
Google has also posted a list of supported devices and system requirements for Passkeys. Below are the system requirements to use the new service.
Laptop or desktop running at least Windows 10 or macOS Ventura.

Laptop or desktop running at least iOS 16 or Android 9.

A hardware security key that supports the FIDO2 protocol.
Additionally, users will need Chrome 109 or up, Safari 16 or up, and Edge 109 or up. Google Passkeys requires Bluetooth and the screen lock turned on to create and use a passkey. Google also states that depending on the OS and browser, some users may not be able to create or use passkeys in incognito mode or other equivalents of the same.
Google Passkeys: How to Create?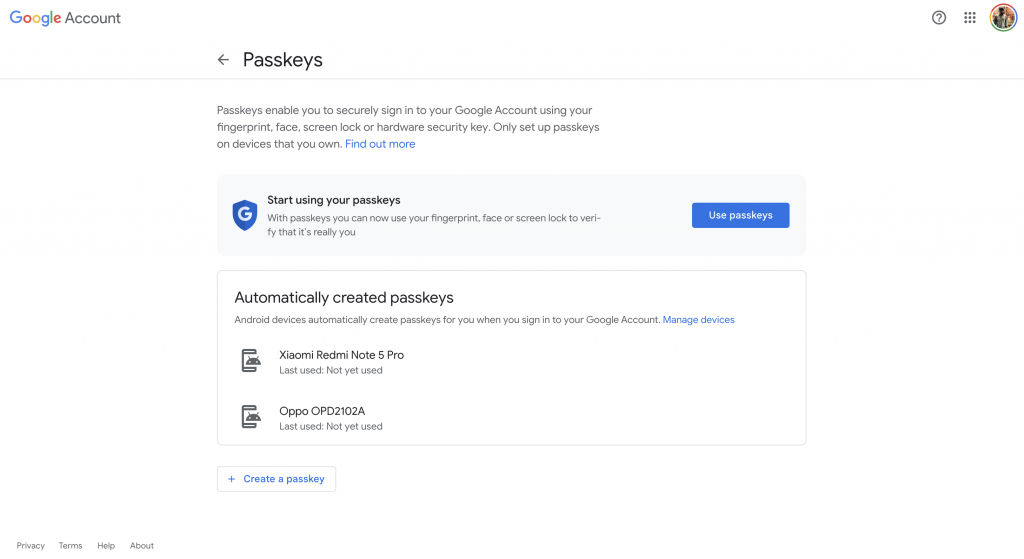 To create a Google Passkey, you will need a computer, phone, or tablet. You can authorize multiple accounts, so you do not need to depend on a single device to access your account. Below are the steps to set up or create a passkey.
Open a supported web browser (listed above) on your device.

Head to the

Google Passkeys website

.

Sign in using your Google account and password if prompted.

On the next page, you will see automatically created passkeys and devices using them.

Click on the blue

Use Passkey

button.

You will see a

Create a passkey for your Google Account

pop-up, tap

Continue

.

You will now see a device-specific sign-in screen prompting biometric authentication.

Once done, you will see a

Passkey created

pop-up, click

Done

.
Your Google Passkey is now set up, and you can use your preferred biometric data (face unlock, fingerprint, PIN, or pattern) to sign in on password-protected apps and websites. Google warns that users should create passkeys on personal devices that they own. Once you create a passkey, anyone who can unlock the device can log in to all services and apps. Therefore, creating passkeys on a shared device would be a bad idea.