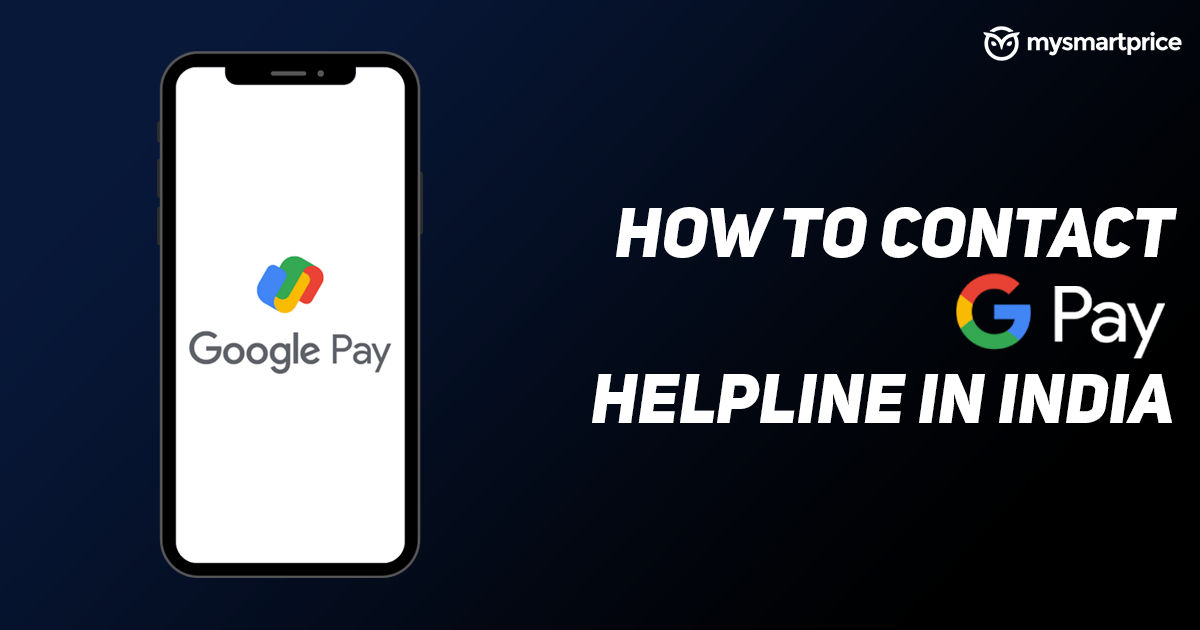 It is a known fact that online transactions have skyrocketed during this COVID-19 pandemic. People are finding it more convenient to make payment through UPI or online means rather than giving cash. Most people have moved to online platforms like Paytm, PhonePe, and more. Google Pay is yet another app in this field that offers you transactions in the most secure way possible. The Google Pay application is available on both Android and iOS platforms and is said to be extremely easy to use.
However, there are some instances when you need support from customer care to resolve your query, help you understand certain features, and more. There are also instances where you want to report transaction disputes in Google Pay and for that, you need to contact the Google Pay helpline number. In this article, we have listed out all the information about Google Pay customer care and how you can maximise it to resolve your dispute. So, let's begin.
Also Read:
Reset UPI PIN: How to Reset or Change UPI PIN in Google Play, Paytm, PhonePe, Amazon Pay Payment Apps
Google Pay India Customer Care Number
If you are looking to talk to Google Pay customer care, all you need to do is dial 1-800-419-0157 from your registered mobile number and follow the instructions to resolve all disputes of the transactions and more. However, it is important to note that in the light of COVID-19, the customer care service is operating with a limited team. This means that it may take longer than usual to connect with the customer care representative.
Google Pay India: How to Contact Customer Care Through Chat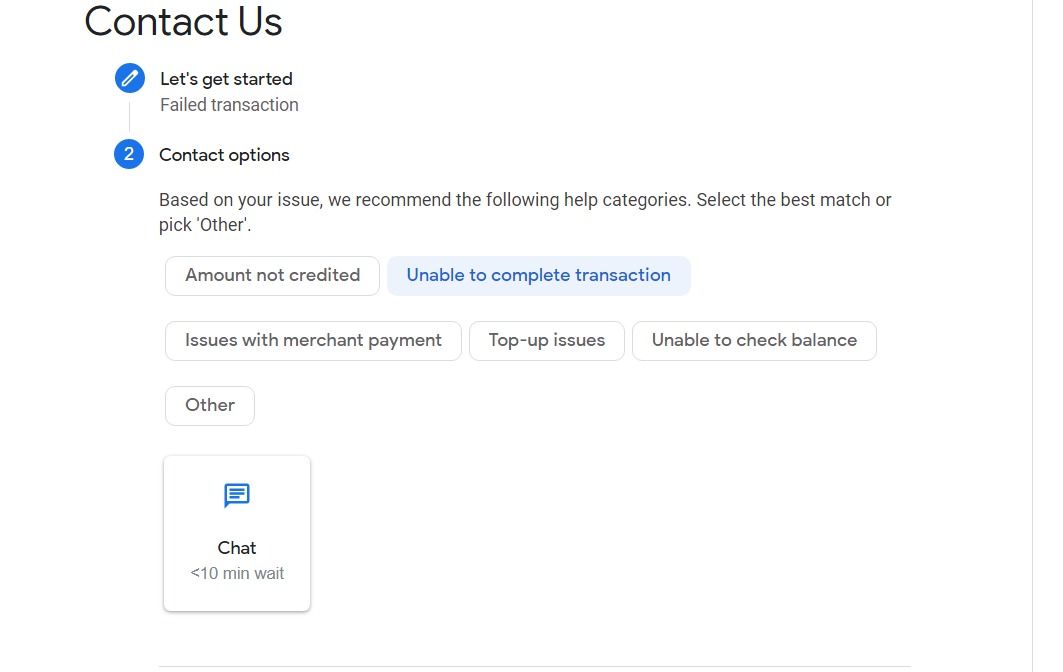 Google also gives you an option to chat with the customer care representative. The service is available across the country and one can follow these steps to resolve the query:
Go to https://support.google.com/pay/india/gethelp website.
There you will find the option of Contact Us and just beneath you will see two options.
The first option will be denoted with Let's get started. There you can add the query like 'Transaction dispute' or 'How do I change my settings'
Click on the Next Step and select the best match from the list or simply select Other.
You will then see the Chat option showing along with the estimated wait time. Click on it and then tap on the Submit button to initiate the Chat with the customer care representative.
Also Read: Dogecoin: What is It, How to Buy the Cryptocurrency Online, Where to Check Latest Price in India (INR), More
Google Pay India: How to Report Scam or Payment Fraud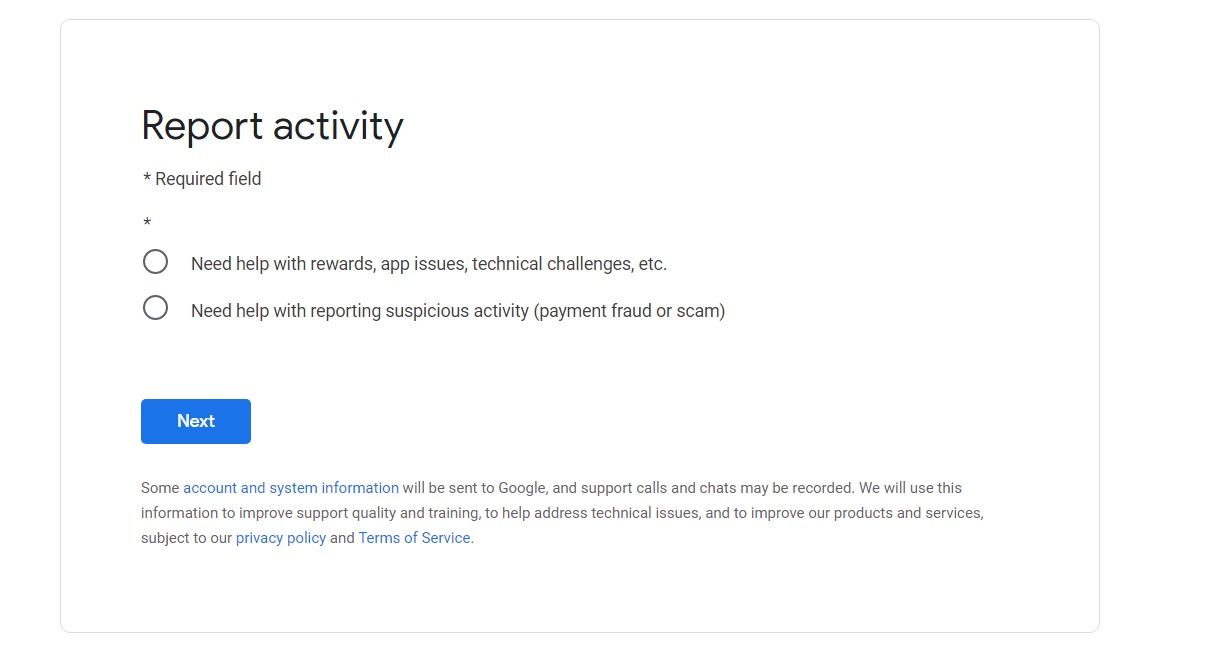 You can also report suspicious activity on your Google Pay account. The company allows you to report for scam or payment fraud activities. Here's how you can do that:
Go to https://support.google.com/pay/india/contact/report_activity website.
Select 'Need help with reporting suspicious activity' and then click on Next.
You will need to fill up details like your full name, email address, phone number.
You need to give the details about the user/business that you need to report. One can give a phone number, email address, name or VPA of the user/business being reported.
Select the type of issues from the drop-down menu. Then enter the full details in the text box detailing why you are reporting the business or user along with a detailed report of the scam or fraud.
Then you need to provide the screenshot(s) of the disputed transaction ID(s) by clicking on the transaction bubble within the chat interface with the recipient.
Enter the Signature and click on the Submit button.
Also Read: How to Block and Unblock Websites on Google Chrome Mobile and Desktop?
With this, your complaint will be registered with the Google Pay team and they might contact you if additional information is required. However, do note that merchants on Google Pay are are responsible for their offers and transactions. Completing and submitting this form does not guarantee that any action will be taken on your request.
How to Connect with Support Specialist Team on Google Pay App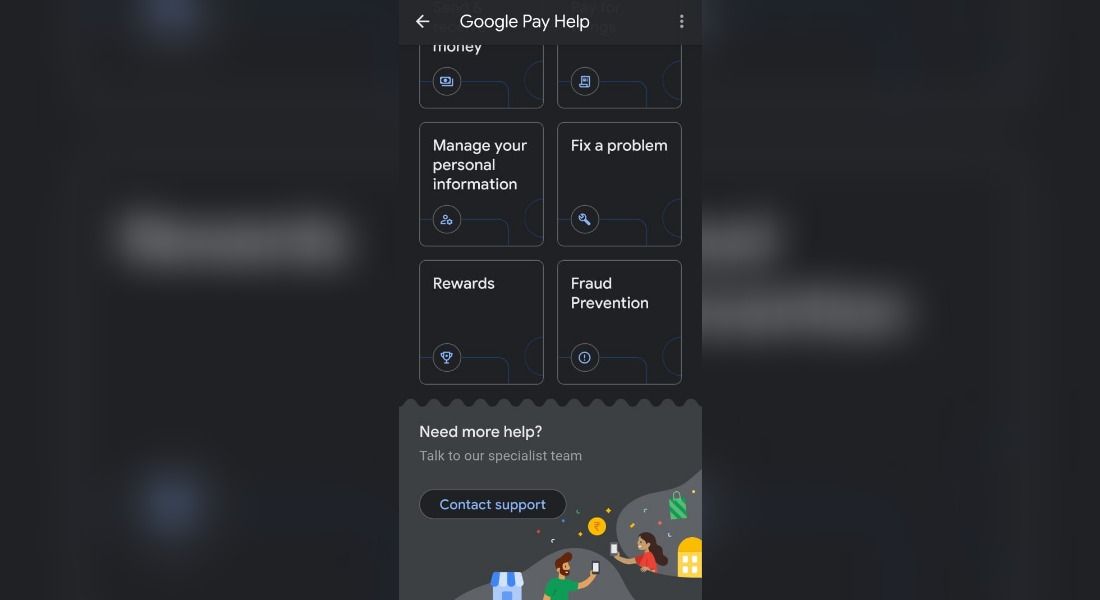 If you want, you can also connect with a support specialist team on Google Pay that to right from the application. All you need to do is follow these steps:
Open the Google Pay app.
At the top-right, tap on your profile picture.
You then need to tap on the Settings.
There you will see Help and feedback. Tap on it
Then click on Get Help. Scroll to the bottom to find Contact Support.
Google Pay India: When Customers Usually Contact Customer Care?
There could be numerous reasons to contact Google Pay customer care. The common reasons might be:
Transaction failed but the amount was deducted from the bank.
The transaction was successful but the amount was not credited to the recipient account
The merchant transaction failed but the payment is not updated.
To settle the bill payment transaction.
Scratch card not received after sending money on Google Pay.
Rewards not added to the bank account.
Didn't received cashback on Google Pay
Unable to perform any transaction in Google Pay
Unable to add a bank account in Google Pay.