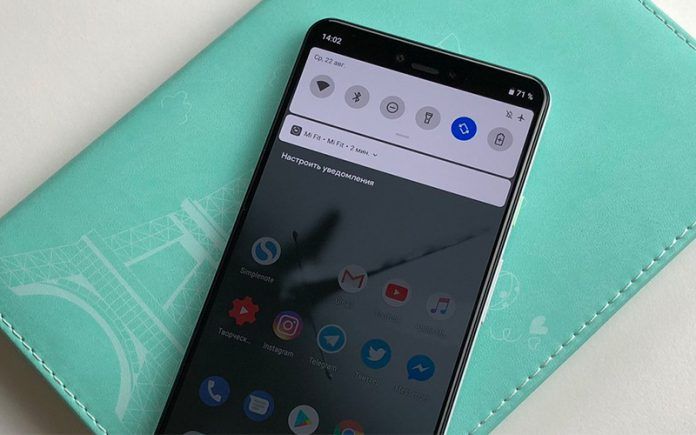 The Google Pixel 3 has gone through an endless amount of leaks, so much so that there is pretty much nothing left for us to know about the smartphone, except for the price the device. Google is not one to price its high-end stock Android-running devices cheaply, and from the looks of this listing that is present on a Chinese website, it appears that will be the case.
Google Pixel 3: Listed On Chinese Website
The Pixel 3 has been listed on the popular Chinese online retailer JD.com and quite surprisingly, it features a price of RMB 4,999, which is equal to $729 USD, or Rs. 52,519 approximately, which is very expensive, so imagine how much the Pixel 3 XL might cost. However, you should also keep in mind that these prices are inflated and they will come down once the official launch of the Pixel 3 draws to a close.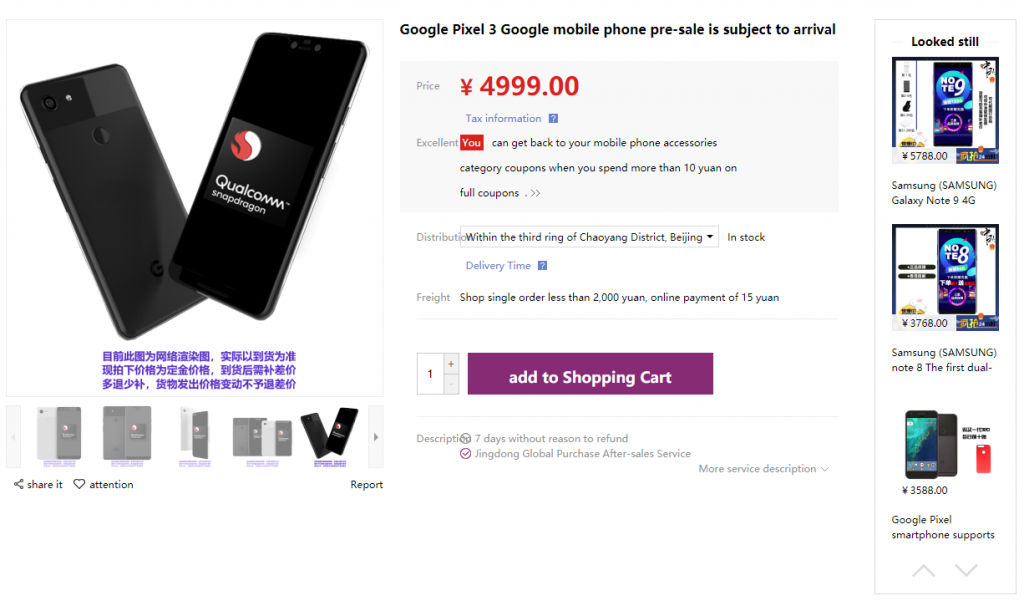 Also, since Apple will be selling its dual-SIM smartphone lineup in China, Google believes that it might also sell its flagship family in the country, even though the company's wide range of services cannot be used in this region. The company might launch special versions of the Pixel 3 and Pixel 3 XL, which will be running stock Android, but with a different approach.
China is the largest smartphone market in terms of numbers and if Google is able to penetrate it successfully, it will give some form of trouble to Apple.
Google Pixel 3 XL Left in the Back of a Lyft; Hands-On Images Surface Online
Google Pixel 3: Rumored Specifications, Features
The Google Pixel 3 is said to arrive with a 5.4-inch AMOLED screen with a 2160 x 1080 Full HD+ resolution, along with an 18:9 aspect ratio. Unlike the Pixel 3 XL, the Pixel 3 does not feature a notch at the top of the display, giving it a cleaner look. The smartphone is expected to come with active edges, which will allow users to perform certain tasks simply by squeezing on the sides of the phone.
The flagship smartphone from Google will be armed with Qualcomm's 10nm chipset, the Snapdragon 845 and it will be paired with an Adreno 630 GPU. There might just be a single memory variant featuring 4GB of RAM with 64GB of onboard storage, but we can expect that Google is going to be launching other internal memory variants that, unfortunately, will not support expandable storage.
Coming to the camera specifications, Google will be sticking with a single camera unit at the back of the Pixel 3. Previous leaks have stated that the maximum resolution of the primary camera will be 12.2MP with a f/1.8 aperture and it will come with optical image stabilization. As for the front side of the phone, it will sport a dual-camera setup, with each lens offering a maximum resolution of 8.1MP.
The Pixel 3 will be running stock Android, with the latest Android 9 Pie featured as the update that will be running as soon as you power on the smartphone. As for the battery, the upcoming flagship will probably house a 2915mAh unit and it will get charged via Type-C USB port, with fast-charging support added, and possibly Qi wireless charging. Unfortunately, there is not going to be a 3.5mm audio jack on the Pixel 3 or the Pixel 3 XL.
Google Pixel 3 XL Available for Sale in Russian Black Market For $2,000; Will You Buy?
Google Pixel 3: Expected Launch Date
Both the Pixel 3 and the Pixel 3 XL are going to be launched on October 09 at an event taking place in New York City. After that, we will be reporting if the devices are going to be launching in India or not. Seeing as how the Pixel 2 and Pixel 2 XL are still being sold in this market, it will be surprising if their successors do not end up in India. Regardless of what happens, you can continue following our main news page for the latest updates revolving around the Pixel 3 and Pixel 3 XL.
While you are reading this, you can check out our exclusive video renders of the upcoming Pixel 3 and Pixel 3 XL. The video given at the bottom shows a Pixel 3.
Now that you have seen the render of the Pixel 3, you can check out the video of the Pixel 3 XL.