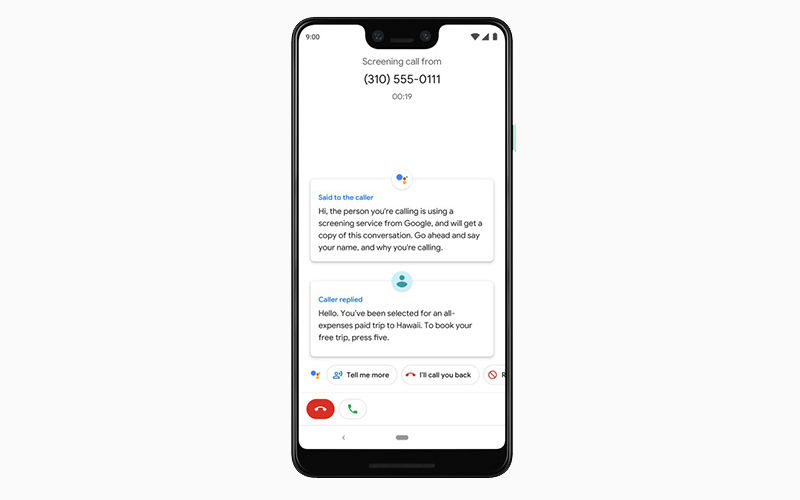 Some Pixel 2 and Pixel 3 owners have reported that they are finally able to save their Call Screen transcripts. This will help them keep track of their conversations as well as provide them with essential reminders in case they forgot. Call screening was one of the most talked about features belonging to the Pixel 3 and Pixel 3 XL (review) during their official launch.
The feature was recently made available for Pixel 2 and Pixel 2 XL owners, with Google adding 'transcripts' later. The company did not comment about the feature being available for its first-generation Pixel series, so these phones will most likely be getting left out of the club. With the latest release, here are the things you will be able to do.
Google Pixel 2 & Pixel 3 Users Can Access Transcripts via Phone App
Here is how Call Screen works. When you pick up a phone call and transcribe the conversation, you can select questions for Google Assistant to provide to the caller. A convenient addition about Call Screen is that you can watch the conversation happen on your phone's display in real-time. Unfortunately, when the conversation ended, that text transcript disappeared, but not anymore.
For Pixel 2 and Pixel 3 owners, it will now possible to look back at those transcripts. A thread started on Reddit reveals that Pixel owners can save their conversations. If you want to access transcripts, first you access the Google Phone app. Then, you go to Recent calls > Call Details > See transcript.
First-generation Pixel owners will be disappointed that the transcripts feature was not made available for them. Google has not provided any justification for not porting the function and if we hear something from the company, we'll be sure to update you. Hopefully, a development team will be generous enough to make a third-party app that will not just be compatible with the first-generation Pixel series, but other Android handsets. Until then, we'll just have to wait.
How Can Call Screen Transcripts Be Useful in Everyday Situations?
The ability to view your transcripts makes it very simple for Pixel 2 and Pixel 3 owners to remember an important bit of a conversation. For example, if you're on the road and using your phone, it becomes difficult to retain an influx of information all at once while talking on your device, and some crucial bits of that knowledge can be forgotten. Transcripts will be able to eliminate this problem.
One of Call Screen's biggest complaints was that transcripts disappeared and Google Assistant was not able to save it. In fact, if the call could already be transcribed into text on the screen during the conversation, Google could have included the feature to look back at the text from day one. Fortunately, things should become a lot simpler now, even if this convenience is just limited to Pixel 2 and Pixel 3 owners.
After you're done reading about the latest update for Pixel 2 and Pixel 3 owners, you can check out our Pixel 3 and Pixel 3 XL video showing their first look and the contents that come with the box's packaging. If you want the best stock Android experience and an impressive camera to match that software, you should purchase one of these.
However, if you believe the Pixel 3 series is expensive and you'd like to try out something more affordable and gives you that stock Android experience, purchase an Android One smartphone instead.