Highlights
Google has promised full software support until 2030.
It is the longest software support committed by a major smartphone brand.
Google's previous promise was for three years of OS and five years of security updates.
One of the common complaints among Android users is the lack of software support. The majority of the Android OEMs do not commit to longer software support which means many users have to upgrade to a new phone even though they do not want to. Even Android's caretaker Google itself was limiting its users to only three years of OS upgrades but not anymore. Google has now announced full software support for 7 years for the Pixel 8 and Pixel 8 Pro.
Pixel 8 and Pixel 8 Pro Software Update
While wrapping up the Pixel 8 and Pixel 8 Pro launch keynote, Google announced its promise to support the new Pixel smartphones for the next 7 years. The best part is it is not an announcement with different timelines for different kinds of updates. There is a full seven years of support for all types of updates.
It means if you buy a Pixel 8 or Pixel 8 Pro, you will receive all the major Android OS upgrades and new security and Feature Drop updates for the next seven years i.e. until 2030. The only question is whether you would be sticking with the same phone for such a long time. If yes, Google will not be leaving you behind with no software updates.
This is the longest software update commitment from a major smartphone brand. We told you in the beginning that Google itself used to promise three years of OS and five years of security updates. Samsung, Redmi, Xiaomi, and OnePlus have promised four years of OS and five years of security updates for their respective select devices.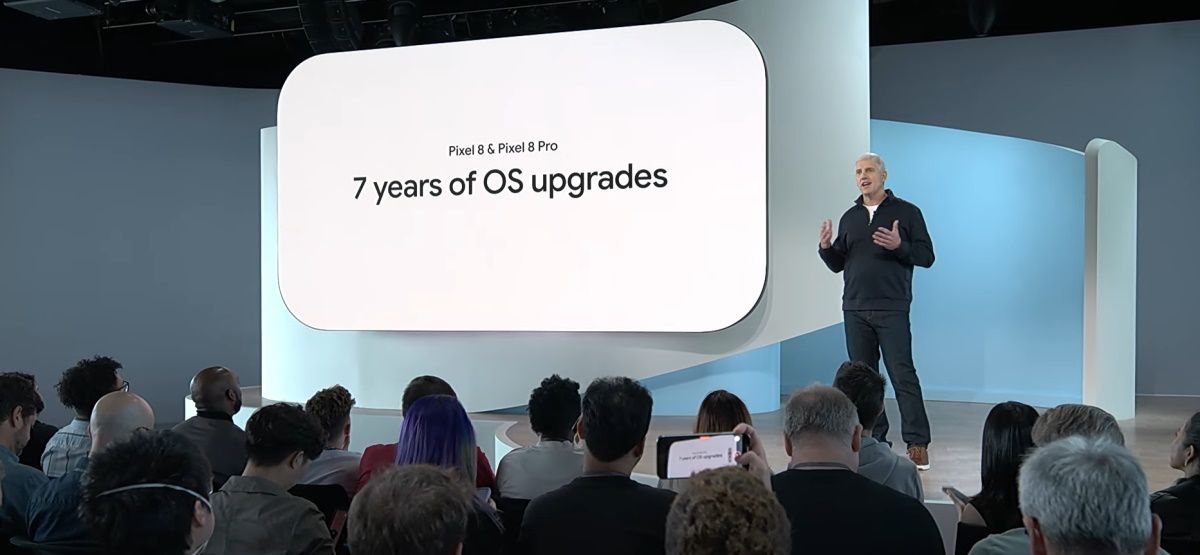 Apple is one smartphone brand known for providing software updates for longer periods of time to iPhones. However, it has never officially committed to delivering updates for a specific number of years. Its usual track record has been to provide iOS updates for around 5 to 6 years before retiring an iPhone model. For example, the iPhone X was released in 2017 with iOS 11.1.1 and it received iOS 16.6.1 as its last software update.
One of the important reasons why Google is able to promise such a long software update is because of the Tensor G3 processor. It is a custom-made chipset from Google which gives it more control over the support it receives as compared to devices featuring Qualcomm or MediaTek processors.
In other news, Google has also released Android 14 for eligible Pixel smartphones and tablets. It comes with features focused on providing more customization, control, and accessibility options. The rollout has begun as an over-the-air (OTA) release. If you have an Android device from some other brand, you will have to wait for their respective release plans. It should arrive on a number of Android flagships by the end of the year.