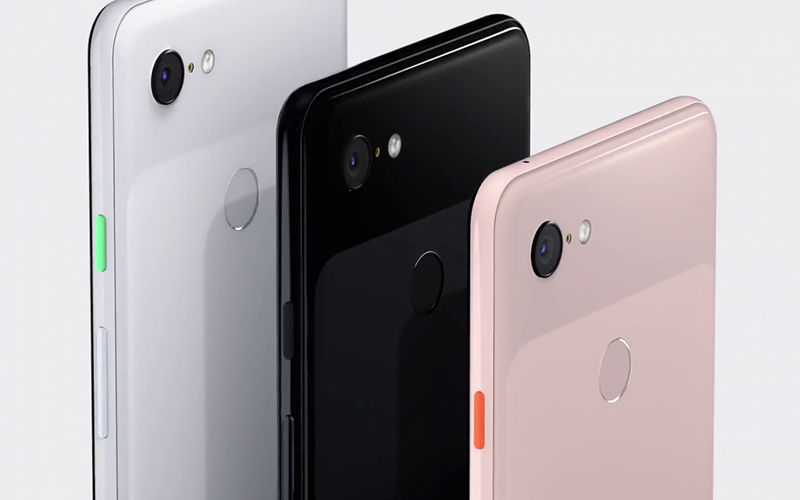 Monthly security patches for Android devices does not often come with huge changes or improvements to the OS. For December however, there are some pretty of significant updates for Pixel 3, Pixel 3 XL (review), Pixel 2 XL and the first-generation Pixel. Google is addressing a lot of issues plaguing its flagship series, so it is hard not to get excited for the latest security patch.
If you recall, the Pixel 3 family have not had the smoothest of launches, with owners reporting about the camera locking out, to other software-related issues that dismantled the user experience. Google charges a premium for its latest devices, but these launches will continue to eat at the company's revenue if they don't address these problems shortly after releasing the phones. Luckily, the December security patch tackles a lot of common issues, which are detailed below.
Google December Security Patch: Massive Changes for Pixel 3 Devices
According to the Pixel/Nexus Security Bulletin, the December security update brings a total of 13 patches, and not surprisingly, most of them are for the Pixel 3 devices. If you take a look at the image showing the patches and what problems they fix, the terms stated are either 'improved' or 'adjusted'. This indicates that Google has been hard at work isolating each problem belonging to its Pixel series and improving the OS experience.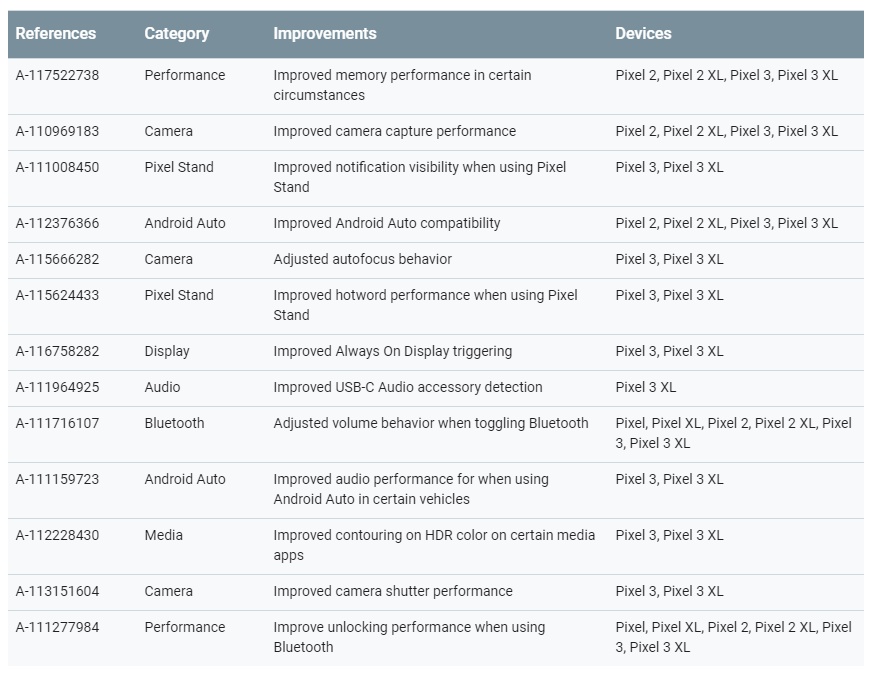 Coming to the first patch on the list, it is something that Pixel owners have been complaining about for a while now. Where manufacturers are going as far as launching Android flagships with 10GB RAM, Google stuck with 4GB of RAM on the Pixel 3 and Pixel 3 XL. Since these phones feature stock Android, Google can afford to get away with incorporating this amount of memory. The only problem was that the aggressive RAM management forced apps to close prematurely.
This can be very problematic when you're switching between apps frequently. This issue was addressed, and Google also improved the performance of the camera, which was another issue users complained about repeatedly. If you take a look at the image once more, the December security patch also fixes some known issues for the Pixel, Pixel 2 and Pixel 2 XL, but that number was pale in comparison to the problems plaguing the Pixel 3 family.
However, the Pixel and Pixel 2 series have been launched before, so whatever problems that appeared after their launch were most likely eradicated with previously released patches.
How to Get the Updates on Your Pixel or Nexus Devices?
You can download the OTA files and factory images for the Pixel and Nexus devices. If you're inexperienced when it comes to manually downloading and installing these files, we recommend that you wait for the OTA update notification on your smartphone. Before installing the firmware, make sure your device has abundant battery life remaining.
After you're done reading about the December security patch, you can check out our Pixel 3 and Pixel 3 XL video showing their first look and the contents that come with the box's packaging. With the latest firmware update, we're confident that your smartphone experience would have improved drastically. If the Pixel 3 series is too expensive for your liking, but you still want a device running stock Android, look for a smartphone belonging to the Android One lineup.