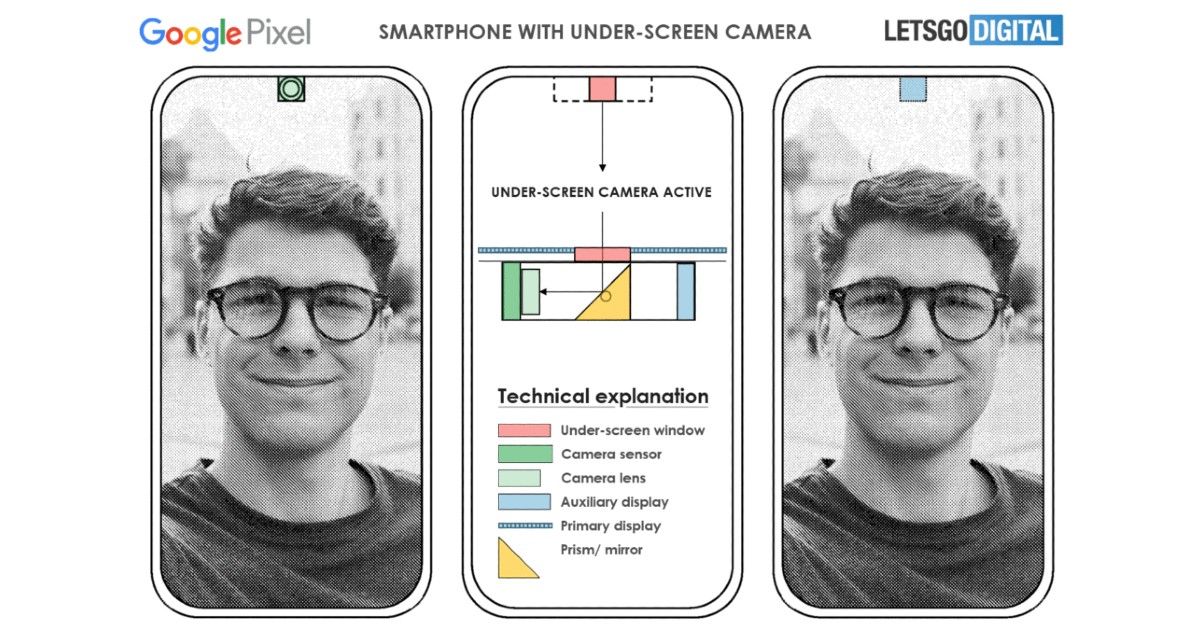 Google Pixel phones aren't particularly massive sellers by numbers, but they do represent an important part of Android. Especially for Android fans and enthusiasts, the Google Pixel marque represents a somewhat ideal form of Android – one that's clean and is at the forefront of most innovations heading to the world's most popular mobile operating system. While that's been true for software, Google is now seemingly gearing up to offer the same in the hardware department, too. According to Let's Go Digital, a new and elaborate patent has hinted at a future Google Pixel phone that may adopt an under display selfie camera.
The patent details a new and unique mechanism by which Google is looking at an implementation of the under display camera – a technology that has been simmering but hasn't exactly been taken up by OEMs worldwide. Major Chinese OEM Oppo has already had a working prototype device using an under display front camera, and more recently, there have been multiple rumours that the next generation Samsung Galaxy Z series foldable phone may use an under display front camera, too. Now, Google becomes the newest and one of the biggest names that may potentially push the technology forward.
Its patent details the use of a rotating prism unit that can refract light two ways. To the left, Google is placing the image sensor and other recognition sensors for taking selfies and biometric unlocking on the future Pixel phone. When the camera is on, the prism will refract light to this. But, when camera and face detection is off, the prism will turn the other way and project a secondary display on to the main display's front camera cutout and give the impression that it is one, continuous and uninterrupted display panel.
This, of course, is only a patent, so we very well may never see it in action at all. There is, however, a good chance that may see it too. The implementation is interesting, but practical concerns such as the reparability of such a mechanism, as well as the quality invariance that is required for a good display, may make this a more difficult technology to implement in the real world. For now, the Google Pixel phones will not likely get this tech, and you'd rather spend time on what the company would show at tonight's I/O 2021.
Thanks for reading till the end of this article. For more such informative and exclusive tech content, like our Facebook page