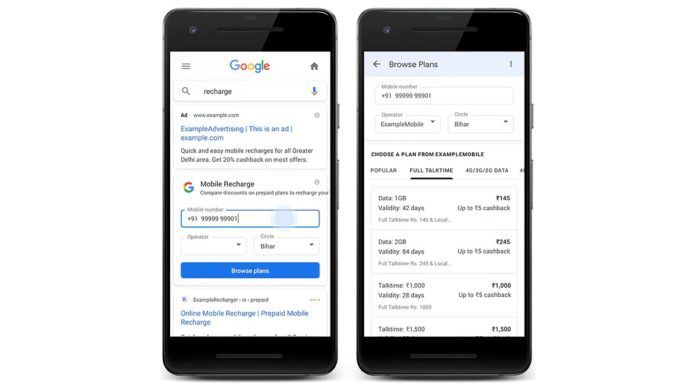 Google has introduced a new feature for users in India. Starting from today, the search engine result page will show results relevant to those looking to recharge their mobile phones. What it means is that you can now browse through plans across various mobile carriers, check for offers, as well as discounts, and even recharge with the plan of your choice on the search result page. Let's have a look at how the new feature works.
Google Search Now Helps You with Mobile Phone Recharges in India
In case you are a user of mobile carriers like Reliance Jio, Airtel, Vodafone Idea, and BSNL, the new Google search feature will help you with the above-mentioned things. Once you make a recharge related search, you will be required to fill a form wherein you have to provide the details required for the various carriers/plans that you need. Post that, you will be provided with a list of available prepaid plans from the relevant carrier. In case you want to recharge your number, you can simply select a plan and recharge the same using digital payment methods like Mobikwik, FreeCharge, Google Pay, and PayTM.
Also Read: Jio VoWiFi Wi-Fi Calling Now Available on Nokia 6.1 Plus, 7 Plus, 7.1, and Nokia 8.1, Here's How You Can Use
You can send a search query like "prepaid mobile recharge", which will trigger a search result, including key fields such as phone number, operator circle, and the operator itself. After the transaction is complete, the confirmation page shows a Back to Google button that directs you back to the search results. You can also contact customer support from the confirmation page.