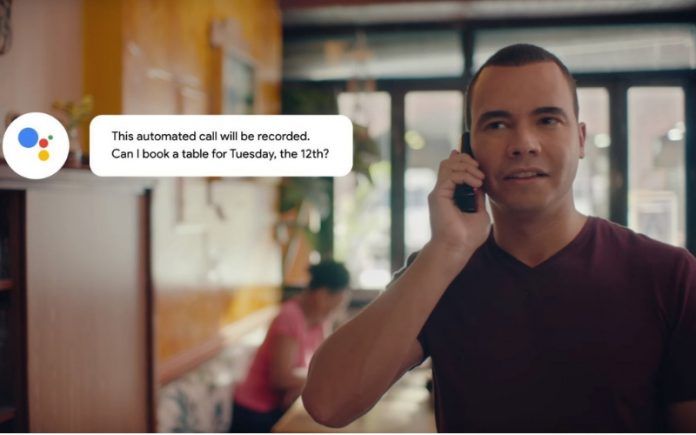 During Google's 2018 I/O developers conference, it announced a new AI based feature called Duplex. Google demonstrated Duplex on stage and showed us how it would be able to make reservations, appointments, etc, on behalf of the user. Duplex is an Artificial Intelligence agent from Google, which can mimic the voice and behavioural aspects of a real human being.
In October, Google announced that the feature would be making its way to Pixel users in November this year. Now, it has started rolling out Duplex to some Pixel users in the United States.
Google Duplex Rolling to Some Pixel Users
A new report from VentureBeat (linked at the bottom) confirms that Google has started rolling out the Duplex feature to some Pixel users in United States. The feature isn't a separate app, instead, it will be part of the Google Assistant. As of now, only select cities and users in the United States are witnessing Duplex being activated on their Pixel phones. If you are living in New York, Atlanta, San Francisco Bay Area, or Phoenix, and own a Pixel smartphone, then you may soon start seeing the feature on Google Assistant. A Google spokesperson stated the same to VentureBeat.
"We're currently ramping up the ability to book restaurant reservations through the Google Assistant over the phone using Duplex technology. To help deliver a good experience to Pixel users and to businesses, we're starting with a slow rollout… and will expand to more Pixel users as we continue to ramp up."
Google will be adding more cities to that list, but for now, only users in the above mentioned areas can try out the feature. Again, not all users in these cities will be able to try out the feature right away. It could take a while till Duplex is available for all users and businesses.
Those who have received the feature, can use it to place reservations at restaurants by simply using the Google Assistant. As expected, restaurants and businesses will have the option to opt out of Duplex. The Assistant will also announce to the business that they are speaking to a bot from Google and the call may be recorded. If the receiver doesn't want the call to be recorded, Duplex will hand over the call to a real person.
However, the feature is still not able to do everything it was advertised to do. It can make reservations, but it won't be able to make haircut appointments. Duplex is also limited to the English language right now. More features will be available over-time as the technology improves.
What is Google Duplex? What Can it Do?
In short, Google Duplex is an AI bot that can make reservations and appointments for the user. It can call the restaurant, barber, or salon, and speak as a human being. This can be useful if you're busy and want the Google Assistant to make a restaurant reservation for an anniversary or a meeting. You can even use the feature to cancel a reservation. However, only one cancellation per restaurant is allowed in a day.
Duplex uses Google's WaveNet audio processing neural system to sound as real as a human being. It can use speech disfluencies such as 'ah','hmm','um', etc during a conversation to make the other person believe it is human. The AI is really smart and will improve its speech over time. It can understand pauses and also know whose turn it is to speak during a conversation. Google's Duplex has a 4 out of 5 success rate, which is pretty amazing.