Honor is extending an opportunity to purchase the Honor Band 3 Smart Fitness Tracker at a token price of just a single rupee. The 'Onederful Sale' is part of the Re.1 Super Sale. The sleek wrist-wearable device will sell on Honor India's official online website.
Honor launched the fourth generation of Honor Band. The brand even offers a few different variants of the Honor Band 3. Still, the previous generation of the fitness tracker is quite relevant. Moreover, the device is available during a Flash Sale at just Rupee One, which is an incredible deal even for the previous generation of the device.
Honor has held several INR 1 Super Sales over the course of last year. However, most of these sales were for Honor Smartphones. Still, the Honor Band has been available at a token price on a few occasions. Today, November 27, HiHonor, the online e-commerce portal of Chinese smartphone Honor, which is a sub-brand of Huawei, is offering the Honor Band 3 for just a single Rupee. Here are all the details of the deal.
Honor Band 3 Buy at Just Re.1 at 11:45 AM On Nov 27 On HiHonor
The Honor Band 3 will be available during the Honor 'Onederful' Sale on the Honor online store today, November 27 at 11:45AM. Interested buyers must register on the Honor India online store to participate. Moreover, buyers must log in before the Super Sale kicks off.
Honor allows prospective buyers to save their shipping address. Once the sale starts, participants must quickly click on the Buy button. Given the incredibly low price, buyers will most likely have only a few seconds before the Honor Band 3 runs out of stock. Incidentally, Honor Band is an older version, and Honor launched its successor, the Honor Band 4 recently for a very similar price.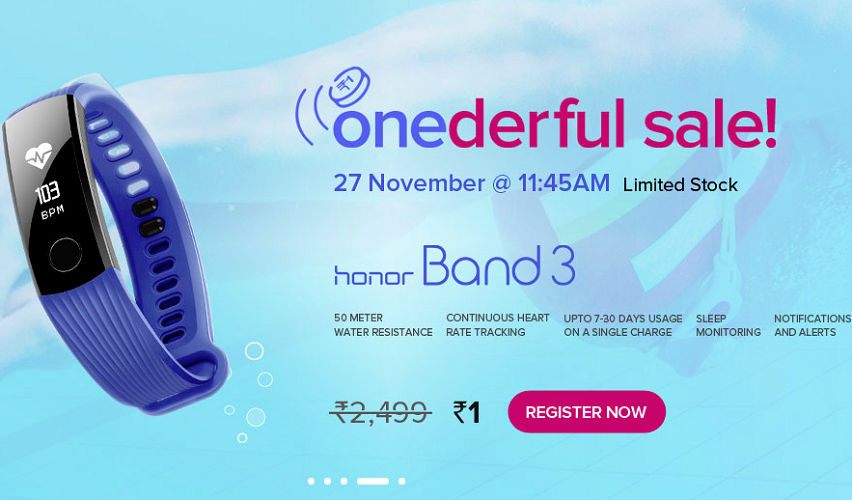 In addition to registering interest, interested buyers must pay the token one rupee amount as well. Buyers must be present at the designated time, and be ready to execute relevant 'Buy' actions. Several regular participants have previously received "too many participants" message. Honor advises interested customers should not get discouraged, and keep on trying.
Honor Band 3: Specifications, Features
The Honor Band 3 is a sleek and slender fitness, activity, health, and sleep tracking band. It features a 0.91-inch P-OLED display with 128 x 32 pixel resolution. The band has an optical heart rate sensor, that allows the fitness band users to check their vital stats anytime.
Honor uses an innovative M4 core technology, which has support of floating-point operations and an optimized algorithm. The combined tech ensures the Honor Band 3 is able to offer accurate heart rate readout. The Honor Band 3 is water resistant up to 50 meters. Hence swimmers can track swim times, calories burned, and more in the custom swimming mode.
The Honor Band 3 can also work as a pedometer, sleep tracker, exercise tracker, and even a sedentary reminder. Using Huawei TruSleep technology, the fitness band can offer comprehensive sleep tracking and patterns. Incidentally, the technology is validated by DBIOM at BIDMC, a major teaching hospital of Harvard Medical School. The Honor Band 3 is capable of tracking light, deep, and REM sleeps to give users detailed analysis and recommendations.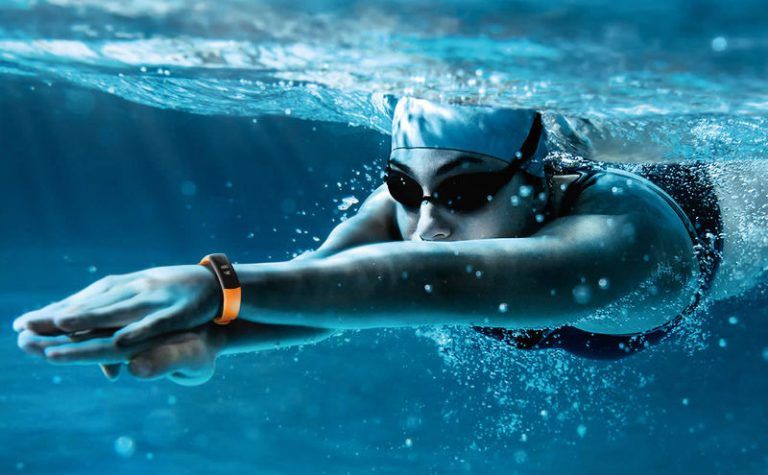 The fitness tracker packs Bluetooth 4.2 Low Energy standard. It supports Caller ID, Call Accept/Reject, notification vibrations for Facebook and Twitter, messages, emails, calendar alerts, and more. The Honor Band 3 can even link with the smartphone's GPS to track running routes.
The Honor Band 3 packs a seemingly small 105mAh capacity battery. However, Honor claims the battery offers up to 30 days of usage time on a single charge. The Honor Band 3 measures 10.3 x 43 x 16.5mm and weighs just 18 grams.