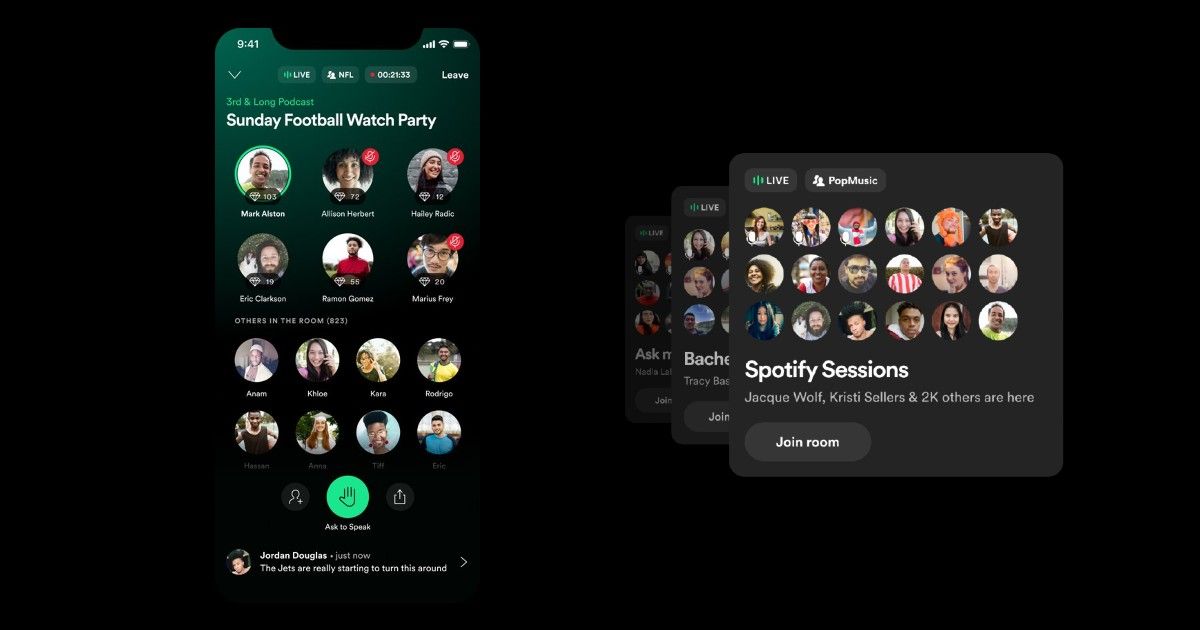 Spotify has launched Greenroom, a platform that will allow users to host live conversations on "sports, music and culture". The app is the latest to rival Clubhouse in the audio-only social media network space, and also marks the first time that Spotify, the music streaming platform, has ventured into the social media space. The app is a natural evolution of the live sports podcasts platform Locker Room, and will open up the space for conversations beyond sports as well. According to reports, Spotify's Greenroom will feature conversations focused on "sports, music and culture."
With Greenroom, Spotify brings its signature green and black colour scheme, along with a new logo and font to match the UX design of its music app. In terms of features, Greenroom comes with one feature that many Clubhouse users would also likely want – native recording of sessions. The recording feature can help users create a multi-way podcast out of a live session, and subsequently post it on various podcast platforms as deemed fit.
A report on the Greenroom launch by The Verge, Spotify will allow users to login using their existing Spotify account credentials, although doing so won't be necessary. This essentially means that users can choose to use the app without logging in, at least in terms of listening to sessions. How this would reflect in terms of verifying user identities is a different question, of course.
The report also states that Spotify has announced a 'creator's fund', using which it will apparently try to lure in content creators by paying them for how popular their discussion rooms on Greenroom would be. It's not very clear as to which markets would Spotify be targeting, and what would the scale of payouts be here. However, it is an interesting prospect, one which clearly attempts to attract more users onboard in comparison to what Clubhouse already has.
Greenroom has been launched in 135 countries worldwide, suggesting that Spotify is targeting a global audience not limited to the bigger markets only. The app will be available on both iOS and Android.
Thanks for reading till the end of this article. For more such informative and exclusive tech content, like our Facebook page