Highlights
Gulmohar is a family drama movie that will be premiered on March 3rd.
The film will be Sharmila Tagore's first digital debut on any OTT platform.
The movie will premiere on the Disney+ Hotstar platform.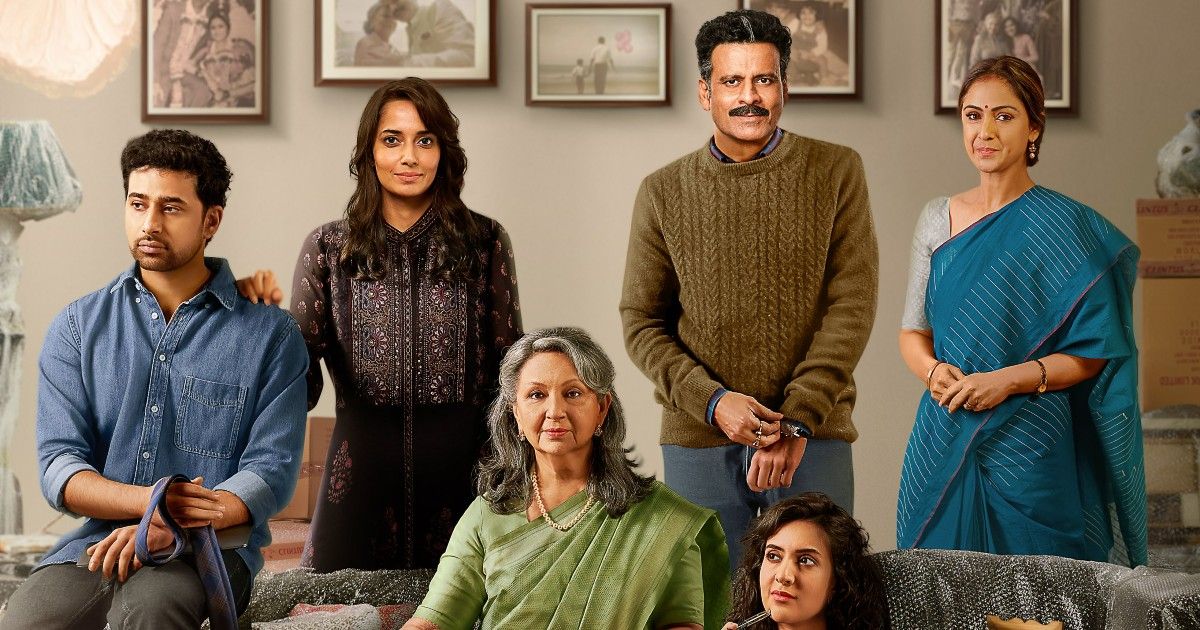 The anticipation for the third season of Family Man was high after Manoj Bajpayee hinted that he would be returning with his family. While everyone was eager for the Family Man 3 release date, it appears that the hype was meant for another family, Gulmohar. The first look poster of the upcoming film Gulmohar has been finally revealed, which clears up all the confusion. Gulmohar is the film that Manoj Bajpayee was referring to in his Instagram post. The film is special in many ways. First of all, the film marks the digital debut of Padma Bhushan and National Award-winning actress Sharmila Tagore. Gulmohar is a family-drama film that revolves around the Batra family and their bond. Rahul V Chittela has directed this film, which will premiere on Disney+ Hotstar next month.
Gulmohar OTT Release Date: When and Where to Watch
Disney+ Hotstar has confirmed that the movie will premiere on its platform. Gulmohar will be available for streaming on the OTT platform starting on March 3rd. Check out the official post that reveals the first look poster of the upcoming movie:
Miliye Manoj-ji ki family se – Aa raha hai Batra parivaar in Gulmohar – streaming on 3rd March.#GulmoharOnHotstar@BajpayeeManoj #SharmilaTagore @SimranbaggaOffc #SurajSharma #KaveriSeth@utsavijhamusic #SanthyBalachandran #JatinGoswami #GandharvDewan @rahulchittella pic.twitter.com/jWmMVy9RyK

— Disney+ Hotstar (@DisneyPlusHS) February 8, 2023
Gulmohar Cast
Gulmohar is a special film as it marks the digital debut of the legendary actress Sharmila Tagore. The movie also features Manoj Bajpayee in the leading role. Besides, the film will also feature some prominent celebrities, including Suraj Sharma, Amol Palekar, Simran, Kaveri Seth, Tripti Sahu, and Nargis Nandal. The movie has been directed by Rahul V Chittella and written by Rahul Chitella and Arpita Mukherjee.
Gulmohar Plot
Gulmohar is a family drama movie that revolves around the Batra family. The movie is set in New Delhi, where the Batra family lives in their ancestral home, known as Gulmohar. The family decides to move out of their old family home after Holi. Amid the chaos of packing up the house, Gulmohar film beautifully weaves the individual story of different family members. It portrays the relationships between them as they unfold the secrets of pasts, the uncertainty of the future, and more.
Sharmila Tagore reveals that the film is a household story that everyone can relate to. The movie brings a balance between tradition and modernity and how family always fill the gap with love. Meanwhile, Manoj Bajpayee says that the film is filled with love, care, and comfort. "It explores the different bonds and ties that lie within a family and what makes a house a home," he adds.