Highlights
Amazon Prime drops teaser of Farah Khan discussing Happy Family: Conditions Apply
Happy Family: Conditions Apply have Raj Babbar, Ayesh Jhulka, and Ratna Pathak Shah as leads
The series is getting all-around praise, from both fans and critics alike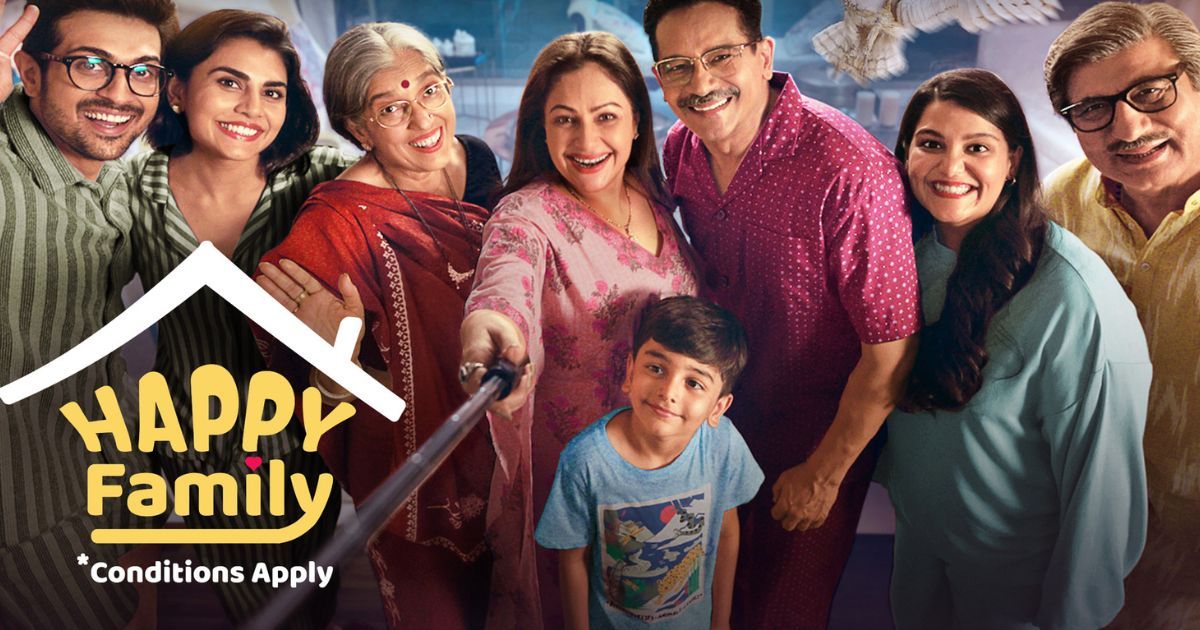 Indian viewers are getting more attracted to the OTT juggernaut Amazon Prime because it consistently produces original and daring stories that the audience adores. Whether it's a web series or a movie, people enjoy the diversity of content it offers. Many new programs have been released on the platform last year, as was announced by the platform in April last year while celebrating five years of its presence in India during a program called Amazon Prime Present India in Mumbai. Apart from original series, original movies, and co-productions in multiple languages including Hindi, Tamil, and Telugu, Amazon Prime also announced a fresh series named Happy Family: Conditions Apply, which is produced and directed by actors-turned-filmmakers Jamnadas Majethia (JD) and Aatish Kapadia of "Sarabhai Vs. Sarabhai" and "Khichdi" fame.
Happy Family: Conditions Apply, an Amazon Original series, has received a rousing reception from viewers and rave reviews from critics for being a funny roller coaster ride. The show has succeeded in ticking off all the boxes, from having likeable characters to evoking nostalgia for living in a large family. Together with the fans of the show, Farah Khan, a multi-talented Bollywood figure, is also glued to the happening in the show and is always eager to see what happens in this Happy Family moving forward this Friday. Farah was recently seen candidly discussing the major developments involving the Dholakias in the first four episodes and provided the viewers with an entertaining summary of the episodes in her program Frankly Farah.
Now Amazon Prime has dropped another teaser of Frankly Farah, where she is seen discussing the events of episodes 7 and 8 of Happy family: Conditions Apply, with Atul Kulkarni. The teaser shows Atul and Farah engaging in fun banters along with discussing the events of the episodes.
Watch @atul_kulkarni spill the beans on Frankly Farah about episode 7 & 8 😉

watch Happy Family Conditions Apply, now
season finale out on 31st March! #DholakiasOnPrime pic.twitter.com/OsDvm77NV2

— prime video IN (@PrimeVideoIN) March 29, 2023
When and Where to Watch Happy Family: Condition Apply
If you were a child of the 1990s, you likely grew up watching Khichdi and Sarabhai VS Sarabhai, two shows that set the standard for comedy on television. These shows provided good family-focused clean entertainment before Instagram clips and two-minute standup routines. There were no double-meaning jokes, no attempt at fashionable terminology, and no superfluous humour. Amazon Prime launched the series on March 10, 2023, with four episodes, followed by two new episodes released every Friday until 31 March. The finale episode is going to be streamed on March 31, 2023.
Happy Family: Conditions Apply Official Trailer and Plot
Happy Family: Conditions Apply, as the name suggests, revolves around the Dholakia family and their dysfunctional relationship with each other. With all the hilarious twists and turns shown in the first eight episodes, the viewers are curious to know how the story of the Dholakia family moves forward. Their wait will be over soon as episodes 9 and 10 will be released this Friday (March 31). Created by Jamnadas Majethia and Aatish Kapadia, Happy Family: Conditions Apply has an ensemble cast comprising Ratna Pathak Shah, Raj Babbar, Atul Kulkarni, Ayesha Jhulka, Sanah Kapur, Rounak Kamdar and Meenal Sahu in pivotal roles.
Reception
Both the public and the critics are praising Happy Family. The show is a feel-good, classic comedy. It is getting accolades for its writing, directing, and acting. On IMDb, it has a 7.5 out of 10 ratings. It centers on a weird but endearing joint family that is constantly at odds with one another. Happy Family is the ideal option if you frequently watch old episodes of Khichdi or Sarabhai Vs. Sarabhai to obtain the closest experience to fully appreciating slapstick comedy.
So, what are you waiting for, get your subscription to Amazon Prime updated to watch a clean and family-oriented comedy along with your family members and enjoy the laugh-riot.