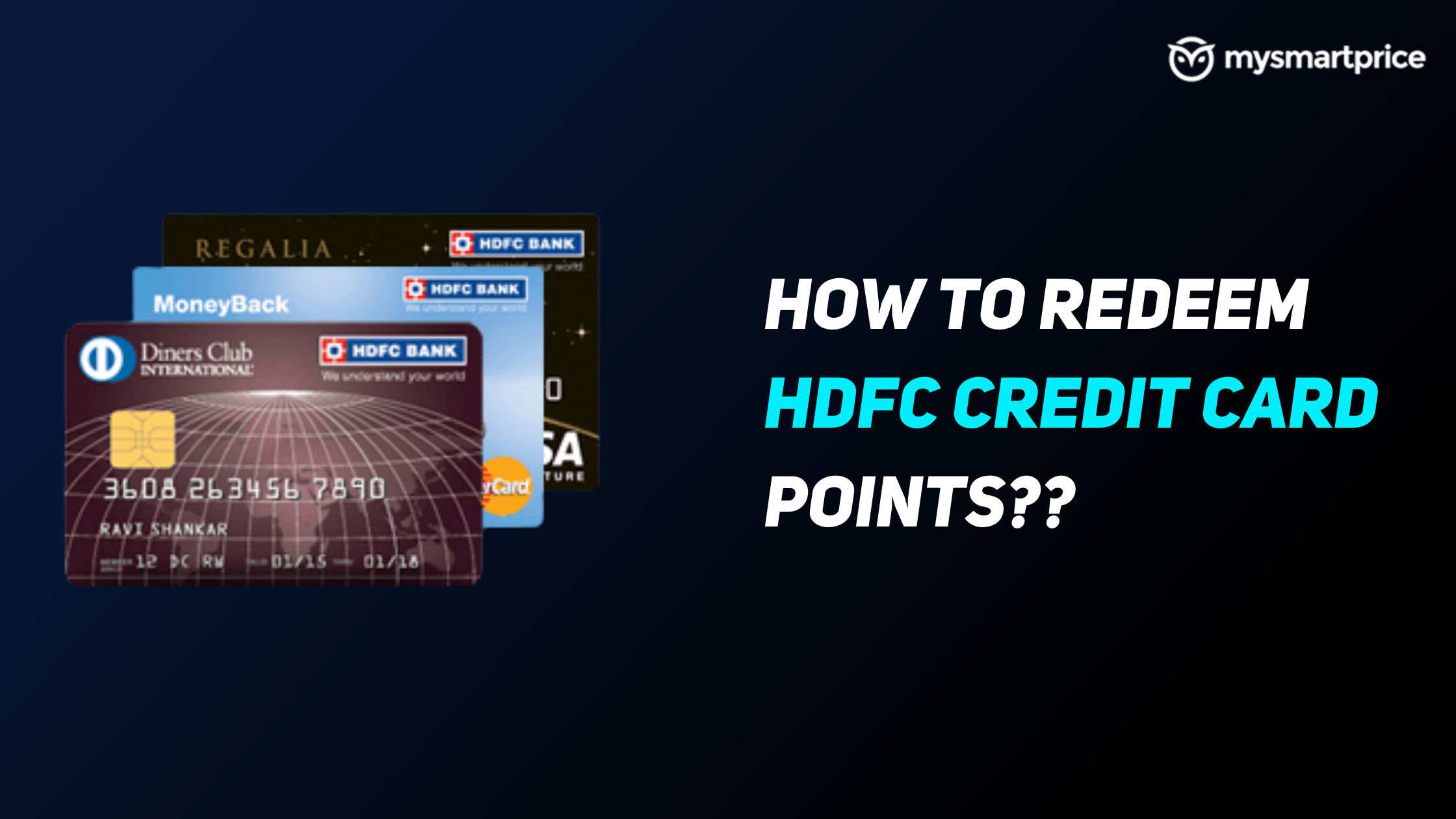 Using a credit card is one of the easiest ways to shop online and get the product you need. With the use of a credit card, you not only get the product you want but, you can also earn some extra rewards that you can redeem for other products later on. One of the most popular rewards for using credit cards is the reward points and HDFC Bank, one of the most popular banks when it comes to credit cards in India offers multiple credit cards along with reward point options. 
In this guide, we will take a look at how to redeem  HDFC credit card points using online as well as offline methods. Also, we will take a look at how one can earn HDFC credit card reward points. The reward points are different for different cards, even if all cards are from HDFC bank. To redeem a gift voucher for a product, you will need to accumulate 500 points. 
Also Read: SBI: How to Activate New SBI ATM or Debit Card for Online Transactions
How to Redeem HDFC Credit Card Points Online
Before proceeding, make sure you have a valid internet banking user ID and password of HDFC bank. Here is how you can redeem HDFC credit card points using online banking. 
Enter valid user ID, password, and captcha

Click on "Login"

Select the "Cards" option from the top menu bar
Select the "Enquire" option from the left menu section
Under Enquire dropdown list, select  "Redeem Reward Points"
Select the card by ticking the checkbox from which you would like to redeem reward points and select  "Continue"

Select "Continue" (enable the pop-up option if you have disabled it)

You will be taken to Redeem Reward Points homepage

Select Points Range and Item Category to view catalog

Select items by adding to the shopping cart

Once you've added items to the cart, proceed to View Shopping Cart 

Read Terms & Conditions and click on the check box confirming acceptance

Confirm your registered address, email ID and contact number

Click on Redeem to confirm the redemption and take a note of the Order number generated
Also Read: PPF Account Online: How to Open a PPF Account, Document Required, Eligibility, Withdrawals, and More
How to Redeem HDFC Credit Card Points Offline
Download the

HDFC rewards redemption form from the website

Take a printout of the same

Fill out the details like S No, product code, product name, quantity, and amount to be debited to the credit card account

Enter cardholder's name and card number

Read the terms and conditions and add your signature and date

Rs 99 will be debited from your card towards handling the goods and services

Send the letter to the following address: "Rewards Helpdesk, HDFC Bank Cards Division, P.O.Box No. 8654, Thiruvanmiyur, P.O, Chennai – 600041"

Or instead of posting, you can also drop the letter at the nearest Credit Cards dropbox
Along with the letter, you will also have to attach your previous month's credit card statement to see the number of points available to redeem. You can visit this link and check out the full catalog along with your name and code. 
Which items can be Redeemed with HDFC Credit Card Points?
Once you have accumulated at least 500 points, you can start redeeming the points for multiple things like apparel, dining, lifestyle, health care, entertainment, etc. 
My Apparels: Raymond, Hidesign, Fusion beats, Jockey, Skechers, Pantaloons, Central, The Chennai Silks, etc

My Charity: Covid Relife Meal, PPE Kit, Oxygen cylinder, hospital beds, etc

Mu Dining: Pizza Hut, Zomato, KFC, Swiggy, etc

My Electronics: Portronics, Girias, Motorola, Tagg, Sandisk, JBL, Croma, Boat, Mi, Vijay sales, Philips, Reliance digital, etc

My Entertainment: Jio Saavn, Epic On, Shemaroo, Book My Show, Amazon Prime, Zee5, Amazon Gift Card + Prime Membership combo

Fashion and Accessories: Fastrack, Titan, Reliance Trends, Joyalukkas, GRT Jewelers, Reliance jewels, Wildcraft, Kalyan Jewelers, etc

My Healthcare: Four Fountains, NuAyurveda Clinic, Apollo Pharmacy, 1Mg, CureFit, etc

My Home: Fujihoro, Tupperware, Philips, Urban ladder, Prestige, etc

My Kids: Luxe

My Kitchen: Tupperware, Philips, Bajaj, etc

My Lifestyle: Uber, Amazon, Flipkart, Wildcraft, Nivia, Bata, Levi's, Puma, Nike, Decathlon, etc

My Luxury: Taj Hotel gift card, Luxe gift card

My Personal care: VLCC, The Man Company, Body craft, etc

My Travel and Leisure: Yatra, Swiss Military, Luxe, HP, etc

Indian Oil (IOCL)
Also Read: PF Balance Enquiry: How to Check Your EPF Balance via Website, App, Missed Call Service, and More
How to Earn HDFC Credit Card Points?
You can earn reward points on all the transactions with the HDFC Credit card, be it online or offline. Each time you make a payment using your HDFC Credit Card, rewards points will be added to your account. Once the points are accumulated, you will have to use those points within two years. As said earlier, once you have accumulated 500 points, you can start redeeming them for any product you want from the catalog. HDFC Bank offers multiple credit card options and here is how you can get the most out of all types of credit cards and how you can earn HDFC credit card points. 
HDFC Credit Card
Reward Points

INFINIA Credit Card Metal Edition

5 Reward Points for every Rs 150 spent

Welcome benefit of 12,500 reward points upon fee realisation and card activation

Earn up to 10 times Reward Points on your travel and shopping spends on Smartbuy

Diners Club Black Credit Card

5 Reward Points for every Rs 150 spent

Up to 10X Reward Points via SmartBuy and 2X on weekend dining

Regalia Credit Card

Earn 4 Reward Points on every Rs 150

Bonus 10,000 Reward Points on Rs. 5 lakhs spends

Additional 5,000 Reward Points on Rs. 8 lakhs spends in an anniversary year

Diners Club Privilege Credit Card

4 Reward Points for every Rs 150 spent

Upto 10X RP on spends via SmartBuy

2X Reward Points on weekend dining

MoneyBack Credit Card

Earn 2 Reward Points on every Rs 150 spent

Earn 2X Reward Points i.e. 4 Reward Points on every Rs. 150 spent online

Regalia First Credit Card

You earn 4 reward points on Rs. 150, on all retail spending including Insurance, Utilities, Education and RentPay.

Earn 5,000 Reward Points on annual spending of Rs. 3,00,000 or more in each anniversary year

Earn additional 2,500 Reward Points on annual spending of Rs. 6,00,000 or more in each anniversary year

Diners Club Miles Credit Card

Earn 4 Reward Points for every Rs 150 spent

Platinum Times Card

Earn 3 Reward Points for every Rs 150 spent on your card.

Weekday Dining Bonanza Reward Points

Earn 10 Reward Points* on every Rs 150 spent on Dining spends on weekdays

Titanium Times Card

Earn 2 Reward Points for every Rs 150 spent.

Weekday Dining Bonanza Reward Points

Earn 5 Reward Points* on every Rs 150 spent on dining spends on weekdays

Business Regalia Credit Card

Up to 50 days interest-free credit period

Earn Reward Points for every Rs 150 spent:

4 Reward Points on all spending

Earn 15,000 Bonus Reward Points on annual spending of Rs. 8,00,000

Earn 10,000 Bonus Reward Points on annual spending of Rs. 5,00,000

Business MoneyBack Credit Card

Earn Reward Points for every Rs 150 spent:

4 Reward Points on online spends

2 Reward Points on all other expenses (Except fuel)

Get 5X Reward Points on Fuel (Maximum 1000 points in a month)

Earn 2,500 Bonus Reward Points on annual spending of Rs. 1,80,000

Best Price Save Max Credit Card

Earn Reward Points for every Rs 150 spent:

6 Reward Points on Best Price Spends

4 Reward Points on IRCTC, utility, dining spends

2 Reward Points on other retail spends

Earn 800 Reward Points on 4 or more purchases at Best Price within first 90 days of card set up (minimum cart value Rs 150)

Earn 3300 Reward Points on shopping of Rs. 1,50,000 in a calendar quarter

CSC Small Business MoneyBack

Earn Reward Points for every Rs 150 spent

4 Reward Points on online spends

2 Reward Points on all other expenses (Except fuel)

Get 5X Reward Points on Fuel (Maximum 1000 points in a month)

Earn 2,500 Bonus Reward Points on annual spending of Rs. 1,80,000

All Miles Credit Card

Accumulate 3 reward points for every Rs 150 you spent

Get 2x reward points for hotel bookings, mobile recharge and shopping

Freedom Credit Card

Earn 1 reward point on every spend of Rs 150 and above

Earn 25X reward points on your birthday spend

10X reward points on PayZapp & SmartBuy spends

Earn 5X reward points for spends on dining/ movies/ groceries/ railways/ taxis

Business Gold Credit Card

Earn reward points on every spend of Rs 150 and above

Business Regalia First Credit Card

4 Reward points for every Rs. 150 spent

Earn 7,500 Reward Points on annual spending of Rs. 6,00,000 or more in each anniversary year

2. Earn 5,000 Reward Points on annual spending of Rs. 3,00,000 or more in each anniversary year

Diners Club Premium Credit Card

Earn 4 reward points for every Rs 150 you spend

Welcome benefit: 2,500 reward points

Renewal benefit: 2,500 reward points

Diners Club Rewardz Credit Card

Earn 3 reward points for every Rs 150 you spend

Welcome benefit: 1000 points

Renewal benefit: 1000 points

Doctor's Regalia Credit Card

You earn 4 reward points on Rs. 150

Earn Bonus 10,000 Reward Points when you spend Rs. 5 lakhs in the anniversary year.

Earn additional 5,000 Reward Points when you spend Rs. 8 lakhs in the anniversary year

Doctor's Superia Credit Card

3 Reward Points for every Rs. 150 you spend

Welcome Benefit: 1000 Reward Points

Renewal Benefit: 1000 reward points

Platinum Plus Credit Card

Earn 2 reward points for every Rs 150 you spend

Solitaire Credit Card

Earn 3 reward points for every Rs 150 you spend

Superia Credit Card

Earn 3 reward points for every Rs 150 spent

Welcome benefit: 1000 reward points

Renewal benefit: 1000 reward points

Teachers Platinum Credit Card

Weekends – 3x reward points on spending of Rs 150. Earn as many as 2400 points in a year

Weekdays – Two reward points for every Rs 150

Get a special gift of 500 reward points on Teacher's Day (5 Sept) every year

Titanium Edge Credit Card

Get 2 reward points for every Rs 150 you spend
Also Read: Aadhaar Update: How to Update your Aadhaar Card Online, Documents Required, and More