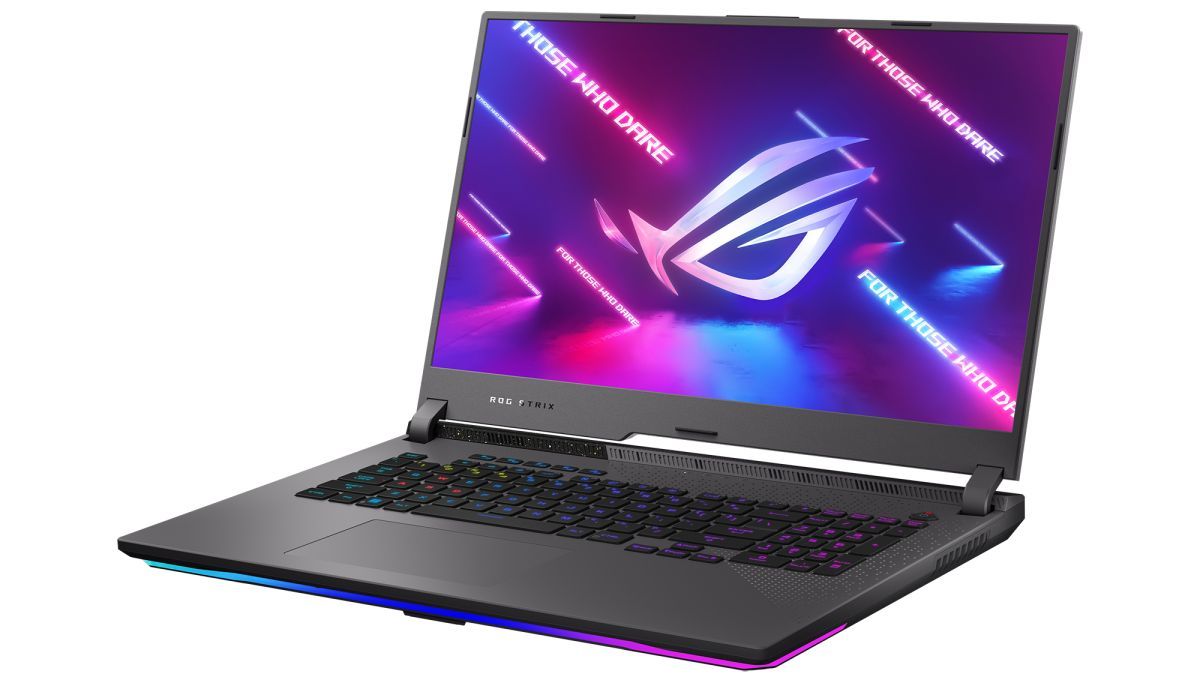 ASUS has stamped its authority in the gaming space in India and is showing no signs of slowing down. The company has constantly been updating its ROG gaming laptop lineup in the country to keep up with the growing demand of gamers and the expanding market, overtaking most other offerings from rival brands. Adding to the powerful army of machines is the ASUS ROG Strix G17 (2022), the no-compromise gaming laptop.
What makes it a 'no-compromise' machine? AMD's prowess added by the Ryzen™ CPU allows for a slim design, extended battery life, ample ports, and also features AI-enabled tech to get the most out of any gaming title.
Also read: Top 5 Reasons Why AMD Powered Gaming Laptops Are the Best in the Gaming Ecosystem
Powerful Ryzen™ CPU
The AMD Ryzen™ processor that powers the ROG Strix G17 (2022) is the highlight of the machine and naturally, the most vital piece of the puzzle for gamers. The laptop is powered by the latest and performance-heavy AMD Ryzen™ 7 (6800H) CPU. This, along with NVIDIA RTX 3050 GPU, 8GB DDR5 RAM, and 512GB SSD (for the Rs 1 lakh mode), runs any AAA graphics-intensive game without any sign of stutter. The processor offers impressive single-threaded performance, which is critical for smooth gameplay. All the eight cores and 16 threads work on full throttle in cases when you need to record or stream the gameplay.
The Good-Looking Monster
The efficient AMD Ryzen™ processor also enables the slim profile of the ASUS ROG Strix G17 (2022). That's because the power efficiency of the processor helps keep the device cool. Unlike other gaming laptops, the Strix G17 keeps the heat under control and doesn't let the device compromise on performance or noise levels. In addition, the company's tried and tested 'Liquid Metal' cooling technology on the CPU lowers the temperature by up to 16 degrees as compared to thermal pastes. This is complemented by four fan outlets and multiple software profiles.
Also read: HP Launches OMEN 16, OMEN 17, Victus 15 and Victus 16 Laptops in India with Intel Core 12th Gen and AMD Ryzen 6000 Series Processors
The overall usage experience is amplified by an immersive 17.3-inch screen FHD anti-glare display that can deliver up to 144Hz of refresh rate along with Adaptive-Sync support.
Extended Battery With Fast Charging
While most gamers prefer to play while their laptops are connected to a power source, ASUS is trying to change that with its ROG Strix G17 (2022). The laptop can run titles while on battery for longer durations than what is traditionally seen in other devices. This is not just because the latest Ryzen™ processors are more efficient than before, but also due to the high capacity 90Wh battery. As per the firm, the Strix G17 can deliver up to 12 hours of video playback. In addition, the laptop supports fast charging, so even if you are in a hurry, you can charge the device from zero to 50 percent in just 30 minutes. What's interesting is that you can even charge it using the power bank.
Support for Ports + AI Noise Cancellation
Besides the performance, heat dissipation and battery, gamers also prefer a laptop that can offer a good mix of ports. And here's where the ROG Strix G17 (2022) shines yet again. Thanks to the AMD Ryzen™ 6-series mobile processor, the laptop offers a 3.5mm combo audio jack, HDMI 2.0b, USB 3.2 Gen 2 Type-C, 2x USB 3.2 Gen 1 Type-A, a DisplayPort™ (power delivery & G-SYNC) and 2.5G LAN port.
Also read: AMD 101: What Are FidelityFX™ Super Resolution, Smart Shift, Smart Access Memory™ and Other Graphics Technologies
Adding to this is the AI-powered noise cancellation tech, which is also powered by the Ryzen™ processor. This, in particular, can be quite handy for gamers when playing multiplayer titles.
Who Is It For?
While aspects like the Ryzen™ processing power, GPU, cooling system, extended battery support and the selection of ports are hard to ignore, the basic question still comes down to the audience the laptop is meant for. The ASUS ROG Strix G17 (2022) is all set to lead the sub-Rs 1 lakh gaming laptop market, targetted at those who want to take up gaming more seriously and won't mind an investment that will be worth it for years to come. The Strix G17 fits in both entry-level and mid-level segments because of its price and powerful set of specifications. It is safe to say that after the G17, one can jump to higher-end gaming laptops, skipping the transition phase with a mid-level laptop with slightly better specifications.
However, the ROG Strix G17 is not just gamer-centric. It also boasts Dolby Audio support, PCIe 4.0 SSD and a 240Hz display, acting as a multi-purpose machine for viewing media or for creators. All in all, if you want the most powerful AMD processor without spending a lot, along with a bunch of features that make a laptop future-proof, the ASUS ROG Strix G17 (2022) fits the bill.
You can even go for the ASUS ROG Strix G15/G17 AMD Advantage laptop if you want a more bang-for-the-buck offering. What sets these apart from others are the pure AMD-based CPU and GPU optimised performance, along with features like AMD-based display, audio and graphics that are a step above others.