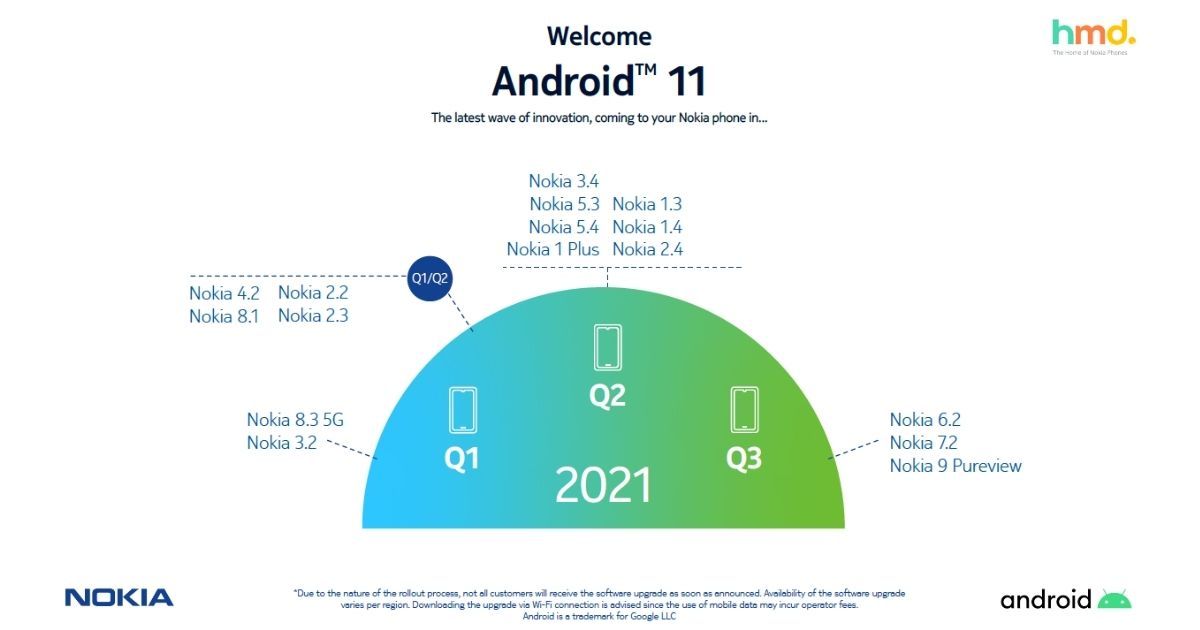 HMD global released Android 11 update roadmap for Nokia smartphones back in October 2020. As per the schedule, devices like Nokia 1.3, Nokia 2.4, and Nokia 3.4 were expected to receive the update in Q1 2021, but the updates haven't arrived yet. This is quite surprising considering the fact that the Nokia smartphones run stock Android, and the company has been among the fastest to roll out Android version upgrades in the past couple of years. Now, Nokia has announced a revised rollout schedule for the devices that are yet to receive the Android 11 update. Let us take a look at new timelines for the Android 11 updates for Nokia smartphones.
Revised Android 11 Update Schedule for Nokia Smartphones!
Nokia 9 Pureview, Nokia 7.2, Nokia 6.2 were expected to receive the update by Q2 2021. Now, the users will have to wait till Q3 2021 to use Android 11 on their devices.
Q2 2021: Nokia 5.4, Nokia 5.3, Nokia 3.4, Nokia 2.4, Nokia 1.4, Nokia 1.3, Nokia 1 Plus
Q3 2021: Nokia 9 Pureview, Nokia 7.2, Nokia 6.2
For most devices, HMD global has pushed the update timeline by a quarter. The company didn't reveal the reason behind this delay. A possible explanation behind the delay is the fact that the majority of recent Nokia smartphones were ODM devices. This was highlighted recently by Omndia in a report. So, HMD Global may not have complete control over the hardware, as well as the software for Nokia devices. HMD Global isn't the only company that use ODM manufactured devices, several Xiaomi, Lenovo, and OPPO devices are also ODM made.
This shows that despite opting for stock-Android brands like HMD are struggling to roll out Android updates to their devices. While, OEMs with custom skins such as Samsung managed to roll out Android 11 update to even entry-level smartphones. Do you use a Nokia smartphone as your daily driver? Has your device received the update already? Do let us know in the comments below.