Highlights
Hoichoi is the most popular Bengali language OTT platform.
Hoichoi subscription starts from Rs 499 for three months.
Here's everything you need to know about Hoichoi and Hoichoi subscriptions.
Hoichoi is the premier destination to watch the best Bengali TV shows, movies, short films and more. It is the biggest OTT platform in the Bengali language, offering lots of value with the Hoichoi subscription.
In this article, we will discuss everything you want to know about Hoichoi and Hoichoi subscriptions, including how to subscribe to the OTT platform, various Hoichoi subscription platforms, and how to get a Hoichoi subscription free. Read on.
What is Hoichoi?
Hoichoi is an exclusive Bengali language OTT platform that streams Bengali movies, TV shows and short films. Hoichoi is backed by SVF Entertainment Ltd, one of the largest media companies in the region. It was launched in 2017 and remains the top destination worldwide to watch Bengali language movies and TV shows. It also has most of the Hoichoi shows dubbed into the Hindi language!
The Hoichoi app looks just like any other OTT platform out there. Upon opening the Hoichoi app, you'll be greeted by the home screen, which lists the content, much like you'd see with Netflix or Disney+ Hotstar. You can choose All, Shows, Movies and Hindi from the top navigation bar. Then there's the Subscribe button just beside that. Below, you'd see the featured shows, which can be played immediately or added to the watchlist. And below that, you get categories like Just Added, hoichoi Top 10, Trending, Upcoming and New, Crimes and Criminals, Mystery and Thrill, and more. On the bottom navigation bar, you'll see Home, Search, Downloads, Upcoming and Account, all self-explanatory.  
The first episode of most of the TV shows in Hoichoi can be watched for free on Hoichoi; it also offers some content for free such as Free Movies, Free Shorts and Free Minis. Let's now check out the premium plans. 
Hoichoi Subscription Price
Plan
Benefits
Validity
Rs 999
2 Simultaneous Streams
Connect to 8 devices
1 Year
Rs 499
1 Simultaneous Streams
Connect to 5 devices
3 Months
Hoichoi premium subscription is available on two plans.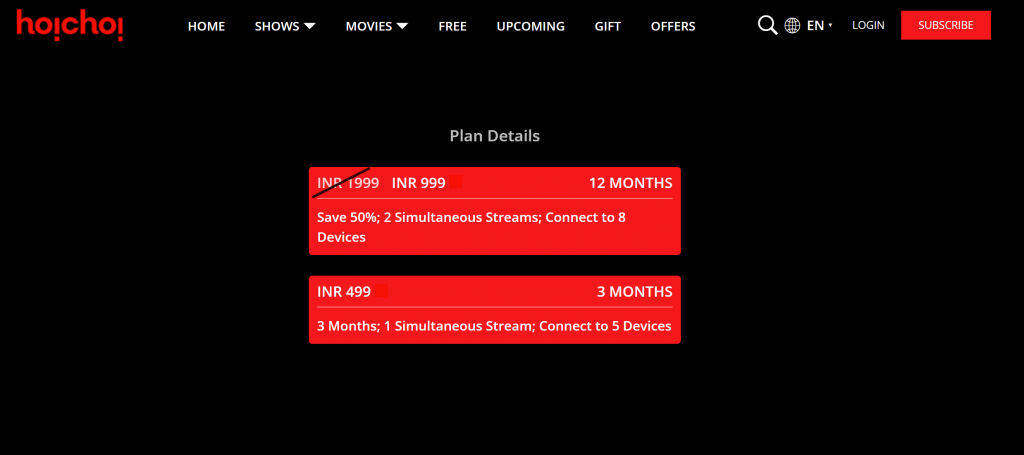 Rs 999 yearly plan
This plan gives you access to Hoichoi Premium for a year, and you can use it on eight devices, but it can only be streamed on two devices simultaneously. 
Rs 499 3-month plan
This plan gives you access to Hoichoi Premium for three months, and you can connect it to 5 devices, but it can only be streamed on one device at a time.
How To Subscribe To Hoichoi?
You can subscribe to Hoichoi from the Hoichoi website or the Hoichoi app. You can subscribe using your debit cards, credit cards or UPI payment. 
How To Get Hoichoi for Free?
JioFiber 
JioFiber customers can get a Hoichoi subscription for free with select prepaid and postpaid broadband plans. 
For postpaid customers of JioFiber, if you're subscribed to plans costing above Rs 599 (bundle plan of Rs 399 base plan + 14 OTT apps for Rs 200), you get a Hoichoi subscription along with 13 other OTT platforms. 
For prepaid customers of JioFiber, if you recharge for plans costing Rs 999 or above, you will get Hoichoi bundled with it, along with other OTT subscriptions.
Flipkart SuperCoin
Flipkart lets you redeem lots of different things with the Flipkart SuperCoins. You can save one month's subscription to Hoichoi with 149 Flipkart SuperCoins.
Tata Play Binge App
Tata Play Binge app is an OTT bundle subscription service that provides many OTT platforms for a single subscription. You pay for the Tata Play Binge subscription, and based on the subscription tier, you get access to up to 24 OTT platforms. 
All Tata Play Binge subscription tiers give you access to Hoichoi, starting from the Mobile Pro plan, which costs Rs 199 monthly. It gives you access to Hoichoi and other major OTTs like Disney+ Hotstar, SonyLiv, Zee5 and many more. It is available for all users, not just Tata Play subscribers.
Airtel Xstream App
The Airtel Xstream app is similar to the Tata Play Binge app, but it is available for Airtel subscribers only. It's not free; it is available to subscribe for Airtel customers only, costing Rs 149 per month.
Airtel Xstream app bundles Hoichoi subscription and other OTT platforms such as Sony Liv, Lionsgate Play, Eros Now and more. 
Popular Hoichoi Exclusive TV Shows
| | | |
| --- | --- | --- |
| Show | Director | Cast |
| Murder in the Hills | Anjan Dutt | Anindita Bose, Arjun Chakroborty, and Suprobhat Das |
| Byomkesh | Soumik Chattopadhyay & Sayantan Ghoshal | Anirban Bhattacharya, Subrat Dutta, Ridhima Ghosh |
| Kamini | Rick Basu | Barkha Bisht, Saurav Das, Apratim Chatterjee, Trina Saha |
| The Stoneman Murders | Rafiq Abdul Wahab | Swastika Mukherjee, Rajatava Dutta, Rupankar Bagchi |
| Paap | Anupam Hari | Puja Banerjee, Rahul Banerjee, Rajat Ganguly, Bhaswar Chatterjee |
Popular Movies in Hoichoi
| | | |
| --- | --- | --- |
| Movie | Director | Cast |
| Gumnaami | Srijit Mukherji | Prosenjit Chatterjee, Anirban Bhattacharya, Tanusree Chakraborty |
| Abby Sen | Atanu Ghosh | Abir Chatterjee, Raima Sen, Chiranjeet Chakraborty, Arunima Ghosh |
| Vinci Da | Stijit Mukherji | Rudranil Ghosh, Ritwik Chakraborty. Anirban Bhattacharya, Sohini Sarkar |
| Professor Shanku O El Dorado | Sandip Ray | Dhritiman Chatterjee, Subhasish Mukhopadhyay |
| Shah Jahan Regency | Srijit Mukherji | Anjan Dutt, Mamata Shankar, Parambrata Chatterjee, Rudranil Ghosh, Abir Chatterjee |
Frequently Asked Questions
1. How do I subscribe to Hoichoi for one month?
Hoichoi doesn't offer a monthly subscription. But you can try Hoichoi for a month by subscribing to it using Flipkart SuperCoin or by subscribing to either Tata Play Binge or Airtel Xstream apps.
2. Is Hoichoi free with Jio?
Hoichoi is bundled with the JioFiber plans mentioned above but not the Reliance Jio mobile subscription.
3. Is Hoichoi part of Amazon Prime?
No, Hoichoi is not a part of Amazon Prime. But Hoichoi is available as a Prime Video channel inside Prime Video, which you can subscribe to from inside the Prime Video app.
4. Is Hoichoi free with Amazon Prime?
No, the Hoichoi channel needs to be purchased separately in addition to Prime Video using the Hoichoi Prime Video channel.
5. What is the lowest plan of Hoichoi?
The lowest plan of Hoichoi is Rs 499, which gives you access to Hoichoi for three months. But you can get the Airtel Xstream app for Rs 149 per month, giving you access to Hoichoi and many other OTT apps.
6. Does Hoichoi provide a free trial?
Currently, Hoichoi doesn't provide a free trial offer.
7. What are the payment methods of Hoichoi?
You can use your credit cards, debit cards or UPI to pay Hoichoi.
8. How many users can use Hoichoi?
It depends on the plan you're subscribed to. If you're on the Rs 499 plan, it can be viewed simultaneously on one screen. If you're on Rs 999 plan, two people can simultaneously stream.