In the last few months, Honor has been adding several of its devices to the Android 9 Beta testing program. A number of devices have already got the EMUI 9.0 update, which is based on Android 9.0 Pie. The internal tests seem to have gone well, because the company is now ready to roll the update. Honor is rolling out the Android 9.0 stable update to a limited number of users. The update will be available to those who own the Honor 10GT, Honor Play, or the Honor V10. It is currently only available to users who are residing in China.
EMUI 9 Update for Honor 10GT, Honor Play, and V10
Both Honor and Huawei smartphones use EMUI as their software. Earlier this month, Honor started seeding the EMUI 9 Beta update to some devices such as the Honor Note 10, Honor 9, V9, Honor 10, Honor V10, and Honor Play. Now, some of these phones are selected to receive a stable Android 9.0 Pie update.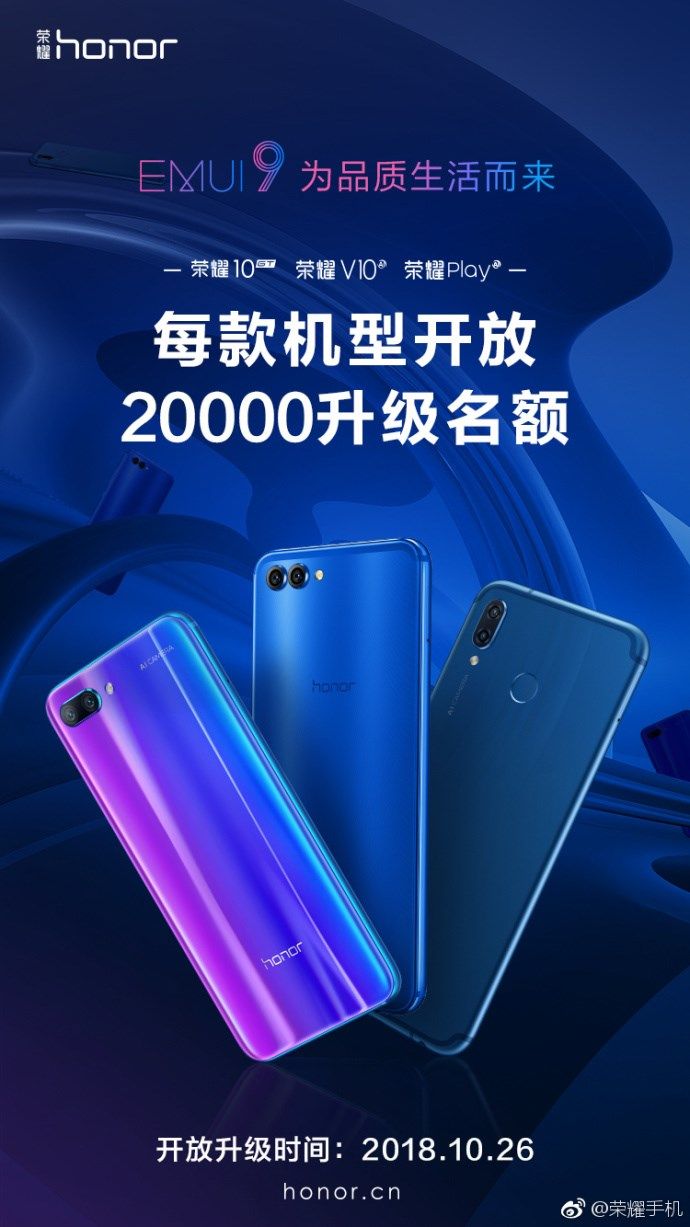 If you own the Honor 10 GT, Honor Play, or the Honor V10, then you can sign up to receive the EMUI 9.0 stable update. Honor is currently accepting about 20,000 users for each device. The latest EMUI 9.0 update brings several new improvements and features to the supported devices. It adds new nature based sound effects, improves system performance, includes new UI elements, visual changes, and much more. According to Honor, the new software will improve app launch speeds by up to 47 percent. The update will also be more focused on AI use cases, which include, landmark recognition, auto scene recognition in camera, faster translation, and more.
How to Get Android 9 Pie Update
To get the EMUI 9 stable update based on Android 9.0 Pie, you will have to perform a few simple tasks. First, download the Member Service app from the Application store. The app is quite likely to be already installed on your device. In the app, select the 'Services' option and tap on 'Upgrade Testing' option. Anyone with the eligible devices can download the update. However, only 20,000 spots are available, so you will have to be quick. The slots are given on a first come first served basis. Once all the slots are full, you will not be able to try out the stable update. It is possible that Honor may open up more slots in the future, but we aren't sure about that. This limited user testing is done to find out if any bugs are present in the stable update. Once this test is over, all eligible users will be able to download and install the software.
This is a great move by Honor, and will certainly make the customers happy. Other OEMs are also working on bringing Android 9.0 Pie to their smartphones. Companies such as Nokia, OnePlus, Huawei, and Motorola, have already released the stable update for some of its high-end devices.