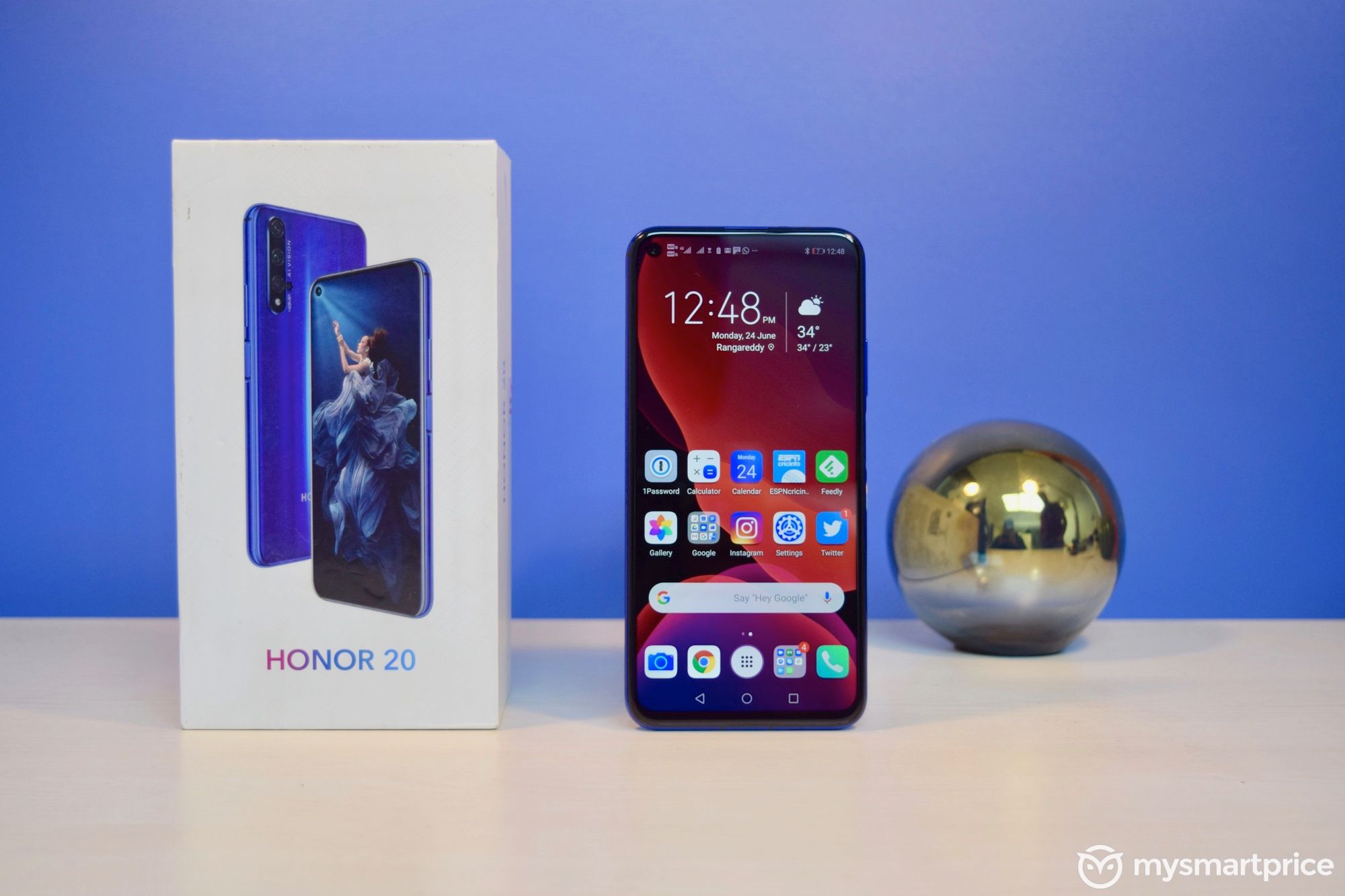 Honor and its parent company Huawei recently faced a severe crisis due to heightened trade tensions between China and the US. As an effect of these hostilities, both the companies were barred by the US from making Android-based phones and rolling out software updates for existing devices. The worst might not be over for Honor, but the brand is not planning to give up anytime soon. Caught in troubled waters, the Chinese company rolled out the Honor 20 lineup. It features a budget Honor 20i and a premium mid-ranger Honor 20 Pro. Sitting between these two is Honor 20, which promises a fine balance between the price and performance.
Priced at INR 32,999, the Honor 20 takes on the OnePlus 7 (INR 32,999), ASUS 6Z (INR 31,999), and the OPPO Reno (INR 32,990) in India. All these handsets are loaded with impressive hardware and innovations. So is it worth investing in the Honor 20? Let's find out.
[Update | 14 August 2019]: It is being reported by news agencies that the US government might place trade sanctions on Honor and its parent firm Huawei. So, things are not looking good for the company right now.
[P_REVIEW post_id=160306 visual='full']
Honor 20 Design
The Honor 20 features a metal frame sandwiched between the front and rear glass panels. The phone has a gradient color scheme, which is thankfully quite subtle compared to what you get on the more affordable Honor 20i. The phone is quite compact for a 6.2-inch screen due to its thin-bezel design. It feels premium to hold, but still can't match the splendor of the OnePlus 7.
The fingerprint reader is embedded into the power button, which is more accessible compared to the regular rear-mounted sensor found on other phones. Power and volume buttons feel clicky. Due to a protruding triple-camera assembly, the phone wobbles if you use it when kept on a table. Since Honor has chosen a punch-hole selfie camera over a pop-up assembly, you don't need to worry about complex moving parts.
What's missing here is the protection against dust and water. But my bigger concern has been the chipping of paint on our review unit's camera assembly. I guess this can be avoided by using a case, but then that defeats the purpose of buying a stylish phone.
Honor 20 Display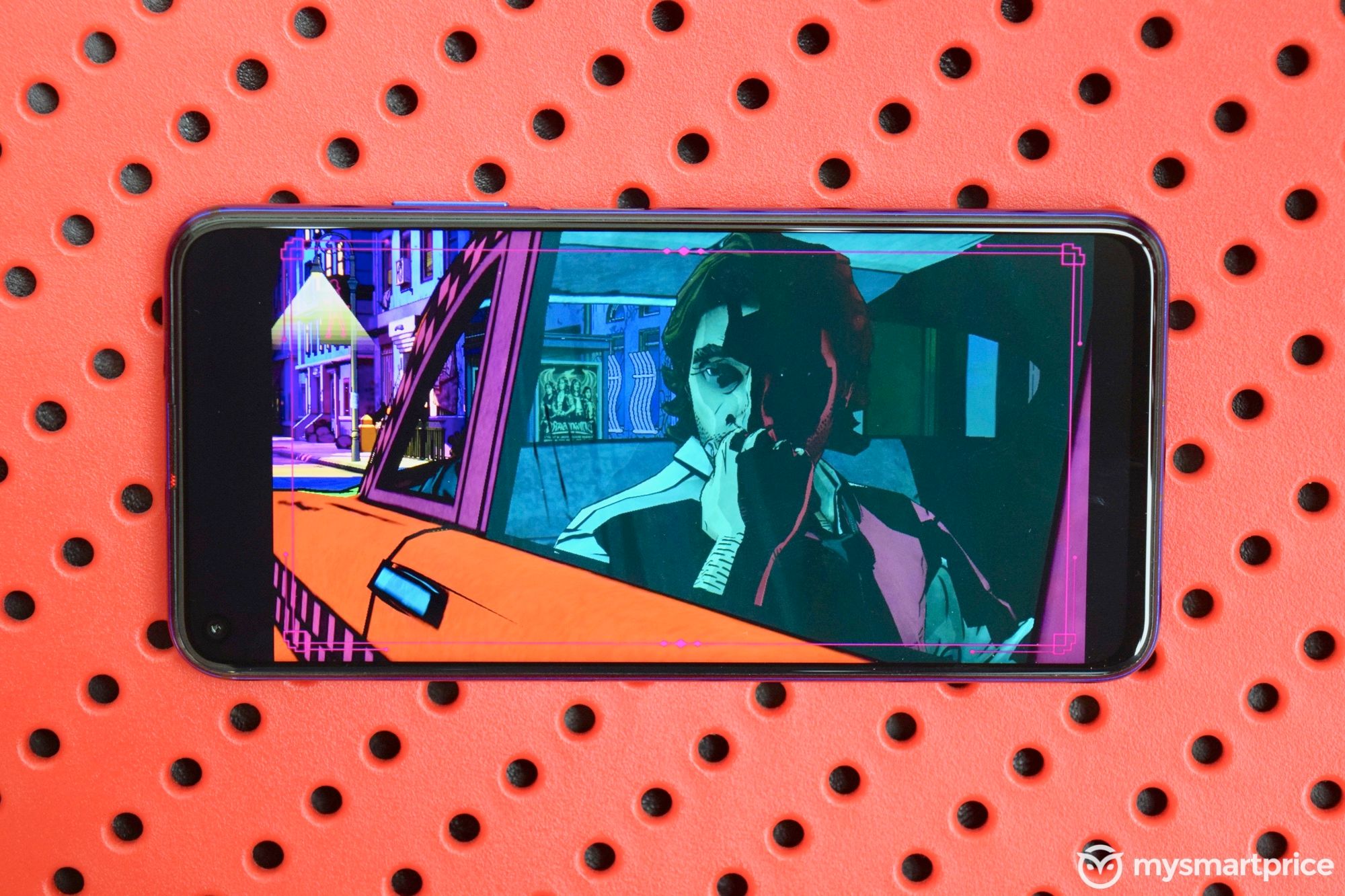 While many mid-range phones from Samsung and other brands use OLED screens, the Honor 20 settle for a 6.2-inch IPS LCD Full HD+ screen. The display brightness is decent, but its contrast ratio is nowhere as good as OLED panels found on the similarly priced phones. HDR10, which enhances brightness and contrast is missing as well.
Honor 20's screen could've been better, especially for its price.
I also noticed the blackening of pixels around the punch hole camera, which is hard to miss on white backgrounds. What's worse is that I also ran into a few touchscreen accuracy issues on our review unit. The screen is where Honor cut its costs to keep the Honor 20 affordable.
Honor 20 Camera Quality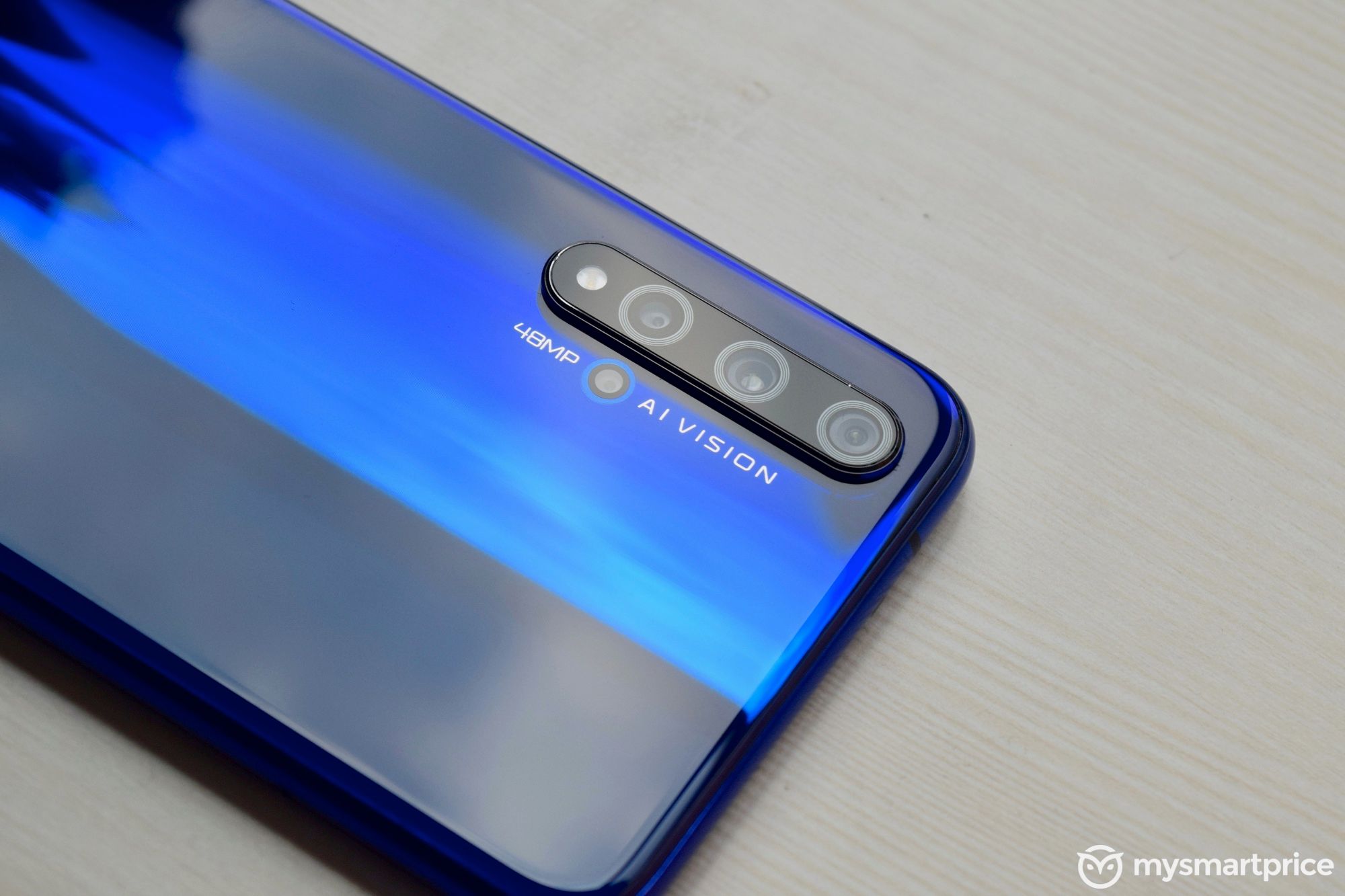 The Honor 20 has a versatile quad-camera setup. It includes a 48MP sensor with f/1.8 aperture and PDAF. Then, there's a 16MP secondary camera with a 13mm ultrawide-angle lens. There are two additional camera sensors: a 2MP depth sensor and a 2MP macro camera with a fixed focal length. When there's already an ultrawide angle camera capable of producing shallow depth-of-field images, an additional 2MP depth sensor feels pointless to me. The macro camera has a fixed focus lens and extremely low-resolution. The resulting photos are barely usable in a world where 4K TVs are now a commonplace.
The phone's main sensor does not disappoint, though. It captures high details and wide dynamic range. I compared images shot using the Honor 20 with those shot using the similarly priced OnePlus 7. The Honor 20 captures relatively more details, but there's definitely some oversharpening going on. This undesired effect is more evident in nature photography.
I am pretty impressed with the Honor 20's still image quality.
Images shot using the Honor 20 are bright and warm, which may be favored by most consumers. In low-light conditions, the phone requests a user to keep the phone steady for a few seconds to capture multiple frames and produce a brighter image.
Honor 20 Camera Samples - Daylight
The Honor 20 uses the wide-angle camera to capture images with bokeh effect. There's no indication in the camera UI to notify you whether the background blur effect has been applied successfully. The AI mode, which is active by default, does a good job of identifying the scene most of the time. The Honor 20 lacks a 4K 60fps video recording mode due to the Kirin 980 ISP's limitation. The phone couldn't even retain 30 frames per second in 4K mode in some situations. Huawei has a lot to improve in terms of video recording.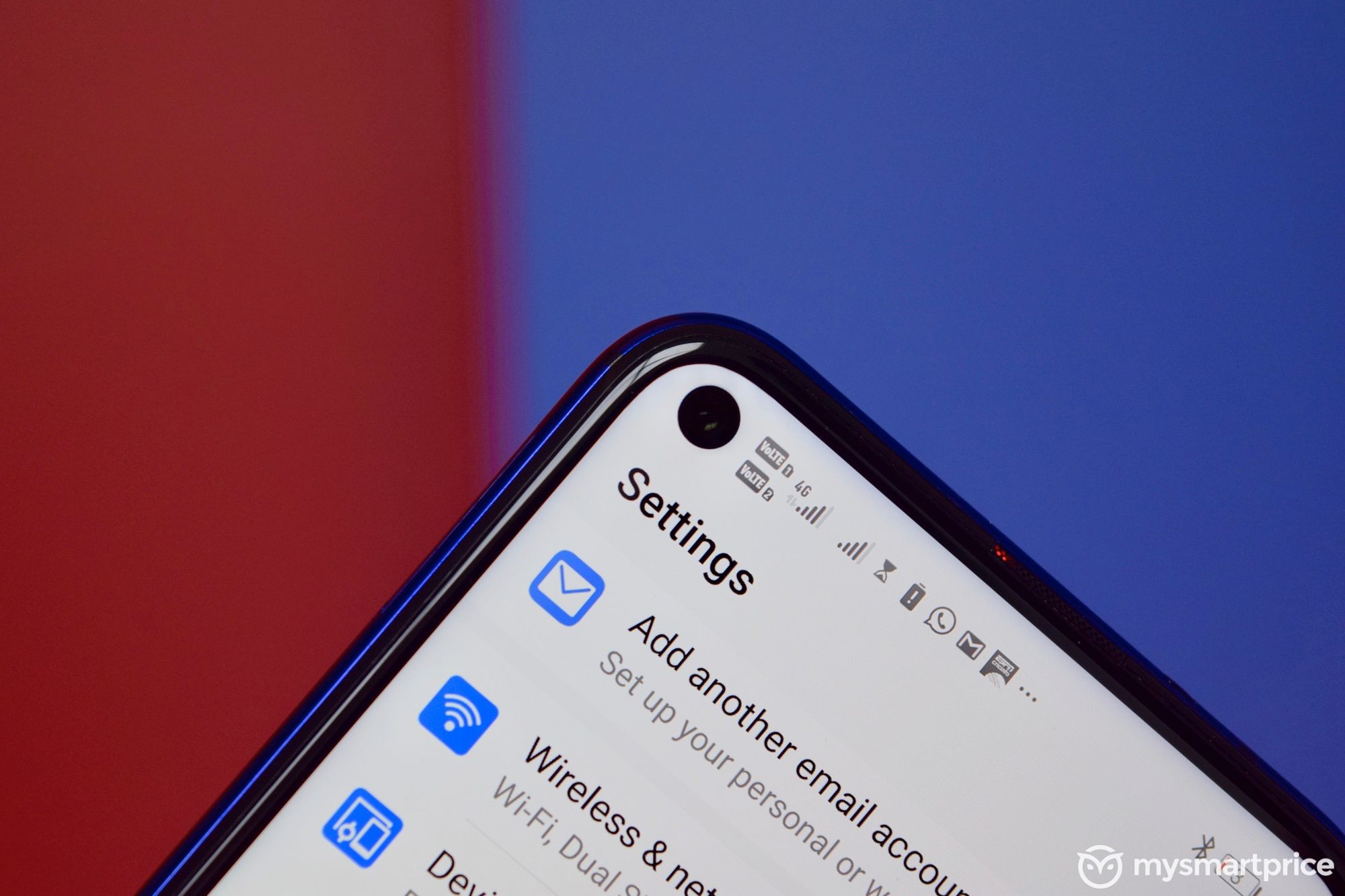 The 32MP front-facing camera works pretty well. It captures plenty of detail in selfies along with a wide dynamic range. Much like the rear camera, the front-facing shooter also produces slightly warmer images. Unlike the similarly priced OnePlus 7 though, the Honor 20 struggles with the portrait mode. The front-facing camera fails to create the proper shallow depth-of-field effect. The OnePlus 7 was much better in this regard. The selfie camera can record detailed videos, but the resolution is capped at Full HD 30fps.
Honor 20 Camera Samples - Low Light
Overall, the Honor 20 pulls off an impressive performance in still photography. But, the Chinese company needs to work a lot on the video recording quality if it wishes to catch up with competing brands such as Apple, OnePlus, and Samsung.
Honor 20 Software & UI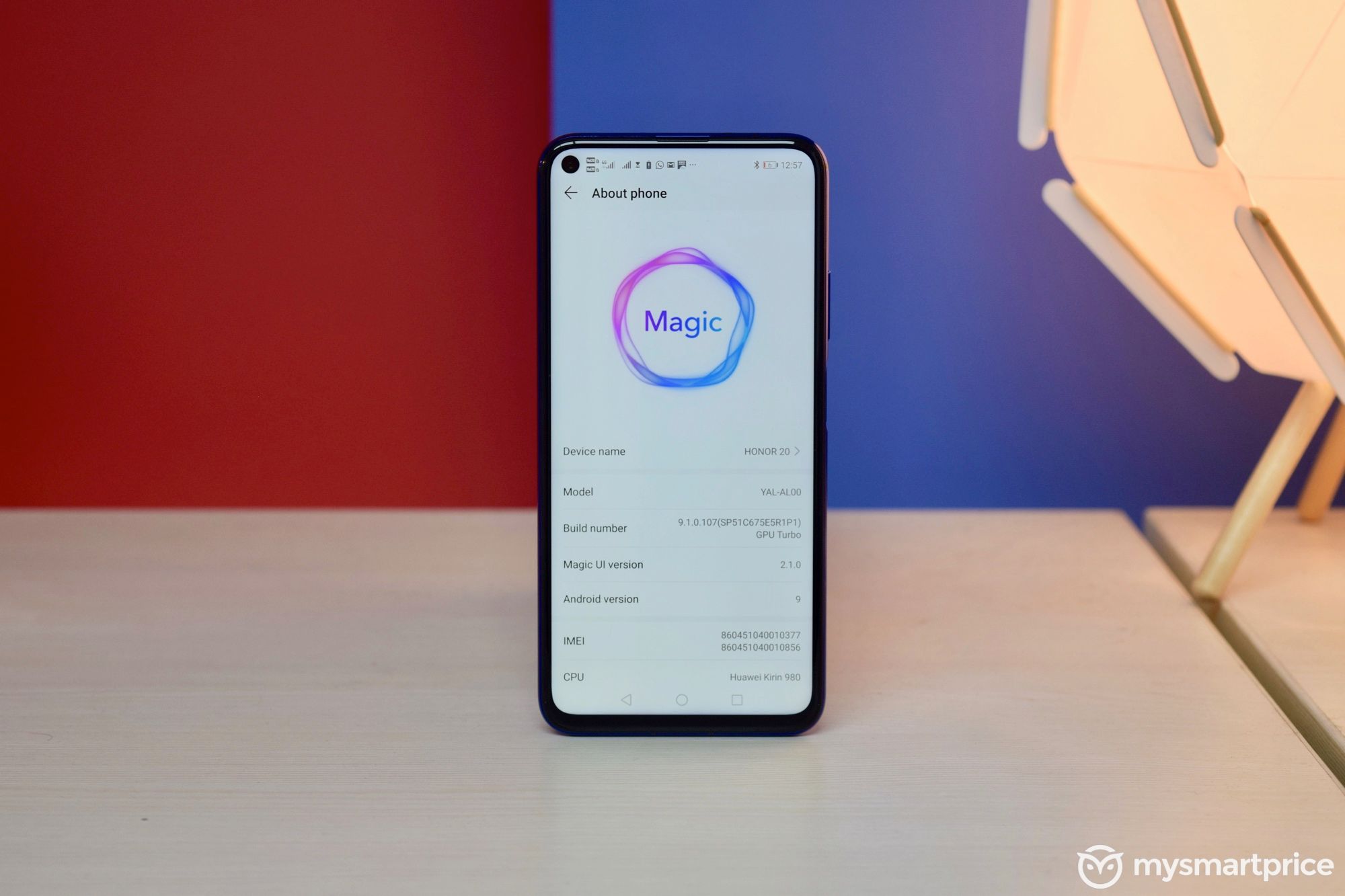 The Honor 20 runs Android 9 Pie-based Magic UI 2.1. It is basically the EMUI 9.1 marketed with a new label. The entire UI is fast and smooth, but to be honest, the design feels quite dated. Icons look cartoony, and there's no uniformity. It may not be a big deal for everyone, but I had to uninstall a lot of bloatware, install a third-party launcher, and an icon pack to make the UI bearable.
The company has promised Android Q update for the entire Honor 20 series.
On the bright side, the UI is loaded with features. Starting with the Phone Clone feature, it lets you transfer calendar, call log, contacts, photos, videos, and other data from an older phone to the new Honor 20. The phone's lock screen has four shortcuts: calculator, stopwatch, torch, and voice recorder. The homescreen has a Google News feed on the leftmost screen and a dedicated app drawer. There's no gesture for bringing down the notifications shade, though; it reveals the app search function instead. Scrollable screenshots can be captured and the built-in screenshot offers features like annotation, markup, and even a mosaic blur tool.
Honor 20 Magic UI 2.1 Design
The Huawei Share feature lets you share files with other Huawei devices without using mobile data. The Easy Projection feature lets you quickly access a desktop-like UI on the lock screen. The App Twin feature lets users create two instances of the same app, thus allowing you to use two Facebook or WhatsApp accounts. There's a storage cleaner feature which can be used to clear cache and delete unwanted data.
The Access Safe feature on the Honor 20 lets users add files, images, videos, and folders to a protected library with encryption. The App Lock feature lets users lock specific apps so that their data is hidden from prying eyes. The Private Space feature lets a user create a completely different set of apps and data, similar to Samsung's Secure Folder. It comes in handy when you want to keep your personal and professional data separate.
The company has promised the Android Q update for the entire Honor 20 series. However, that now depends on the hope that the situation between the US and China doesn't escalate in the future.
Honor 20 Performance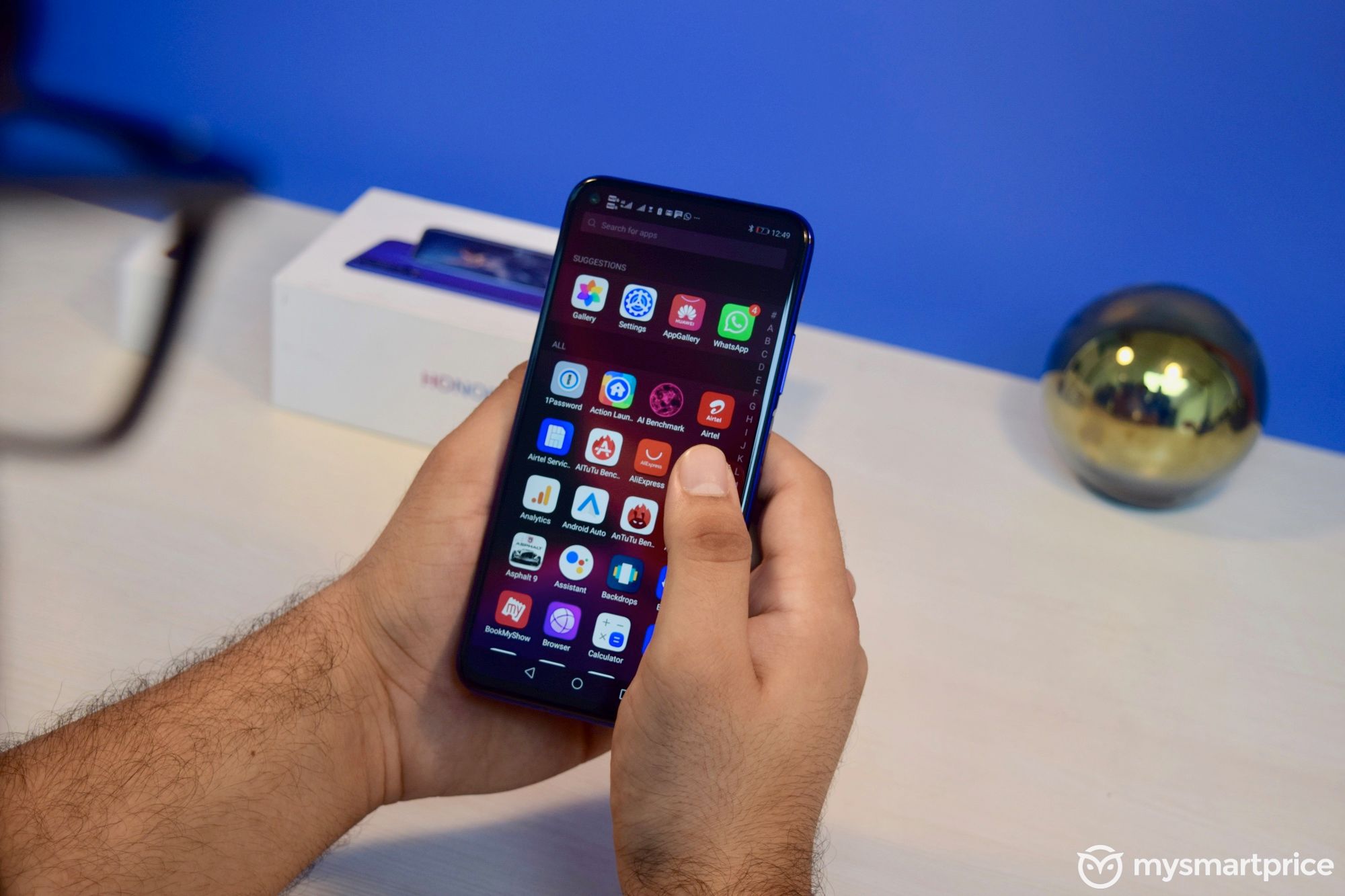 The phone felt smooth almost all the time.
The Honor 20 is powered by Huawei's in-house Kirin 980 chipset. Introduced with the Mate 20 series, this 7nm processor with 6GB of RAM is still fast enough for most tasks. I played the latest popular games without any issues. The phone felt smooth almost all the time.
Honor 20 Performance Benchmarks
There was no problem with the phone's cellular or Wi-Fi reception. The phone's loudspeaker gets the job done, but it felt pretty weak compared to OnePlus 7's and Galaxy S10e's stereo speakers. Even the earpiece is quite average during voice calls. There's an LED indicator inside the earpiece's grill. The side-mounted fingerprint reader was not only easy to locate but also extremely fast and accurate at the same time.
Honor 20 Battery Life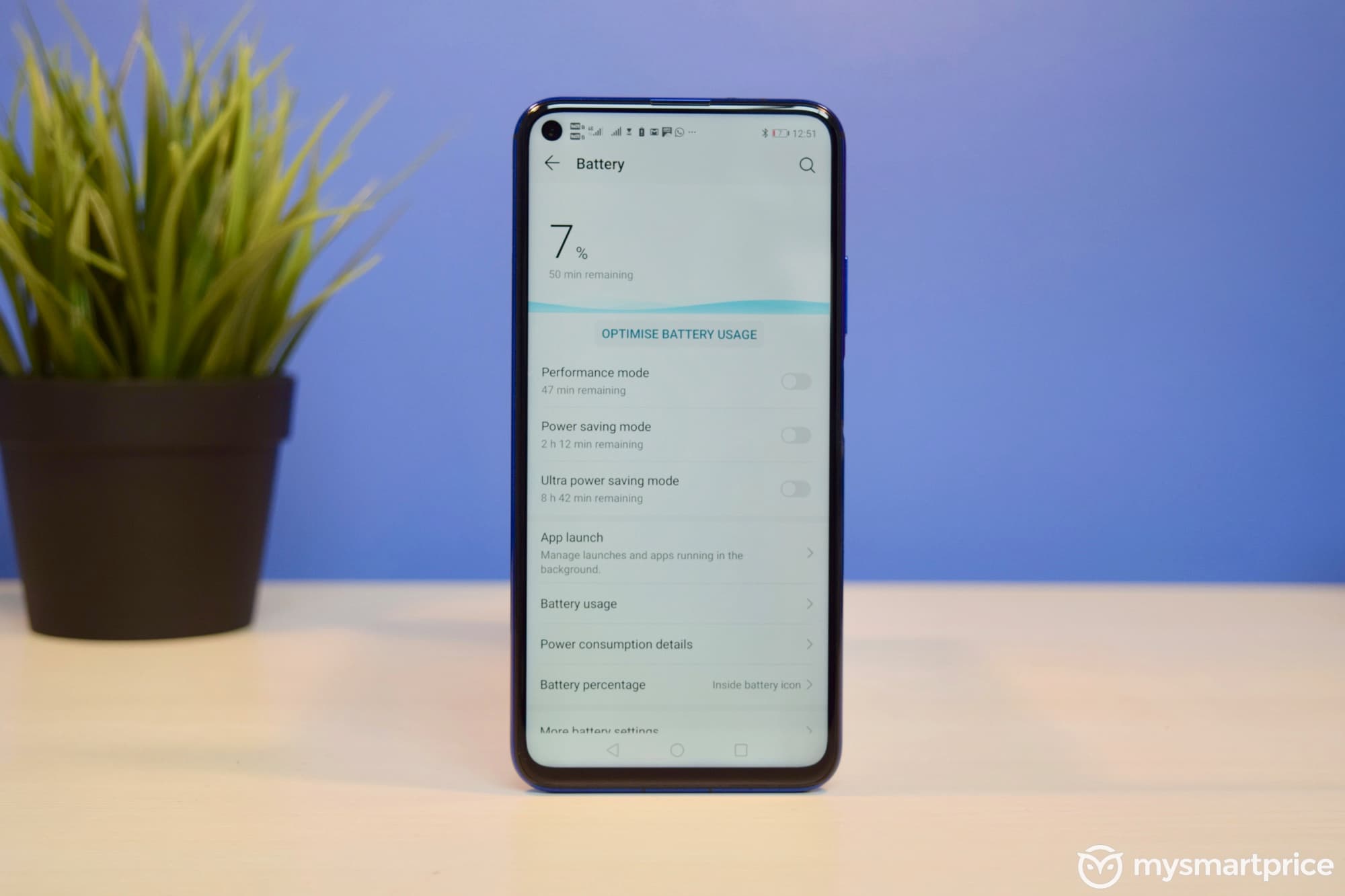 The 3750mAh battery inside the Honor 20 looks a bit lower capacity than rivals that pack in 4000mAh batteries. The phone comes bundled with a 40W Huawei SuperCharge compatible wall charger, but the Honor 20 accepts just 22.5W of power. Still, the phone gets charged from 0% to 50% in only 30 minutes, which is quite impressive. The charging speed then slows down to keep the battery in good shape. It juices up to 86% in an hour and takes 90 minutes to charge the battery fully.
The Honor 20 lasts one whole day on a single charge even with relatively heavy usage.
Thanks to the power-efficient chipset and optimized software (and sometimes overly aggressive background app management), the Honor 20 lasts one whole day on a single charge even with heavy usage. I was able to eke out at least 6 hours of screen-on time in 30 hours on a single charge. There is a weird bug where the battery life drops from 5% to 2% in a few seconds, and the phone shuts down instantly after it reaches 2% battery charge level.
Should You Buy The Honor 20?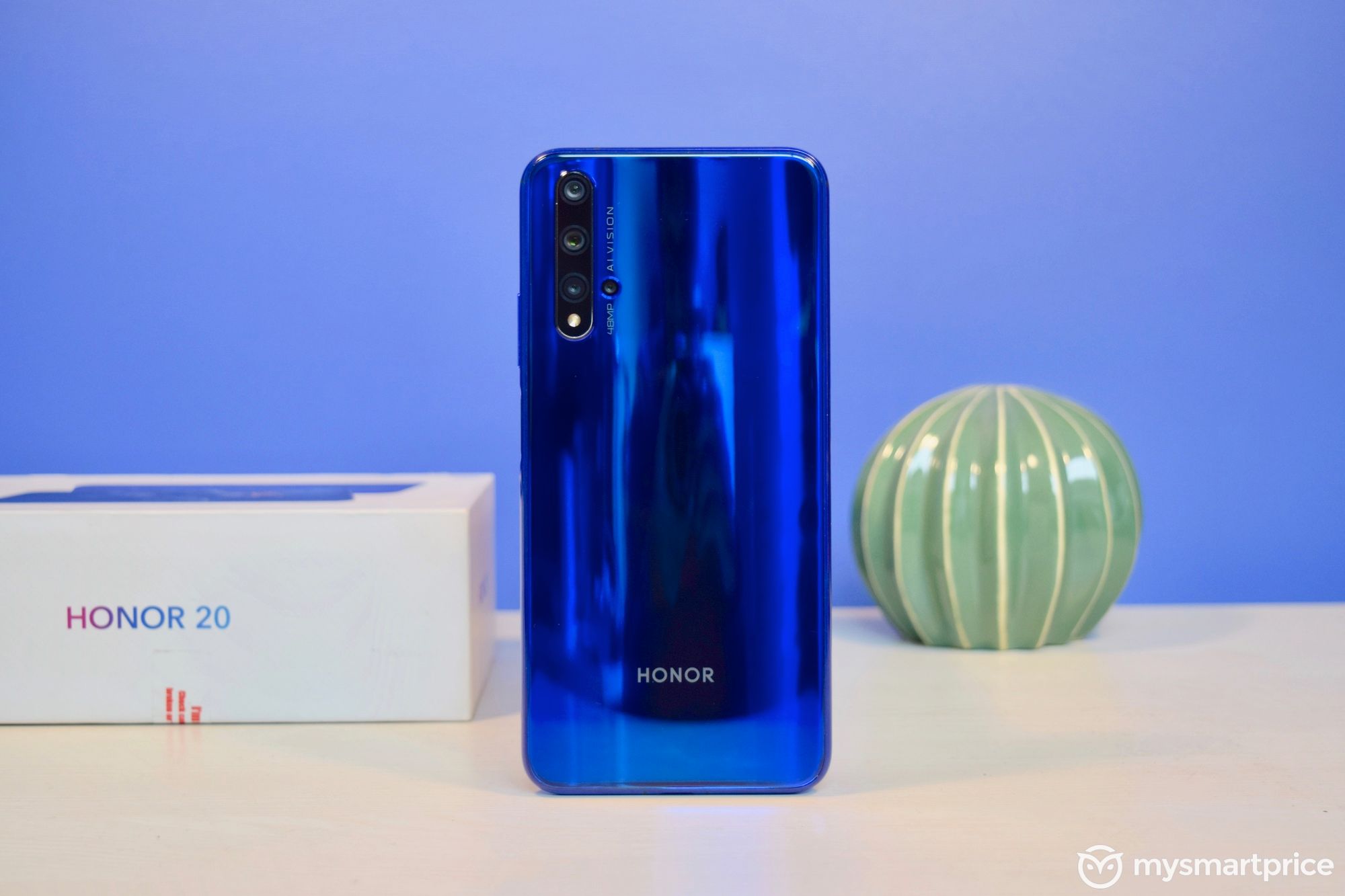 The Honor 20 is a good phone, but it would not be my first choice. It has good ergonomics, fast performance, excellent still image quality, and long battery life. However, the phone could've been much better if it had an OLED screen, a polished UI, and a 3.5mm headphone jack. Honor is offering a 90-day grace period where you can get 90% of your money back if you don't like the Honor 20 and want to return it.
The Honor 20 is a good phone but it wouldn't be my first choice, all things considered.
If an ultrawide-angle camera doesn't excite you, the OnePlus 7 is a better choice. It has more appealing looks, an OLED screen, stereo loudspeakers, better UI, and smoother video recording.
Even the ASUS 6Z looks like a better choice. The phone comes with the best selfie camera yet, 4K 60fps video recording, stereo speakers, a dedicated headphone jack, a microSD card slot, stock Android-like UI, and longer battery life. Moreover, the Taiwanese company has promised the Android R update.
What Is Good?
Handy size and slim build.
The side-mounted fingerprint reader is easy to use and fast.
Fast and smooth performance.
Feature-rich software.
Very good camera features and still image quality.
22.5W fast charging.
Very good battery life
What Is Bad?
No IP68 certification for dust and water resistance.
No OLED screen.
No 4K 60fps video recording. 4K 30fps videos are choppy.
The 2MP super macro camera isn't very useful.
UI design looks dated.
IR camera isn't accessible by third-party apps.
No 3.5mm headphone jack or microSD card slot.