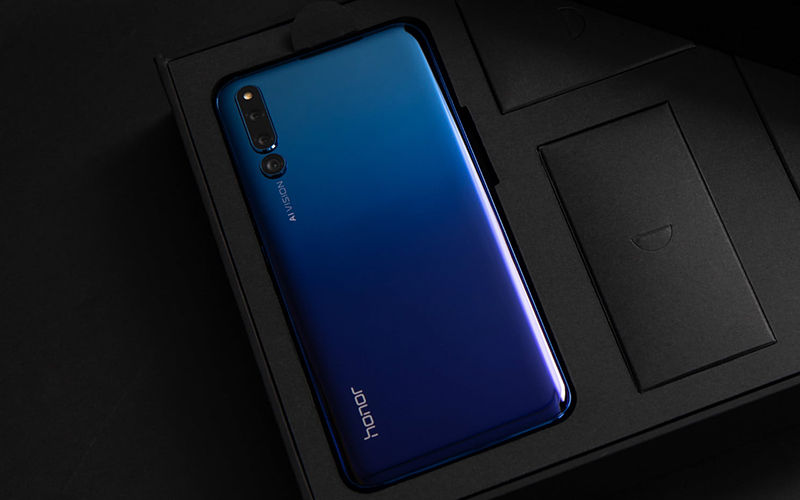 Huawei's first 7nm chipset, the Kirin 980, was introduced this year at the IFA 2018 trade show. It is one of the fastest chipset present in Android smartphone realm. Apart from being faster, the Kirin 980 also features a new dual-NPU that's capable of making lightning-quick calculations of AI (Artificial Intelligence) and ML (Machine Learning) tasks.
Now, the first Honor-branded device to feature this SoC is the Honor Magic 2. Combined with the next-generation NPU and its own YOYO AI Assistant, the premium phone was tested to its limits recently; by taking control of a self-driving car and guiding it safely from one point to another. Technically, the Honor Magic 2 powered a self-driving car. Keep reading to know more to find out how this possible.
Honor Magic 2 Detects Obstacles With Its Camera While Guiding the Car
Self Driving Car Powered By Honor Magic 2 Smartphone
The Honor Magic 2, together with its triple-camera setup at the rear, made its way for a smarter device when it comes to guiding a self-driving car safely. The company's YOYO AI Assistant, assisted by both the camera and the Kirin 980's second-generation NPU, helped turn this test into fruitful results.
The Honor Magic 2 was fixed on a car mount, with its camera hardware acting as the vehicle's source of vision. The smartphone was able to assist when it came to obstacle detection and avoidance. This would help to prevent unnecessary accidents. The YOYO AI Assistant provided the steering controls to aid in moving the car around. The car's steering was controlled via a connected line to the Honor Magic 2, completing the tests without complications. While this proves that the smartphone and its dedicated assistant are capable enough for self-driving a car, several more tests will be required. We believe that, initially, 'open ground' simulations will enable Huawei's AI team to gather sufficient data and improve the assistant through timely software updates.
These tests will become more enhanced at a later stage, gathering data by allowing self-driving cars to guide themselves on roads where there is high traffic. Huawei could be on the path to making smarter assistants and SoCs that are capable of controlling future vehicles, thus rivaling what Google and Apple are currently working on. Of course, such a plan will require carefully gathered data and years of development, so don't expect self-driving vehicles from the Chinese giant to be spotted in traffic this early.
Other notable features of the Honor Magic 2 include three cameras on the front and three cameras on the rear.
Honor Magic YOYO AI Assistant: What Else It Can Do?
It has been reported that the YOYO AI Assistant of the Honor Magic 2 has an IQ of 4556. It combines AI elements such as computer vision, natural semantic understanding, deep learning, decision-making, and others, and continues to learn over time.
In the future, the AI-powered assistant will be able to recognize the owner based on their fingerprints, voice, and face data. The YOYO AI Assistant is also capable of having a real-time conversation and translation in ten different languages, along with calculation of food calories, and detection of skin quality. In other news, Huawei is developing its own voice assistant to rival Google and Amazon, outside of China.
After you're done reading about what the Honor Magic 2's Kirin 980 SoC and YOYO AI Assistant are capable of doing, you can check out our video review of the Honor Play, a gaming smartphone armed with the Kirin 970 flagship-grade smartphone processing chipset. Just like the Kirin 980, the Kirin 970 features a dedicated NPU. It also features support for Huawei's GPU Turbo Technology, which improves gaming performance as well as maintains thermals.